The Ramen Diaries: Toride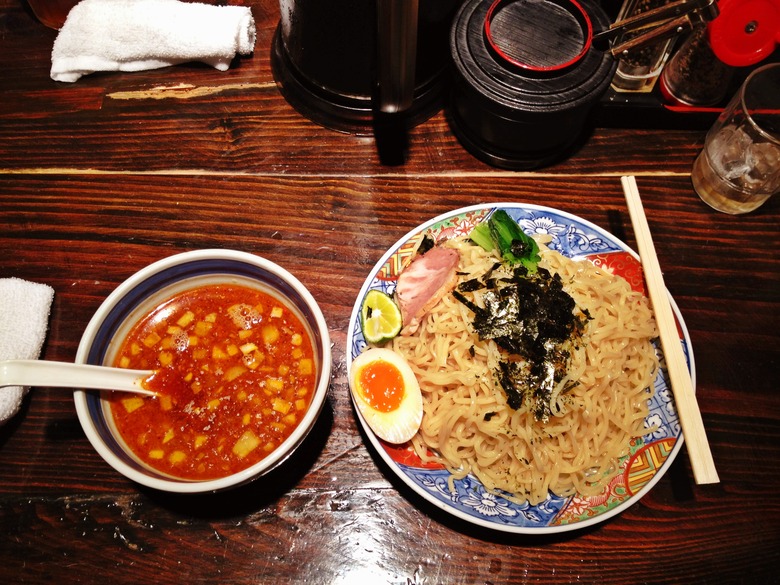 POP ETC frontman Chris Chu just returned from a trip to Japan, eating epic bowls of ramen daily. We asked him to keep a tonkotsu-splashed diary of all the action (insert slurping sound). POP ETC releases their debut album June 12 on Rough Trade (the band's newest video follows the report). You can read the first entry and second entry. More to follow.
My next stop is a ramen joint called Toride. It is also in Shibuya, but on the outskirts, off the Shinsen stop. Toride was started by the same people behind Ippudo (the incredibly popular spot in NYC). Walking into Toride is quite striking, as it is a completely different atmosphere than any of the other ramen joints I have been to in Tokyo. If you've been to Ippudo, it may not seem as strange. The restaurant is quite spacious, and there are several tables – in addition to the usual counter space along the kitchen.
The restaurant (yes, Toride is more of a restaurant than a ramen joint) is particularly clean, and one of the first things I notice is that the female-to-male ratio is a lot higher than normal. Most ramen joints are full of salarymen, on average I'd say 90% men. Toride is about 50/50. The stereo is playing The Beatles (a friend later told me they ONLY play The Beatles). All in all, it's a much more family-oriented, casual experience.
Shortly after I'm seated, a waiter comes over to take our order. This sounds kind of silly, but after ordering ramen through the vending machine menu so many times, it feels kind of strange ordering ramen with a waiter. Tsukemen is seasonal here, and the waiter alerts us that it has just started being offered a few days ago. Obviously, I couldn't help myself.
The tsukemen at Toride is completely different than the tsukemen I had a couple days earlier. The broth in particular is very different. Ramen soup is all about the balance between the flavors — and although the dipping sauce here is using mostly the same ingredients as any other bowl of ramen I have eaten on this trip, the ratio is vastly different. You can still taste the subtle flavor of pork, but this broth is much more seafood-heavy.
A strong flavor of bonito dashi (a seafood soup base made from dried tuna) is present, as is a large amount of chili oil. There is also a liberal amount of raw, sliced onion, which when combined with the chili oil, gives the dipping sauce quite a bite.
The noodles are curly and also quite thin, especially by tsukemen standards. I prefer a thick noodle, but I have to say the thin noodle here does make sense with this broth. Because of the level of spice, a thicker noodle may have been a bit overwhelming.
Overall, this is an interesting bowl of tsukemen. I wouldn't recommend it to someone who hasn't eaten much ramen or tsukemen, but for me it was a welcome change!
Toride Ramen

Shinsen-Cho-20, Tōkyō, Japan
+81 3-3780-4450
---
Earlier: Hayashi Ramen, Menkoitoro Isoji