How To: Cocktails For Your Backyard BBQ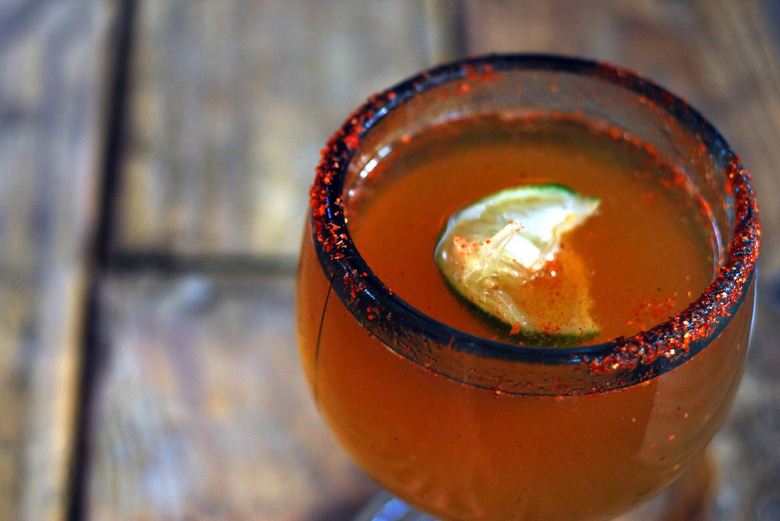 We may receive a commission on purchases made from links.
When it comes to cocktails, Simon Ford is the guy to know. After earning a Wine and Spirits Education Certificate in the UK, he went on to work for Seagrams and now holds the heady title of Global Spirits & Cocktail Brand Expert for Pernod Ricard USA. For real, it's on his business card. In Simon's weekly column, Drink Ford Tough, he tells you everything you ever needed to know about the art of the cocktail. And how to drink better.
As a Brit, I do not come from a land of barbecue. So I will not pretend to be an expert of this great American tradition. That said, I do know that barbecue is something truly American. So it would make sense to pair it with something else that is truly American — the cocktail. Now, I will never stand in the way of the beer-inclined barbecue purists. But if you're looking to add some spirits to your next grilling session, this is how I would suggest you do it.
Punch
My first recommendation is to serve punch. A good backyard barbecue will last all afternoon and into the evening, as will a good punch. But just like with the food, be sure to make enough.
Every year my good friend Dave Wondrich throws an all-American barbecue in his garden to celebrate the Fourth of July — complete with guests making toasts and giving speeches from 1776's original Independence Day. And he makes punch for everyone. It is the most convivial of all mixed cocktails, so it is perfect for barbecues. Plus, you can pre-mix enough to last all afternoon. One of the best punches Dave has made at his now-legendary throw down is an old classic called the Fish House Punch (see recipe below).
But before you even attempt to make a punch, I suggest you buy Dave Wondrich's book on the subject, so you understand what punch is really about (hint: it's not the stuff you were drinking in college). The longer you leave a punch out, the more diluted it becomes, so it gets weaker and weaker as the day goes on. It's actually quite good planning.
Punch is a highly sophisticated way of sharing good cocktails with your friends and, of course, it's low maintenance since they serve themselves. Make sure you put big chunks of ice in the punch so that it doesn't dilute too quickly. To keep it cool, try serving it in a water cooler.
In terms of working out the measurements for a punch, I like to look at a single cocktail recipe and use two bottles for every two ounces of whichever spirits are called for in the cocktail. Then I scale the rest of the ingredients up accordingly.
Beer Cocktails
When you're out in the sunshine and the smell of cooked meat is in the air, beer seems to be the answer to all of your wishes. But don't forget that you can always try a beer cocktail. Along with the Lagerita and the Michelada (recipes below), I suggest you make a really spicy Bloody Mary.
American Spirits
There are very few cuisines that are more American than barbecue, so it feels right to drink American whiskey with it. Barbecue can be quite the macho thing, as can drinking a glass of great American rye. So why not do them together? For barbecue, you want full-flavored spirits to pair with the full-flavored meat. Go with brown spirits or aged tequilas. For bourbons I suggest Makers Mark or Bulleit and for rye go with Templeton.
Smoky Spirits
Pairing spirits known for their smokiness with barbecue really complements the flavor of the meats. So crack open the mezcal (try Del Maguey Pechuga and Tobabla, or Illegal mezcal) and Islay Single Malts (Laphroaig or Ardbeg). And remember, the bigger the ice the longer your drinks will last, which is key for when you're standing out in the sun.
Three drink recipes for your backyard bash:
Fish House Punch Recipe
The Fish House Punch dates back to 1732 and was created by the members of The Schuylkill Fishing Corporation in Philadelphia.
1 and 1/2 cups superfine sugar
2 quarts water
1 quart fresh-squeezed lemon juice
2 quarts Smith & Cross dark rum
1 quart Martell VSOP
4 oz Peach Brandy
Mix ingredients in punch bowl stating with sugar and water and then lemon juice before adding the rest of the ingredients with a large piece of ice. Stir for a little dilution and serve in punch cups.
Lagerita Recipe
1 and 1/2 oz Avion Reposado
¾ oz fresh-squeezed lime juice
¾ oz Cointreau
4 oz cold beer (Corona and Negro Modello work well)
Salt for the rim
Shake tequila, Cointreau and fresh lime and pour over fresh ice into an ice-filled highball that has been half rimmed with sea salt. Top with cold beer and garnish with a lime wheel.
Michelada Recipe
½ oz fresh-squeezed lime juice
2 drops of Tabasco
2 dashes of Wochestershire Sauce
1 pinch of black pepper
1 pinch of celery salt
Dark beer
Mix ingredients in the bottom of a tall glass. Top with cold beer, stir to mix and serve. For multiple Michelada's you can batch your spice mix.
I like to drink these with a side of tequila (and on occasion I even add tequila directly into the drink).
You can follow Simon Ford on Twitter: @SimonJFord.
---