Thank You Christian Krogstad!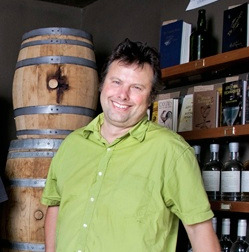 Christian Krogstad
Christian Krogstadhas brought his magical backpack. We're sitting at a swish Midtown cocktail bar (to remain unnamed) and Krogstad, the man behind House Spirits Distillery in Portland, Oregon and a legend in the city's craft distilling scene, is pouring samples of a new coffee liquor that he has pulled from his satchel. It's not exactly legal to BYOB in New York City bars, but Krogstad (or at least his products) are known at this bar. Coveted, really. So he gets a wink and a pass.
House Spirits Distillery has come into its own since Krogstad co-founded the operation with Lee Medoff in Corvallis in 2005 — later moving to the heart of distillery row in Southeast Portland. The spirits produced in the distillery are almost as eclectic as the inventors (Medoff and Krogstad began their careers as brewers during the microbrew boom in the 1990s).
Currently, nearly a dozen sprits are available including Aviation Gin, Krogstad Aquavit and a number of small-batch whiskeys, including an un-aged product that actually tastes good. (I'm not on the moonshine/white whiskey/white dog bandwagon one bit.)
In our interview a few days later, Krogstad tells me more about his products, as well as why Portland is the friendliest craft distilling city in the United States.
Our cocktail columnist just wrote a recipe using your white dog — a White Dog Sour with lemon, simple syrup and egg white.
I've done that cocktail and it's great.
With white dog, there's no way you can hide bad product. It's totally in your face, which is why I don't like un-aged whiskey at all. But yours seems to be the one people use. Why is yours different?
Love. We have a lot of love.
You're going to give me that "love" bullshit line, are you?
We really focus on the fermentation. What has happened a lot in distilling over the last 200 years, since the invention of the column still, is that it helps clean things up. You're able to hide your mistakes with it. But we're not using column stills, but pot stills. So we can't hide our mistakes. It's important for us not to make mistakes in the first place.
So how does this relate to your white whiskey?
With white dog, you've basically got your pants down and are showing how well you can ferment and how well you can handle your products — your base materials. If you're going to put whiskey in a barrel for 12 years, that fixes a lot of problems with the charcoal and the wood maturation. But the reason it's drinkable is that we do gentle fermentation.
And you're also using barley instead of corn too...
It's malted barley, which is more expensive, but more pleasing. It doesn't have that grainy astringency. It's got a more toast, biscuit flavor. It's more reminiscent of beer.
It seems that the craft distilling scene in Portland is really good right now.
There's like nine distilleries in Portland, with five within our area, which we call distillery row. It's a really active craft brewing and craft distillery scene. There are 60 breweries in Portland as well.
Why is Portland so great for this profession?
I've speculated on this a bit. For one thing, it's a regulatory environment that is really friendly. The city and state both go out of their way to make sure that they issue licenses. If somebody is following rules, they don't get hassled. In some places around the country, it's hard even if you do everything right. Portland just embraces it.
Shout out to Portland city bureaucracy!
And the state liquor agency bends over backwards to help us get a handle on the regulatory portions. They understand how important we are to the economy. They're not going to ignore violations.
But if you do it right you'll be fine.
And they'll help you do it right. They'll coach you.
You recently won a double gold (best in class) for your aquavit? It's a big deal. Where were you when you found out?
Apparently it is a big deal. I was at home, sitting on my couch and one of the judges texted me and said "Congratulations, you won the double gold." It was pretty exciting.
What does it mean for the product? Do you get to ramp up production?
I don't know what it means. We're going to find out though. We'll know soon.
When we met in New York recently you poured me some of your coffee liquor. Damn, it was good. Coffee liquors are usually pretty terrible.
It's been really popular.
You're collaborating with Duane Sorenson from Stumptown on this too?
We worked on it together, but it's a bit premature to talk about because we don't have a formal agreement or arrangement, but that is high on my list. We've shown it in Las Vegas, New Jersey, Philadelphia, and people are loving it. We need to make sure we know what we're doing with it. So, no, we don't have an arrangement with them yet but we will.
Is it only available in Portland?
As of May 1 it's available in New Jersey and around New York. It's also available in California, Washington, Oregon and Pennsylvania.
OK, this could get political, but give me your favorite New York City bar...
I guess I would have to say PDT.
Why?
Maybe it's gimmicky for New Yorkers, because they've had so many speakeasies. But I like it. In Portland, bars have to serve food, so it inhibits some of the creativity. At PDT, I like the vibe and I like the cocktails of course. There are a lot of great cocktails in New York, but PDT is great. And Jim [Meehan] is great. He's a big part of it. Not just that he makes great cocktails. He's such a nice guy. It's hard to ignore that.
What about your hometown of Portland?
My favorite bar, I would say, is Clyde Common. It's a fun space. I like it.
---
Read more about mixology on Food Republic: