Ted Allen Had A Pretty Good Week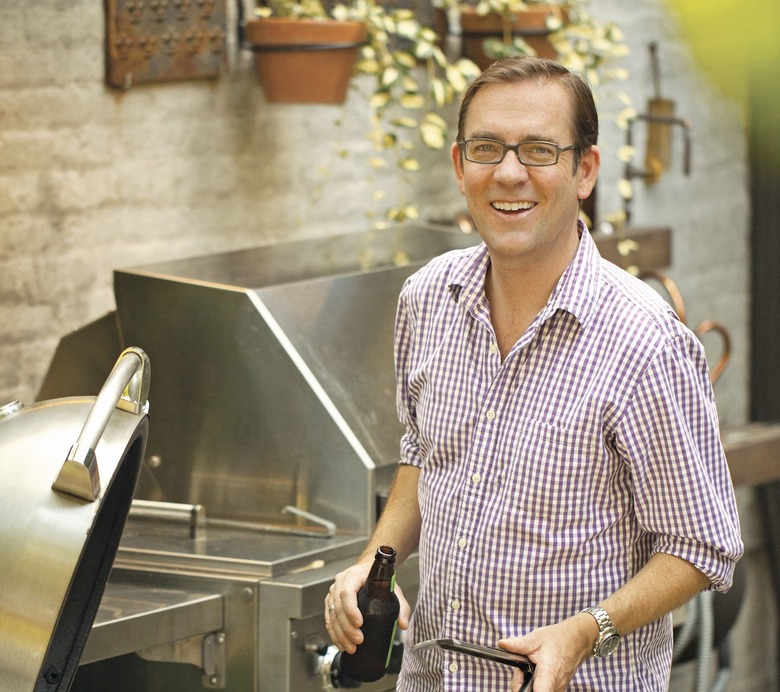 Ted Allen
We may receive a commission on purchases made from links.
If you haven't seen Ted Allen hosting Chopped, you've seen him on Iron Chef America, Top Chef, The Best Thing I Ever Ate, Food Detectives, The Next Food Network Star or the incomparable Queer Eye For The Straight Guy. If you haven't seen any of those shows, you're probably on the wrong website. Allen, a champion of great food across the nation, recently released his second cookbook, In My Kitchen, chock-full of the food you want to eat (as was the case with his first book, The Food You Want To Eat).
I spoke with him just hours before last night's James Beard Awards (he was already proudly sporting his — the media awards were announced Friday) to talk shop and find out what exactly is in his kitchen.
How did you break into the business in as big a way as Queer Eye?
I started as an editor at Chicago magazine, pretty much the food bible for Chicago, with excellent restaurant coverage. They gave me the opportunity to be a junior critic on the critic staff, which meant we went to B-restaurants, but was still pretty great. I fell in love with the process of looking at a dish on a menu and being thoughtful of whether the chef was good at his job. I fell in love with chefs, the culture of restaurants, the generosity, the curiousity, excess, humor, the pageantry of it.
Fast forward, I'm a writer for Esquire, and a friend told me about an audition for Queer Eye. I thought, "I can fly to New York, have some face time with my editor, I'm sure nobody will pick up this goofy show up and it'll just be a fun week." Of course the show was a hit, which led to my judging gigs.
Who's your favorite fellow food personality to cook for?
I really haven't cooked for very many of them. I would love to cook for Tony Bourdain and his wife. I had a barbecue with a bunch of Chopped judges last summer, and cooked a little bit but mainly leaned on them. Chris Santos brought over a huge cooler full of ribs, Marc Murphy brought a white anchovy salad and Geoffrey [Zakarian] brought a salad of heirloom tomatoes and peaches with strachiatella. I combined peaches and tomatoes for the rest of the summer because of Geoffrey.
Oh, and I discovered when you have chefs come over to cook, none of your platters are big enough. I need to go out and get some bigger stuff.
Let's do some ingredient word association. What's the first thing that comes to mind:
Goat cheese
Beets. It seems really obvious, but a really nice roasted golden beet salad with vinaigrette.
Scotch bonnet chiles
Gotta go with grilled chicken. I like heat a lot, and the use of scotch bonnets with chicken and sweet spice is great. I actually just saw a really enticing recipe for jerk chicken and was thinking "what else can you use it for?" Maybe jerk duck? That would be good.
That would be good, I'd eat that. How about Nutella?
Toast. No, ice cream. With toasted hazelnuts.
Tamarind
Soup, like a sour element in an Asian broth with noodles and chicken or shrimp.
So glad it's almost lunchtime. Okay, last one: hard winter tomatoes.
Garbage (laughs). Actually what you can do with crappy grocery store tomatoes is cut 'em in half, rub them with olive oil, salt and pepper and roast them for a long time at a low temperature. Somehow they acquire flavor, you can make a good soup with it and they're good for crostini. Tomatoes are actually the only food I grow, up on my roof. A homegrown, ripe tomato is one of my favorite things in the entire food year. I don't care about caviar or foie as much as beautiful ripe tomatoes.
Besides your new book, what are some other food books our readers should pick up?
There's a lot going on in cookbooks. Suvir Saran's American Masala is a must and April Bloomfield's new book is wonderful. Seamus Mullen's new book, Hero Food, is very exciting. He had some health problems and healed himself eating natural foods. It's gorgeous book with lusty, flavorful food. One of my biggest compliments for food is "lusty."
Do you have a favorite recipe from "In My Kitchen?"
I chose each recipe in the book because they contain some little discovery or kernel of knowledge that has changed my cooking life. You might wonder what on earth could be discovered from cooking spaghetti and meatballs. Unless you're Italian and your grandma made Sunday gravy, you might not realize tomato sauce is not really a tomato sauce. It's about sofrito, not tomatoes.
You make a sofrito of onions, celery and carrots, cook it in olive oil, then add 12 cups of chicken or turkey stock and reduce it by half, and add one can of tomatoes and maybe a little paste. It's a much more profound, complex and deep flavor than just tomatoes. There's almost nothing I'd rather cook. In this food television role and in this book I try to open doors. I don't need to impress you with my encyclopedic brilliance.
Any new music you've been cooking to lately?
I'm super, super-deeply into music. I never cook without it. Right now I'm listening to Joseph Arthur – Redemption City. He's a Brooklyn guy, lives half a mile away from me, really great musician. You can download it for free, and if you like it you can pay for it. I just downloaded Sgt. Pepper's Lonely Hearts Club Band. I didn't have a digital copy and had a craving for "Fixing a Hole." Other than that, I just downloaded "Fat Bottomed Girls," "Sweet Home Alabama," and Hall and Oates' "Abandoned Luncheonette," but I'm really into new and current music — I love the new Shins album.
How has your journalism background influenced the writer you are today?
I think the most profound influence on me as a writer and a person was Richard Babcock, the former editor of Chicago Magazine who came from New York Magazine. He taught me a national magazine sensibility: an understanding of sophistication, the important of being the first to have a story, how to take chances with your writing and be stylish as a writer. I think that outlook can be applied to restaurants — being original and trying to create something that isn't already in existence. It's that same generosity of spirit, drawing people in rather than scaring them away with self-importance.
I also was influenced by my editors at Esquire, Scott Omelianuk and David Granger, about being unafraid to write something crazy. An editor who can recognize talent can encourage someone to take a risk, and that's where the best writers come from. It's just like needing a parent to tell you you're great, over and over again. Very much the same with editor relationships. It's not just the 500 words or shitty wages, writers are very insecure. You're putting yourself out there like a chef. Everyone's a critic.
Well you made it — congrats on your second James Beard Award! How did it feel to receive #2?
When I got my second Beard award on Friday I went up on the stage, thanked my fellow nominees, had an out of body experience and said something like, "When you win two and you're wearing them, they clink in a really pleasant way."
---
Don't miss Ted Allen's new cookbook, In My Kitchen, on sale now, and check out his recipe for Grilled Green Beans With Harissa.