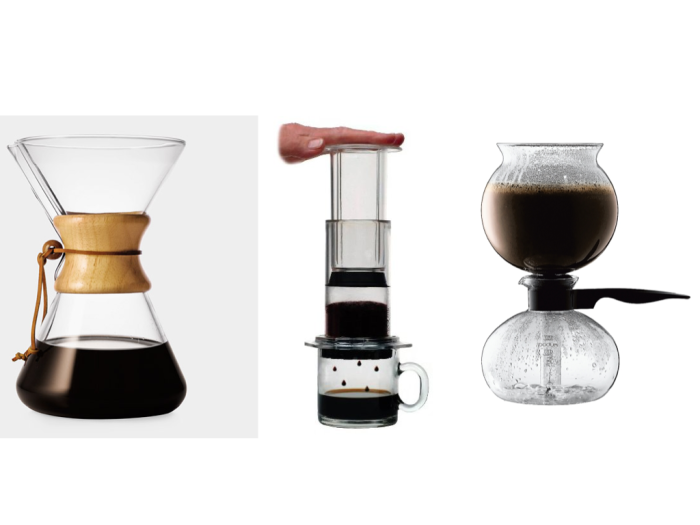 There's no doubt that the java boom, fueled by the popularity of third-wave roasters like Stumptown, Intelligentsia and Blue Bottle, has brought out a bit of coffee snob in all of us. (You can read the Food Republic Coffee Power Rankings for more dope on the subject.)
For brewing your own superlative cups at home, there's been no shortage of gadgets and appliances on the market to remind you that damn good coffee is both an art and a science. Just look at the influx of coffeemakers resembling utensils straight from the chemistry lab.
From the simple, streamlined beaker that's become a Chemex trademark, to the plunger filtration of the AeroPress, science informs both designs. And Bodum's PEBO vacuum-brewing coffeemaker, an update on the clunkier-looking SANTOS, recalls round-bottomed flasks filled with boiling fluids. But when it comes to these similarly low-tech methods for delivering your morning caffeine, how much does appearance dictate your preference?
Since it burst onto the scene a few years ago, the AeroPress has gotten rave reviews for its robust, low-acidic brews resulting from full bean immersion and a fast filtration time. But it's hardly what you'd call a sexy design. And while the PEBO, a more polished-looking product, offers an almost theatrical display with every brew, is such a presentation really that necessary?
In that visible medium between form and function, what does your coffeemaker say about you? Is it a design of science, or an objet d'art?
---
Read more about coffee on Food Republic: