Healthy Debate: Gazpacho Vs. Borscht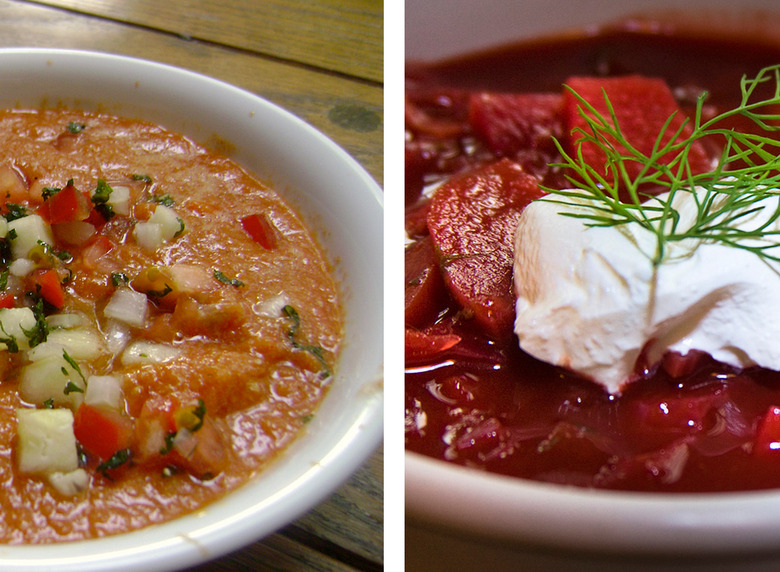 Are you ready for a seriously crunchy debate? Like, sprouting mung beans in your Birkenstocks because it wastes fewer paper towels crunchy? Practically vegan? I only do this when my relatively unhealthy food intake gets out of control. Between last week's Taste of the Nation feastravaganza and last night's James Beard Awards Gala, it basically doesn't matter how small the plates are. I'm stuffed. I need vegetables. I haven't had borscht or gazpacho since last summer, and I want both.
First off, what the hell is borscht? There's no way for me to describe it in a way that sounds appealing. It's Russian. It's a hot or cold soup. It's made with beets and cabbage and usually features potatoes (for a change). Served hot, it's shirt-stainingly magenta. Or fuschia, I always forget which one stains your shirt worse. Served cold with a dollop of yogurt or sour cream mixed in, it's a shirt-stainingly unappetizing shade of Pepto pink. But it's tasty in the way that peasant food is tasty, and there's no debating that.
Long ago, some Russian standing in a beet ration line was pondering ways to jazz up those basic ingredients and had an "aha" moment. Borscht is definitely the way to use a limited range of ingredients in the most delicious possible manner. Any Russian, Polish, Ukranian or other Eastern European restaurant will have this on the menu. Garnish yours with sliced hard-boiled eggs for a pretty nutritionally sound meal.
Gazpacho, on the other hand, is what happens on the other side of Europe when hot weather vegetables like cucumbers, tomatoes and peppers are in abundance. This Spanish-Portuguese soup is also peasant food, thickened with pieces of stale bread soaked in water and, like its Russian cousin, incredibly nutritious. Think about it — when it gets super hot you don't even want to chew your food, right? You just want to sit on the patio with a good sturdy hat and an ice-cold beer and watch the world go by. No stove, just blender. For gazpacho. And, in this modern day, large servings of frozen margarita.
Not to say that it's particularly hot outside (so glad I switched out my entire wardrobe on the first warm day in April), but I'm an optimist and a planner. And I'm full of cured meat, as tends to happen with food writers in times of excess. So yeah, I'm debating with myself which European cold veggie soup to eat in the near future.
[Photo composite: tomatoesandfriends and Muffet on Flickr]