Tips For Perfectly Grilled Seafood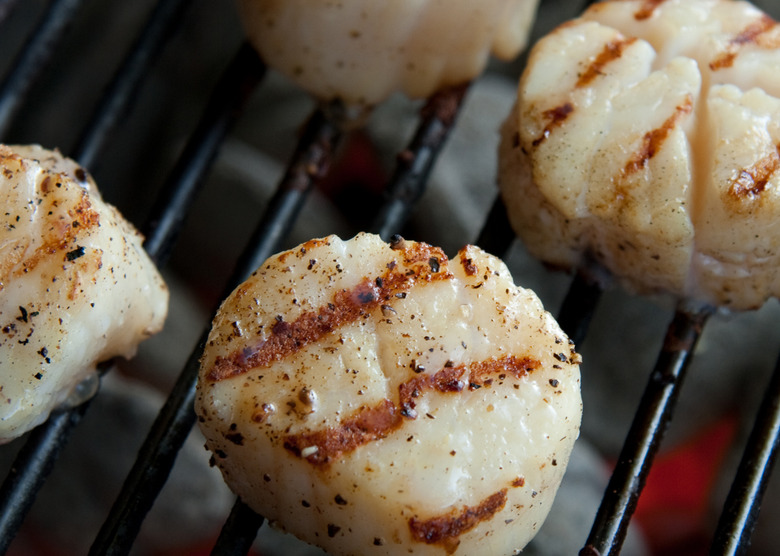 Grilled Scallops
We may receive a commission on purchases made from links.
No one denies the lure of an expertly cooked steak, but this grilling season expand your repertoire by mastering the art of grilling seafood. For Ben Conniff, VP of New York lobster roll establishment Luke's Lobster there's no fish, shellfish or crustacean that can't be grilled. Conniff might not be from the rocky coast of Maine like his friend and company president Luke Holden, but he's no stranger to cooking up lobster. In fact, he went so far as to call seafood and grilling his "two greatest passions."
Conniff offers his advice on seafood grilling fundamentals like how to pick fish that won't stick to the grill, and why he favors charcoal over gas.
Why charcoal over gas?
It really is just the flavor. I don't believe that using a gas grill will make your food taste like gas. However when you are cooking over charcoal and your food is bathed in that smoke it gives it a really noticeably smoky and earthy flavor. It tastes much more genuine.
What do you need to watch out for?
Some of the most important advice when it comes to something like fish is just making sure you have a really clean grill and that you're oiling it up, because at a high heat the fish will stick to the grill. The meat is just so delicate that you'll lose half of your fish stuck to the grill if you don't keep it clean. You'll have a lot more luck with an oilier fish like salmon or bluefish rather than a white fish.
What other seafood do you like to grill?
At the New Amsterdam Market last year I did oysters shucked on the half shell. You make a mixture of butter, herbs and garlic and spoon a little on top of each oyster before you put it on the grill. Then grill it for two or three minutes until they're plump and add some breadcrumbs. That's really delicious. Throwing shellfish on the grill is always something I endorse.
What should you definitely not grill?
The grill is a lot more versatile than you might imagine. You don't have to put something directly on it. Wrap it in tin foil or put it in a pan on top and you'll still get that smokiness. You can stuff and throw whole fish on top of the grill. I would just say that with white fish, you need to have the skill to be really delicate and keep it from sticking. To be honest, if you have a couple of good books that you can refer to that will tell you how to grill seafood and what to look for in terms of doneness you may find there's some trial and error to it, but I can't think of anything that I would say you should never put on a grill.
What books do you reference?
For general grilling advice I go Steven Raichlen. He's a grilling stud. He's got a dozen books all about grilling. He really knows what he's talking about.
For sustainable seafood I use Fish Without A Doubt by Rick Moonen. He's a great source for grilling or cooking seafood.
---
Related: Simple Grilled Whole Lobster Recipe