Puebla: 5 Places To Eat In Mexico's Food Mecca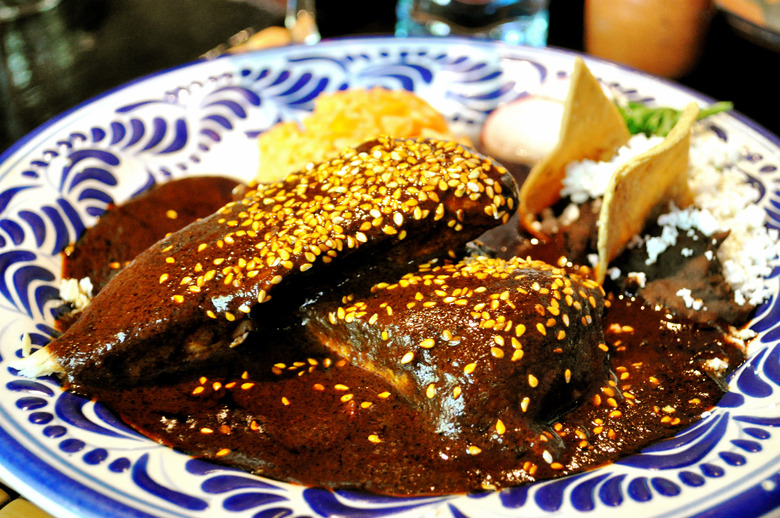 Cinco de Mayo is coming up this weekend, which means there are likely many margaritas in your future. The holiday, commemorating a great battle between France and Mexico, has become something of an excuse for boozing in this country – a Mexican answer to St. Patrick's Day. But the importance of Cinco de Mayo is lost on many Americans.
It is not Mexico's Independence Day, as is widely believed – that day is actually celebrated in September. Cinco de Mayo commemorates the unlikely defeat of occupying French forces by the Mexican army in the city of Puebla. The victory is said to have considerably impeded France, giving the United States the opportunity to strengthen its own militia. Had the French not been defeated in Puebla, who knows? Maybe the language spoken in California today would be that of Napoleon. Quelle horreur.
Below the photos, 5 places to eat in Mexico's food mecca.
Puebla celebrates its 150th birthday this year, which means that the Cinco de Mayo festivities will be bigger than ever this weekend. Celebrations already started taking place for the city's anniversary last month when I was there and will continue in some form throughout the year.
The city is known as the country's culinary heart, home to many of Mexico's most iconic dishes, including mole poblano (a dish many home cooks mind too difficult to attempt). When I was in Puebla, I learned from a local chef how to make it — he showed me it could be done without an abuela ready and waiting in the wings.
Alonso Hernández is the chef at Mesón Sacristia de Compañía, a brightly painted hot-pink box housing a boutique hotel with a leafy courtyard at its ceter, an incredible antique collection, and a quaint little restaurant, the tables set with colorful dishware. Nearly every decorative piece in the little hotel is for sale. The mole poblano served here is the one I learned to make, one of many moles that are native to Puebla.
Chef Hernández likes to teach this most famous of the moles, a rich chocolate-chile sauce, in the cooking demo classes he offers guests. What used to take hours – if not days – to produce can now be whipped up in a blender in minutes. Ancho, mulato and pasilla peppers are blended with tomatoes, onions and garlic, as well as spices, almonds, raisins and, of course, Mexican chocolate. The secret ingredient? Maria biscuits, for texture. Animal crackers will do in a pinch. Hernández has another secret: he makes a salsa of burnt tortillas and fresh plantains to be blended in with the other components.
Mole was recently feted at the city's first annual International Mole Festival, a two-day event and as good a way as any to kick off this weekend's party. Perhaps, instead of celebrating Cinco de Mayo with tequila shots this year, you'll consider sequestering yourself in the kitchen with a pile of chiles and chocolate to make a meal that really means something on this important historical day. OK, so maybe not instead of tequila. The two actually make quite the flavorful pair.
And here are five essential places to eat when traveling to Puebla:

El Mural de los Poblanos
Known for its large-scale mural depicting famous Poblanos (from past presidents to a tenacious beggar woman), this traditional restaurant with painted high arches and rough stone floors keeps the menu fresh with dishes like escamoles (ant eggs fried in butter) and huevos en rabo de mestiza, an ancient baked eggs dish revived for today's brunch crowd. 16 de Septiembre #506, Col. Centro, (222) 242-0503
Fonda La Mexicana
This home-cooking haven serves up all the typical Poblano fare, from moles to chalupas, plus the seasonal chiles en nogada (stuffed peppers in walnut sauce). Portions are hefty and prices low — just how we like it. 3 Poniente #316, Col. Centro, (222) 242-2837
La Pasita
The oldest cantina in Puebla, it specializes in the namesake pasita, a sweet raisin liqueur served in a tall shot glass with a cube of aged cheese on a toothpick dunked in. The house liqueur comes in other flavors, too, including lime, pineapple, coconut and blackberry. 5 Oriente #602, Col. Centro, (222) 232 4422
Mercado de la Acocota
This popular market is full of everything from fresh fruits and vegetables to dried chiles to freshly butchered meats. It also has several stands serving breakfast and lunch, including one vendor selling just about every mole you can imagine and another specializing in mamelas, large flour tortillas stuffed with refried beans and topped with queso fresco. 4 Oriente No. 1619 , Barrio de la Luz
Mesón Sacristía de la Compañía
Aside from the killer moles, this cozy and colorful hotel restaurant also serves up some pretty mean chalupas. These are nothing like the bastardization of the dish you get fed at Taco Bell. Delicate corn tortillas topped with shredded pork, chopped onions, and salsa roja or verde. Callejón de los Sapos, Calle 6 Sur #304, Col. Centro (222) 232 4513
---
For more on Puebla, visit puebla-mexico.com, the best English-language resource for all things Poblano. It's run by an American expat who fell in the love with Poblanos — one in particular.