New Orleans: Eat Really Well At Jazz Fest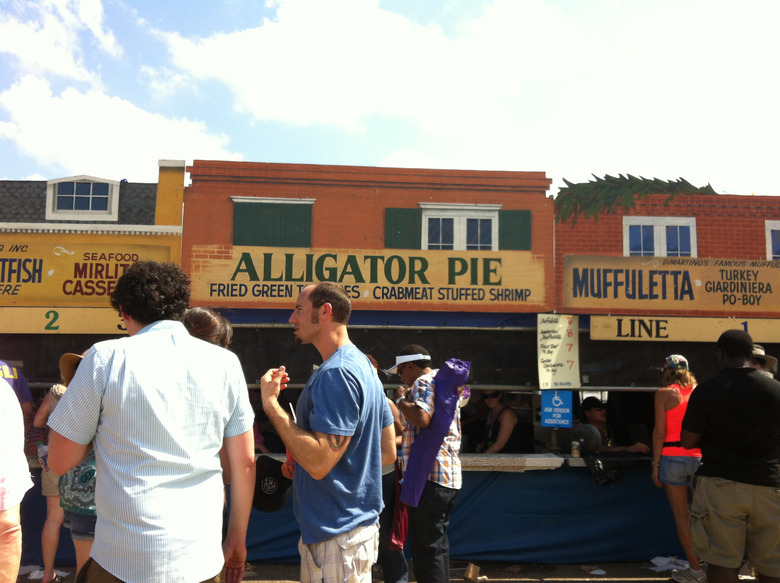 Alligator Pie
A couple tens of thousands of people – don't quote me on that number – squeezed in last Sunday to watch Bruce Springsteen belt out bittersweet songs about living hard and staying true. (Janelle Monáe writhed on her stage nearby.) I ducked out from the crowd just before the end of the performance.
I had Crawfish Monica on the brain.
What's so special about this dish, which is essentially seafood pasta? Oh, I don't know. Ask the mob of people crowded around the stall buying it for $7 per small bowl. The secret to the sauce is a large handful of green onions, so I'm told – that, a ton of butter and a healthy dose of pepper. (Don't quote me on those measurements, either.)
You can eat pretty darn well at Jazz Fest (an annual 10-day festival that concludes this weekend), with duck and cochon de lait po'boys, cheesy crawfish bread, and alligator pie being peddled out of the various food stands. And once the music quiets — or, rather, the stages go silent — there is sure to be a second line brass band to greet you at the exit of the fair grounds. Yes, there is certainly more food to discover outside festival hours.
I've visited the city every couple of years over the past decade or so and, now more than ever, New Orleans is a-changin'. It's hard now to crush on NOLA when you see how vibrant it is in its current incarnation, and hear her proud citizens express their love for her at every chance they get.
There was the waitress at John Besh's new restaurant, Borgne, who delivered her ode to the city, complete with praise for the urban farms cropping up everywhere and the restaurant talent — both front and back of the house — relocating to The Big Easy from cities around the country.
At Borgne, Executive Chef Brian Landry sent out his all-stars: creamy, crunchy crawfish croquetas, duck poppers wrapped in jalapeño and bacon, slow-smoked mini pork empanadas — the idea here is to highlight the Spanish side of Creole cuisine, which is so often overlooked in favor of the French influence.
It really comes across in the 10-clove garlic Louisiana white shrimp, a dish that's basically gambas al ajillo. Snappy and brazenly garlicky, it's served on a bed of fennel stalk, with roasted red peppers and baby red potatoes tossed in. Of course, the oyster soup is all NOLA. Housemade oyster crackers swimming in a velvety white broth, with one gargantuan gulf oyster looming below the surface. Just about everything here goes down well with a beer; Borgne is known for its canned beer program.
Just across the street from Besh's most famed restaurant, August, is one of the first high-profile kitchens he ever cooked in: the Grill Room at the Windsor Court Hotel. The building just underwent a $22 million renovation, adding a new cocktail bar, simply called Cocktail Bar, where the spry and sassy Christine Jeanine Nielsen mixes beet juice pisco sours and Aviation snowballs while a live jazz trio plays. (Tom Petty, fresh off his Jazz Fest gig, was spotted grooving to the tunes this week.)
In the restaurant, chef Drew Dzejak's tasting menu (fresh Peekytoe crab salad, seared Gulf tuna in a rich sweet-soy sauce, and grilled Niman ranch lamb) is boosted by sommelier Sara Kavanaugh's pairing picks. Wine geeks will appreciate one of the best cellars in the city here; it was unaffected by Katrina so managed to keep its collection intact.
Over in the Bywater, the Crescent City's answer to Silver Lake or Williamsburg, Maurepas Foods is doing beautiful things with vegetables. Much of the appetizer list is meatless, including such simple plates as grilled summer squash with blueberries, a crisp cucumber and whole grain mustard salad, tempura-fried sweet potatoes tossed with meaty shiitake mushrooms, and heartily braised beets and kale. I was ready to high-five everyone in the kitchen even before my pimenton sausage sandwich arrived. Then, I had to take pause. Another Corn & Oil (heady bourbon and falernum cocktail), please.
Another hotel that recently got a facelift is The Hotel Modern – hey, New Orleans has been busy lately, what with Jazz Fest, Final Four, Mardi Gras, the forthcoming Wine & Food Experience, and Tales of the Cocktail, celebrating its 10th anniversary this year; it wants to be sure tourists have plenty of cool digs to choose from.
Chef Dominique Macquet, whose eponymous restaurant was one of the most acclaimed new arrivals of the last year, closed a few months ago in order to expand. In the meantime, he's opened Tamarind in The Hotel Modern, inspired by his long-time sous-chef, Quan Tran. A brief French-Vietnamese menu is accompanied by light and aromatic cocktails from the feisty red-haired Kimberly Patton-Bragg. (Think lavender and preserved salt lemon gin sippers topped with soda or long drinks of kumquat Thai-spiced liqueur with Canton, lime and cilantro.)
Across the central courtyard of the hotel is Bellocq, the new cocktail bar by the team behind Cure. Inspired by its namesake photographer, a quiet man partial to capturing ladies of the night on film, it specializes in cobblers — from the traditional sherry and fruit to herbaceous digestif versions.
The big headliner this weekend is The Eagles, but were I back in New Orleans this weekend I'd be most excited about My Morning Jacket and Steve Earle and Herbie Hancock. And Crawfish Monica – I could dance to her all day.
Borgne 601 Loyola Ave., 504-613-3860, borgnerestaurant.com
Windsor Court Hotel, 300 Gravier St., 504-523-6000, grillroomneworleans.com
Maurepas Foods 3200 Burgundy St., 504-267-0072, maurepasfoods.com
The Hotel Modern 936 St. Charles Ave., 504-962-0900, thehotelmodern.com
---