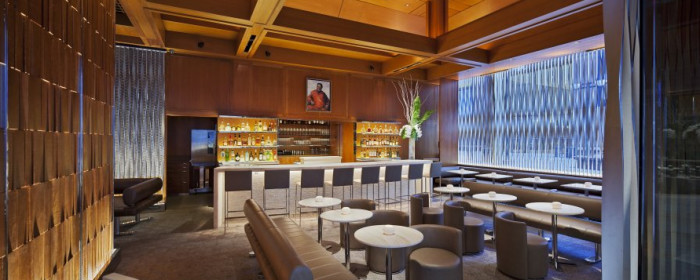 If you're a fan of the new Le Bernardin dining room and can't get enough of the menu design at The Dutch then these are the people you want to know about. Monday, May 7, the James Beard Foundation will announce the winners for best outstanding restaurant design and best graphic design.
At Food Republic, we appreciate selecting our entrees from a menu with carefully curated typeface and sipping our cocktails at a flawlessly designed bar. We appreciate the people behind these design decisions even more, which is why we tracked down the designers and asked them to share their aesthetic know-how with us.
See the full list of nominees below, with links to Food Republic interviews with each of the designers.
Outstanding Restaurant Design
Project: DBGB Kitchen and Bar, New York City
Design Firm: Design Bureaux, Inc.
Designer: Thomas Schlesser
Read: Eye On The Prize: Boulud's "Pop Art" Brasserie
Project: Le Bernardin, New York City
Design Firm: Bentel & Bentel Architects
Read: Eye On The Prize: Le Bernardin, Remixed
Project: Romera, New York City
Design Firm: Glen & Company
Designer: Glen Coben
Read: Eye On The Prize: Romera's Cerebral Cortex
Outstanding Restaurant Graphics
Project: The Americano at Hôtel Americano, New York City
Design Firm: Pandiscio Co.
Designer: Richard Pandiscio
Read: Eye On The Prize: What It Means To Be Americano
Project: The Dutch, New York City
Design Firm: Common Space Studio
Designer: Jon Santos
Read: Eye On The Prize: A New New Amsterdam
Project: Farmshop, Santa Monica, CA
Design Firm: Air Conditioned
Designer: Clive Piercy