Food Republic Craft Beer Power Rankings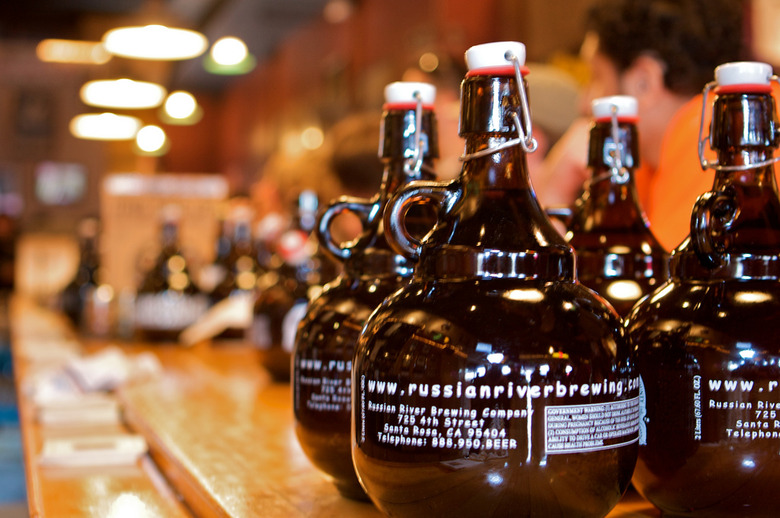 Russian River
Thirty years ago, the concept of a craft-beer power ranking system was inconceivable. Back then, there were only a handful of breweries pumping out suds that deviated from the watery-lager norm.
Fast-forward to 2012, and there are more than 2,000 breweries in the country — with another 600 or 700 on the way. The scope of innovative beers is nothing short of stunning, with sour ales, bitter IPAs, barrel-aged stouts now the norm. Who's leading the sudsy charge? Here's our list of the most influential craft breweries today, taking into account new products, news and overall industry buzz.
10. Stillwater Artisanal Ales
Once upon a time, Brian Strumke was a DJ, playing at clubs and parties across America and Europe. Though he's since hung up his headphones, Strumke continues his itinerant ways as a Baltimore-based gypsy brewer. He drops in at breweries across Belgium and the U.S., devising complex saisons, farmhouse-style ales and delicious curiosities like the resinous, campfire-like Rauchstar smoked ale.
9. Stone Brewing Co.
For more than 15 years, the Southern California brewery has made its bones on uncompromisingly bitter, unabashedly over-the-top, palate-pummeling ales like the Ruination IPA, Arrogant Bastard and Old Guardian Barley Wine. Founder Greg Koch recently became a partner and chief advisor in India's in-the-works Independence Brewing Company, likely bringing the India pale ale to, well, India.
8. Firestone Walker Brewing Co.
We've never had a bad Firestone Walker beer. In the skilled hands of brewmaster Matt Brynildson, the California alehouse has won buckets of accolades — and medals — for its Union Jack IPA, blended anniversary beers and Velvet Merlin Oatmeal Stout. Even more impressive: Every drop of rich, pleasantly hoppy DBA (Double Barrel Ale), floral Pale 31, and Walker's Reserve, a robust porter, spend six days in a Burton Union, an oak-barrel fermenting system favored in nineteenth-century Britain. One more tip: Firestone Walker also makes the terrific Mission Street line of beers for Trader Joe's.
7. The Alchemist Brewery
Last year, Vermont's acclaimed brewpub the Alchemist was destroyed in the aftermath of the hurricane that ravaged the Northeast. But there's a happy ending to this tale: Brewer John Kimmich and wife Jennifer opened a production brewery, focusing on a single beer, the cultishly acclaimed double IPA Heady Topper. It's hop bliss by the 16-ounce can. Typically, the beer is only available in Vermont, but the couple has recently sent small shipments to Philadelphia, New York City and Boston.
6. Founders Brewing Company
Yeah, Bell's Brewery gets plenty of (rightly deserved) accolades, but we prefer the beers from the pride of Grand Rapids, Michigan. The Centennial IPA and rich and malty Double Bastard Scotch-style ale are classics, but we also adore the cherry-infused Cerise, nicely spicy Red's Rye PA and a beer good enough to barter for your first-born son: the KBS, an imperial stout cave-aged in bourbon barrels for a year
5. New Belgium Brewing
Following in the footsteps of Sierra Nevada, the Colorado-based beer maker recently announced that it would also open a brewery in Asheville, North Carolina. This game-changing move will open up the East Coast market, allowing folks to sip the experimental Lips of Faith releases and the brewery's newest concoction, the Shift Pale Lager. Hoppy lagers may just be the top trend of 2012.
4. New Glarus Brewing Company
Oh, how we envy the good people of Wisconsin: They're the sole population who can savor the exemplary beer of New Glarus, which only distributes in the state. But it's a brewery worth a road trip, if only to sample the Raspberry Tart, Wisconsin Belgian Red and other genre-busting creations worth seeking out. Anyone up for a road trip?
3. Left Hand Brewing Company
We've always enjoyed the brews from Colorado's Left Hand, but the brewery recently released the game-changing Milk Stout Nitro. Bottled under pressure with nitrogen (the gas that gives draft Guinness its creaminess), this stout charges from the glass with tons of tiny bubbles, which cascade into a thick head as sumptuous as an angel's pillow.
2. Green Flash Brewing Company
When it comes to dank, delicious IPAs, few breweries do 'em better than San Diego's Green Flash. The West Coast IPA is a pungent classic, and the just-released Palate Wrecker more than lives up to its name. But we're most impressed by Green Flash's lineup of Belgian-style ales, like the Trippel, hoppy Le Freak and Rayon Vert (translation: "Green Flash"), a hop-forward Belgian-style pale ale dosed with the wild yeast Brettanomyces.
1. Russian River Brewing Co.
Vinnie Cilurzo can do no wrong. The California brewmaster is a maestro of the double IPA, an amped-up style that he's credited with developing. His Pliny the Elder is one of the best examples of the bitter breed, and its bigger brother, Pliny the Younger, is even better — if you can nab a snifter of the draft-only brew. In addition, Cilurzo crafts some of the country's finest sour brews, deploying bacteria and wild yeasts as deftly as a scientist.
---