2012 U.S. Barbecue Competition Calendar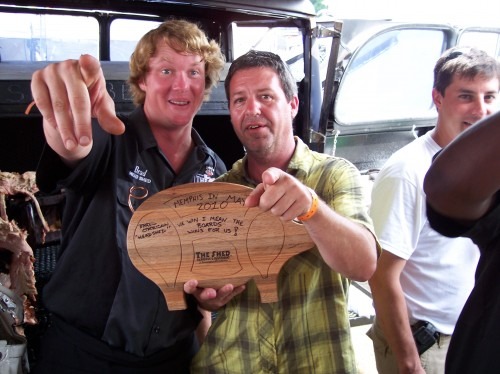 When it comes to competitive barbecue festivals and contests, there are more certifying organizations than those that ruled heavyweight boxing in the '80s and pro wresting in the '90s — combined.
Like the Avignon popes, the world of barbecue has experienced its share of schisms and disagreements, but most of these divisions have been formed to feature a particular regional style of cooking or specific meats being smoked over a wood fire.
Fortunately for you, the barbecue-obsessed eater, this means that there is a very large number of events for you to plan your culinary calendar around — if, of course, you like to experience the world of competitive cooking on your off time.
Here are some of our favorite events to help you plan your spring, summer and autumn road trips:
May 11-12: International Bar-B-Q Festival | Owensboro, KY
As we shared with you earlier this year, Owensboro is the capital of the barbecued mutton universe. Nowhere else is the mature sheep more revered as a food source than in this sleepy little Kentucky town. Situated in RiverView Park along the Ohio River, the festival features a "Mutton Glutton" pass which entitles you to: admission, food, unlimited well drinks (adult and non-alcoholic) and entertainment both days. Friday night will feature mutton and pork sandwiches. Saturday will feature mutton, chicken and burgoo fresh off the cooking team pits. There's also a backyard bbq division and an antique car show. Big fun!
May 17-19: Memphis in May World Championship Barbecue Cooking Contest | Memphis, TN
Held in Tom Lee Park on the banks of the mighty Mississippi, Memphis in May is one of the big ones. Hundreds of teams compete for over $110,000 in prize money and the prestigious honor of World Champion. Last year a team of four James Beard award–winning chefs came together with three Southern pitmasters to form the Fatback Collective. This juggernaut managed to earn third place in the whole hog category in their first competition and will return this year to go for the gold.
June 9-10: Big Apple Barbecue Block Party | New York, NY
While not technically a competition, the Big Apple Block Party is one of the biggest barbecue events of the year, with over 100,000 hungry New Yorkers visiting Madison Square Park to consume 'cue from 18 of the premiere pitmasters in the country, including four from Manhattan. Admission to the event is free, but smart shoppers know to purchase the $125 Fast Pass, which includes a $100 value redeemable for food, beverage and merchandise (not to mention free grilling advice, like we got last year from pitmaster Ed Mitchell). It also guarantees exclusive access to express lines, which should maximize your eating pleasure.
September 20-22: Murphysboro Barbecue Cook-off | Murphysboro, IL
For one weekend a year, the small Illinois town of Murphysboro almost doubles in size as throngs of visitors flood the hamlet to experience the Murphysboro Barbecue Cook-off. Why do people make this pilgrimage? They come to honor the event's organizer, Mike "The Legend" Mills. He is a four-time World Champion and three-time Grand World Champion at Memphis in May. He is also the 1992 Grand Champion of the Jack Daniel's World Invitational Barbecue Cooking Contest and he won the Jack Daniel's Sauce Contest that year as well. Along with his daughter Amy, the Mills are one of the royal families of barbecue.
October 4-6: 40th Annual World's Oldest BBQ Cooking Contest | Covington, TN
While it's not the biggest barbecue festival, Covington hosts what they boast is the oldest of them all. The checks for the prizes don't have commas, but there is live music, tractor pulls, demolition derby and mechanical bull riding. This historic festival represents the hundreds of small county events all over the country, so take a weekend to check out one near you. But don't forget to take your GPS along.
October 13: Sam's Club National BBQ Championship | Bentonville, AR
In the equivalent of having to fight through four tough series to win the Stanley Cup, the Sam's Club National BBQ Championship crowns the number one Kansas City BBQ Society (KCBS) cooking team in the country through a qualifying series. There will be a total of 31 events this year, with teams paying an entry fee of $250 for each event. Local contest Grand Champions will win $2,000, and the top six teams from each of the local contests will win prize money and move on to the Regional events. Regional event Grand Champions will win $5,000. Finally, the top ten finishers at each of the Regional events will win prize money and compete in the National Championship event with the Grand Champion winning $50,000. It all culminates in Sam Walton's backyard in Bentonville.
October 26-27: National Championship Barbecue Cook-off | Meridian, TX
Wait a minute. Didn't we just crown a national champion a couple of weeks ago in Arkansas? Well, yes, but this is the national championship of the Lone Star Barbecue Society. Everybody knows that Texans consider themselves their own country. Just go and enjoy the brisket.
October 27: Jack Daniel's World Championship Invitational Barbecue | Lynchburg. TN
Colloquially known around barbecue circuits as "The Jack," this competition is the one that many teams circle on their calendars. To qualify for the competition, U.S. teams must have already won a competition in which 50 or more teams participated, or they must have won a competition of at least 25 teams that has been designated a "state championship." Even then, competing teams are determined by the luck of the draw in a lottery among all qualifiers. International teams are also invited to add a little extra spice to the event.
October 27: North Carolina Barbecue Festival | Lexington, NC
Lexington is the epicenter of North Carolina barbecue, and once a year they roll out the red carpet for porcine royalty. Closing off eight blocks of Main Street to hold the thousands of fans who visit, uptown Lexington features five music stages, hundreds of food vendors and the best chopped pig you'll ever eat.
February 20-23, 2013 NBBQA Annual Conference | Mobile, AL
The one group that can bring together all the different competition sanctioning bodies, as well as barbecue restaurant operators, vendors and enthusiasts, is the National Barbecue Association. They still can't get everyone to agree on how to spell "barbecue," though. All these constituencies from around the country and across the globe will convene in Mobile next year to recognize the best of the best and discuss all things barbecue.
And two international competitions...
June 30 – July 1: Grillstock Bristol Harbourside, England
You don't have to be American to love meat and smoke. Brits are quite fond of their barbecue too. Grillstock organizers promise "Meat, Music and Mayhem" as they feature the feature some of the very best in rockabilly, Cajun, bluegrass, country music and crown the "King of the Grill." Who knows more about kings than those crazy Brits?
July 6-8 Mondial du Grill | Saint-Calixte, Québec
Since the website for this event is in French, some of the nuances may be lost in translation. But it is readily apparent that the Québecois like to grill them some meat. Now ordinarily, we wouldn't consider steak on a Weber to technically be "barbecue," but we'll cut some slack to America's hat. There will be separate competitions for the traditional contest categories of chicken, pork ribs, pork shoulder and beef brisket, so it won't be completely foreign.
---