10 Things To Eat & Drink In Boston Now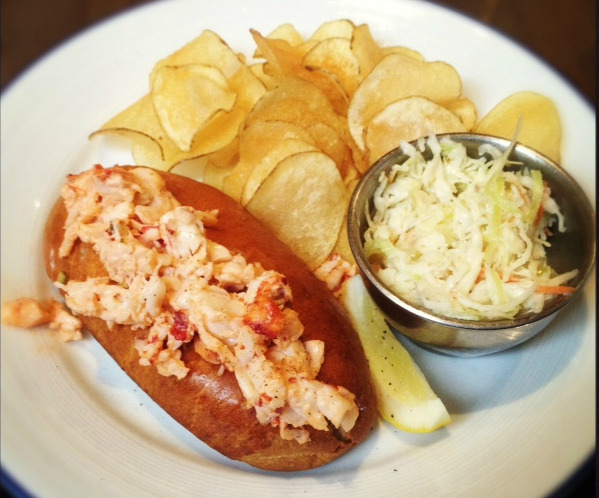 I liken living in New York City to being trapped in a cocoon surrounded by a force field. There's so much to eat and drink in the metropolis that it's tough to break out. Weeks and months pass before residents escape the city limits.
This brings us to Boston. It had been too long since my wife and I had driven the 220 miles north, so we decided to spend a weekend diving face-first into the city's food and drink scene. Here's how we happily came back five pounds heavier.
1. Fried Mussels at Park Restaurant
I typically despise mussels, but at Harvard Square's recently opened Park, a subterranean boîte packed with comfy parlor furniture, a fine beer selection and even better cocktails, I found a mussels dish to make me a believer: The bivalves were coated in a batter cut with preserved lemon and fried till fluffy and crisp, then served with a zingy horseradish dipping sauce. It was sort of like eating seafood popcorn. 59 JFK St., Cambridge, MA, 617-491-9851, parkcambridge.com
2. Grass-Fed Burger at Craigie on Main
Forget the Pat LaFrieda–blend burgers. At Craigie, chef Tony Maws mixes his grass-fed beef with umami-rich dehydrated miso and bone marrow — drooling yet? — and cooks the patty in a low-temperature, CVap steam oven to a juicy medium rare. The finishing touches: a quick char on a steel plancha, mace-spiked ketchup, aged cheddar and house-crafted red-wine pickles. The burger is a heap of yum. 853 Main St., Cambridge, MA, 617-497-5511, craigieonmain.com
3. Harpoon Brewery Cider
While the Boston-born outfit is best known for its unfiltered UFO beers and floral IPA, a trip to Harpoon's south Boston brewery clued me in on a few styles worth your stomach space. The newly released Rich & Dan's Rye IPA is a citrusy, slightly spicy delight. But I was more smitten by the relatively rare cider. Made with nothing but juice from New England apples, including the McIntosh, the Harpoon Cider is a tart, lightly sweet treat that temporarily made me forget my love affair with beer. 306 Northern Ave., Boston, MA, 617-574-9551, harpoonbrewery.com
4. KK's Bacon and Sea-Salt Pretzel Nuggets With Pimento Cheese Dip at Area Four
Pulling quadruple duty as a coffeehouse, bakery, bar and restaurant focusing on local and season ingredients, Area Four might just be a jack-of-all-dining. The pizzas pulled from the wood-, gas-, and infrared-heated oven are finely crusty and charred, but I could happily — and gluttonously, I might add — subsist on the pretzel nuggets cooked in bacon fat and served with a pimento-cheese dip. Um, more please. 500 Technology Square, Cambridge, MA, 617-758-4444, areafour.com
5. Ward 44 at Saloon
Whiskey, grilled and roasted meats, and dark wood are the focus at this subterranean, well, saloon outfitted with arches, old-timey mirrors and an excellent cocktail list. Given the kitchen's focus on the pleasures of the flesh, it follows that the most intriguing cocktail is the bacon-y Ward 44. Pork belly­–infused whiskey is the focal ingredient, providing a lingering smoky flavor, but lemon and grenadine add crucial balance. 255 Elm St., Somerville, MA, 617-628-4444, saloondavis.com
6. Wormtown Brewery Be Hoppy IPA at Flatbread Company
Long past the point of common sense, my wife and I wended our way to Davis Square with our bleary eyes set on the former Sacco's Bowl Haven. Several years ago, the team from quirky Northeast pizza chain Flatbread took over the bowling alley — candlepin bowling, mind you — ripped out a few lanes, installed a pizza oven and stocked the bar with Massachusetts beer and cocktails made with regional spirits. Booze seemed like a bad idea, so I focused on Worcester-based Wormtown's Be Hoppy, a pungent pleasure bursting with grapefruit bitterness. 45 Day St., Somerville, MA, 617-776-0552, flatbreadcompany.com
7. Lobster Roll at Island Creek Oyster Bar
The Hotel Commonwealth is a dining and drinking powerhouse, counting buzzy brasserie Eastern Standard, comfortably mod lounge the Hawthorne (overseen by cocktail mastermind Jackson Cannon) and Island Creek Oyster Bar, which might just be Boston's finest seafood restaurant. The oysters are impeccably sourced ("These are my favorite oysters," my wife moaned, sucking down several buttery-briny Island Creeks), the breads are house-baked and the lobster roll was a lightly dressed beauty with an unlikely, but delicious addition of diced pickles. P.S. Come at brunch for the decadent lavender doughnuts. 500 Commonwealth Ave., Boston, MA, 617-532-5300, islandcreekoysterbar.com
8. Notch Session Saison from Craft Beer Cellar
On a sunny Saturday afternoon, I forsook the fine weather and spent a few hours marinating inside Craft Beer Cellar, which is quite possibly Boston's finest beer store. Amid the bottles of locally brewed beers like Slumbrew's blood orange, infused Happy Sol and the lovely lagers of Jack's Abbey, I found myself drawn to the low-alcohol quaffs of area outfit Notch Brewing. The brewery specializes in session brews like the crisp Session Pils and my favorite, the dry, peppery and compulsively drinkable Saison. 51 Leonard St., Belmont, MA, 617-932-1885, bostoncraftbeercellar.com
9. Mashed Potato, Bacon and Scallion Pizza Slice at Otto
When my wife and I were married in Portland, Maine, last summer, our rehearsal dinner consisted of inviting guests onto the evening ferry, supplying a couple coolers of beer and buying a boatload of thin-crust Otto pizza. So you can understand our excitement when we spied the Harvard Square outpost of the mini chain, which was serving slices to hordes of hungry customers. The plain cheese is commendable, but go big baller and get a slice topped with mashed potatoes, scallions and bacon. Don't judge: It works. 1432 Massachussettes Ave., Cambridge, MA, 617-499-3352, ottocambridge.com
10. Super Duper Weenies
On our trip to Boston, we made a most crucial stop in Connecticut at Fairfield's Super Duper Weenies, a long-running hot dog joint focusing on beef-and-pork wieners crowned with from-scratch toppings. Fries are fresh-cut. Everything is cooked to order. I select skin-on fries and a New Englander, which is crowned with 'kraut, mustard, bacon, mustard and sweet relish. It's sweet-and-tart, snappy, zingy and rich as a Rockefeller. In other words, the weenie is just super. 306 Black Rock Turnpike, Fairfield, CT, 203-334-3647, superduperweenie.com
---
Read more city guides on Food Republic: