Salvatore Calabrese Lets You Drink History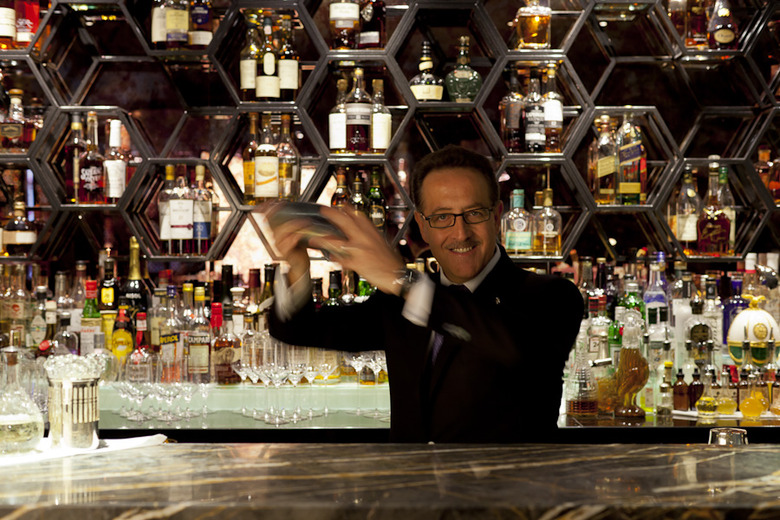 Salvatore Calabrese
We may receive a commission on purchases made from links.
When it comes to cocktails, Simon Ford is the guy to know. After earning a Wine and Spirits Education Certificate in the UK, he went on to work for Seagrams and now holds the heady title of Global Spirits & Cocktail Brand Expert for Pernod Ricard USA. For real, it's on his business card. In Simon's weekly column, Drink Ford Tough, he tells you everything you ever needed to know about the art of the cocktail. And how to drink better.
There's a trend right now to make historically accurate cocktails. Bartenders are researching centuries-old bitters recipes and rediscovering defunct brands to try and replicate the taste of the past. Some are even making their own colas to use in Cuba Libres. But nobody has been doing this more seriously than leading London figurehead Salvatore Calabrese.
Salvatore has held the classic cocktail torch in London for many, many years. There was an explosion of fresh fruit cocktails in the '90s and London was generally a great place to be for bartenders. But during that whole period Salvatore was working at hotel bars — like the Dukes Hotel and the Lanesborough — making the classic cocktails that everybody is enamored of today. He even wrote a book on classics, which is one of the best on the subject.
For Salvatore, collecting old spirits is not about an obsession, but rather it has do with his respect for these historic recipes. The cocktails that have become the classics have always been remarkably simple drinks. And while some bartenders choose to create twists on these drinks by changing them up, Salvatore likes the idea of perfecting them, or at least respecting the way they were once made. So to do so, he finds and collects not only old bottles, but also historic shakers and glassware.
Salvatore jumpstarted his collection in 1984 by buying a bottle of Hine cognac from 1915, which he refers to as the "year of the woman." At that time women took over making cognac while the men were at war. He has been growing his collection ever since and owns spirits that date back as far as 1770, and a cocktail book collection that goes back to 1862.
Where Salvatore gets all of these rare treasures and treats is a closely guarded secret, which is probably quite smart. He told me that a lot of people come to him to sell their collection because they want a good home for them.
I met Calabrese in 1998 when he was the head bartender at the Lanesborough Hotel. It was on that day that I received my first lecture from him about his cognac collection. (I remember him being an amazing salesman because I later bought cognacs that were about five times more expensive than I'd ever paid before.)
Before Salvatore came to work at the Lanesborough in 1994, he had been at the Dukes Hotel for 10 years. But he truly started his career at a bar in Maiori, a small village in Italy. He made his first drink (an Americano) at the age of 11 and has been bartending since 1966.
After his time at Dukes, he was a fixture at the Lanesborough until 2004 when he opened his own bar called Salvatore at FIFTY. Salvatore's bar has since moved locations and is now at the Playboy Club where you have to walk through a virtual museum of his historic spirits, cocktail books, shakers and glassware before you reach the main room. One of his greatest pleasures is guiding customers through his incredible collection (which usually ends with them purchasing a very expensive cocktail). His most recent venture, Mixology 101, is based in Los Angeles.
When he still had Salvatore's at FIFTY, Salvatore acquired a bottle of 200 year-old Genever that was recovered from a shipwreck in Norfolk. I happened to be there while he had it and caught him in a generous mood so I was able to try some. The first thing he did was to make a round of gin cocktails that date back to the early 19th century. I've walked in to see Salvatore on several occasions and got lucky like that.
Salvatore refers to his collection, and the drinks he makes, with those spirits as "liquid history." Of course, that is exactly what it is, but in truth you may need to cash in some liquid assets to afford these cocktails. On his menu there is a Sidecar that goes for £350 ($565) and a staggering £2,500 ($4,000+) for a Sazerac.
So who is buying these pricy cocktails? Salvatore says he has served such notable clients as the Queen, Nelson Mandela, Mick Jagger and Paul McCartney. As he put it, "you can't get better than that."

You can follow Simon Ford on Twitter: @SimonJFord.
---