The World's Best [Free!] Hotel Mini-Bars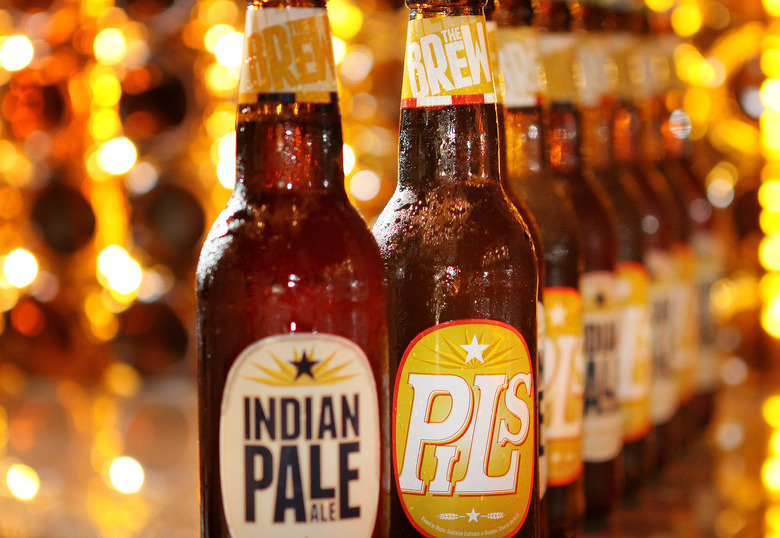 Like syndicated episodes of Law & Order, it's always there. Waiting. You don't want to succumb. But, sometimes, the road-weary traveler can't help but do just that.
Fortunately, the hotel mini-bar is evolving. Forget overpriced Pringles and strangely cold Cabernet. From Bangkok to London, hotels with both culinary and economic knowhow now provide gourmet mini-bar options without the absurd price tag.
Tasty in-room items like craft beers and handmade chocolates are completely complimentary, thereby liberating you from any embarrassing Skittles-and-gin charges to settle at checkout.
Shanghai has no shortage of luxury lodging, but Kerry Hotel Pudong is the city's only hotel with an on-site craft brewery. Guests can sample award-winning brew master Leon Mickelson's best bottles, made with ingredients sourced from nearby farms in the Yangtze River Delta, without removing their slippers – or their wallets. Complimentary mini-bars are stocked with peanuts, chips and two of Mickelson's signature beers: a grassy, hoppy Pils and classic Indian Pale Ale. 1388 Hua Mu Road, Shanghai 201204
Set on 157 acres of oaks, lakes and bubbling mineral pools, Calistoga Ranch does everything in its power to connect you to its almost ludicrously beautiful locale. Forty-eight cedar guest lodges all have outdoor living rooms and showers, floor-to-ceiling windows, and complimentary mini-bars stocked with heirloom apple juices, locally bottled Chardonnay, handmade chocolates from nearby St. Helena and a rotating selection of seasonal snacks from Napa Valley. 580 Lommel Road, Calistoga, CA 94515
Andaz Liverpool Street, London
Housed in a stately 19th Century brick building, Andaz is the only hotel on Liverpool Street and just steps from the central Liverpool tube station—and its uncannily bustling McDonald's. Avoid the straphangers' McFlurry by retreating to your sleek room, where modernist furnishings include Eames desk chairs, Jacob Jacobsen lighting, and a chrome refrigerator stocked with complimentary biscuits, crisps, juices and bottled water. 40 Liverpool Street, London
EC2M 7QN

A major commercial port since the 15th Century, modern-day Antwerp has the risky combination of both a booming diamond trade and killer beer scene. Funky design hotel Sir Plantin knows that journeying along the River Scheldt can be a thirsty business, so mini-bars in its 176 rooms have complimentary sparkling and still waters as well as two locally brewed Bavik Pils beers. All are restocked daily; because a premium Belgian lager, really, is forever. Plantin en Moretuslei 136, 2018 Antwerp
One of the world's best culinary destinations, Bangkok, has it all: incredible street food, innovative fine dining, even noodle dishes made with the fat from shrimp heads. In the heart of downtown lies the Siam Kempinski, a 303-room hotel with an impressive local art program and the perfect mini-bar to compliment days of reckless gastronomic abandon. Tonic water, soda and local beers are free of charge and replenished daily. No questions asked. Rama 1 Road 991/9, 10330 Bangkok
Chic hotels are a dime a dozen in NYC, but De Niro does not mess around. His TriBeCa hotspot and its stellar restaurant Locanda Verde will make you forget that last Meet the Parents sequel was ever made. Clubby, masculine interiors include guestrooms with sweeping downtown views, free wifi and a complimentary mini-bar with Uncle Jerry's chocolate-covered pretzels, mixed nuts, bottles of water and even Kiki de Montparnasse condoms. 377 Greenwich Street, New York, NY 10013
---
More Gastro-Tourism Stories On Food Republic: