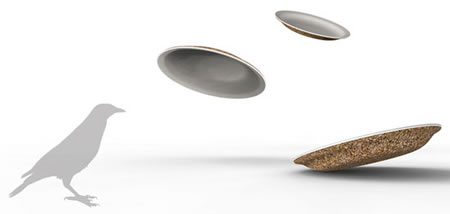 NYC designer Andrea Ruggiero looked back to his childhood days in Italy for inspiration when designing the disposable UFO (Unidentified Feeding Object) plate. In Italian, disposable products are described as "Use e getta," Italian for "use and throw." Ruggiero decided to take this phrase literally. He designed a plate for a backyard BBQ that you can fling off the nearest tree to have it crack apart and become a bird feeder.
Made from potato starch, guar bean gum and a seaweed-like binding agent, the sleek plates take the form of a disc-shaped shell encrusted with birdseed on the bottom.
After you're done with your ribs or burgers, the fun really begins! Just find a tree, aim the plate-cum-frisbee and toss it. As the plate shatters, it leaves behind seeds for the local wildlife, and the solid parts biodegrade in about two weeks.