NYC: Uncle Zhou Takes Henan Public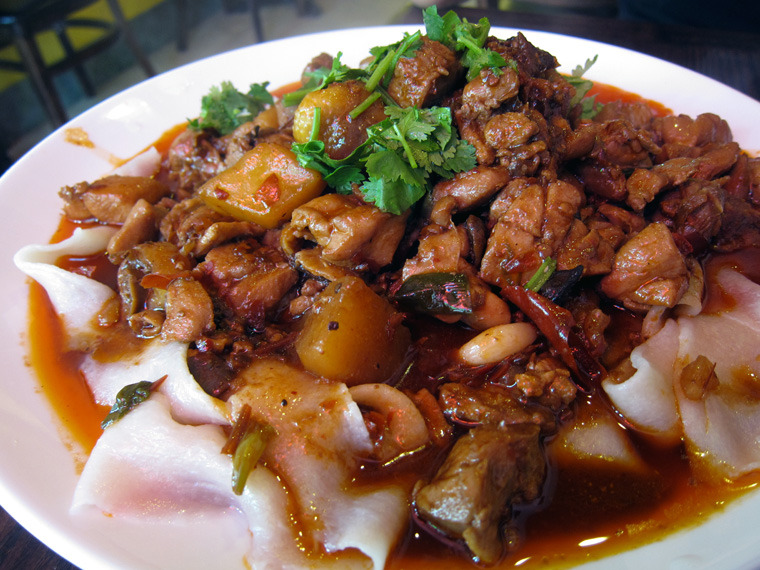 Big Tray of Chicken
Thirty years ago in America, you'd be hard-pressed to find Chinese food outside the culinary continuum of wonton soup, lo mein and sweet-and-sour chicken, a dish designed as a delivery system for sugar and red dye. But in the last decade, as sour-spicy Hunan and hot-and-numbing Sichuan restaurants fired up their woks, the country has been introduced to a growing galaxy of flavorful Chinese cuisine, not just deep-fried meat of dubious origin.
Of all the cuisines that have lately attracted our appetite — Southeast Asia–influenced Yunnan, seafaring Qingdao, hearty, dumpling-and-meat-heavy Dongbei — one school of cookery stands out: Henan cuisine.
Do not confuse this with Hunan. Located northwest of Shanghai, the cuisine of the Henan province, known as the breadbasket of central China, is heavy on noodles, dumplings and lamb. Garlic, Sichuan peppercorns, ginger, star anise and chili oil are common additions, though the fare is not as mouth-on-fire as Sichuan food.
In New York City, Henan cuisine has lately main inroads in both Manhattan and Queens, with the best eats found at the homespun Uncle Zhou. Like most Chinese restaurants, the frills-free décor runs a distant second to the food. There are a handful of tables and a refrigerated case displaying the day's cold appetizers, including plenty of spicy mushrooms, shreds of pressed tofu and oodles of sliced offal.
They're plenty tasty, but we prefer to reserve our stomach space for the bounty of wheat. The generously portioned boiled lamb dumplings are juicy as you will find. The spicy shaved-noodle soup is a tangle of chewy noodles, tender stewed beef and a restorative broth shot through with tingly Sichuan peppercorns and a slick of chili oil. The "dial oil" noodles are a tangy and garlicky, vinegar-doused delight.
Though it's tempting to make a meal out of noodles and dumplings, the carnivore-appeasing entrées also merit exploration. Fried-crispy chunks of boneless lamb are coated in cumin seeds, while a whole fried fish is set adrift in a lake of sweet-and-sour sauce and topped with a pile of crunchy baked noodles. But if you're making the trip to Queens to visit Uncle Zhou, you best order the "big tray of chicken."
It's a table-dwarfing platter of blood-red chili oil swimming with star anise, Sichuan peppercorns, chilies, cilantro and plenty of potato cubes, bony nuggets of chicken and noodles to wipe the plate clean. It's aromatic without being incendiary, finger-licking food finer than anything Colonel Sanders ever created.
It was much too much food to finish. You could say we happily cried Uncle.
Uncle Zhou

83-29 Broadway
Elmhurst, NY 11373
718.393.0888
---