Austin, Texas: Rock Your Taco Celebrity Chef Smackdown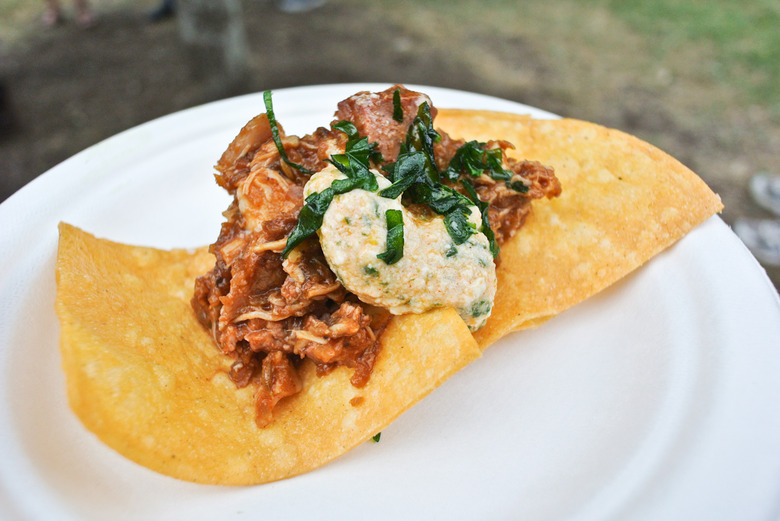 Of course the Austin Food and Wine Festival would have a taco event. As it should. At Rock Your Taco (that name!), nine chefs from around the country were asked to serve their interpretation in a tournament-style smackdown. Gail Simmons, Andrew Zimmern and Food & Wine publisher Christina Grdovic judged from a table in the corner—the rest of us hit the lines, which slinked through beautiful Republic Square Park. Mayer Hawthorne played a set, which was nice and soulful. But, really, we were there for the tacos.
Michelle Bernstein fried up a whole mess of sweetbreads, lightly pan-fried and complemented with a burst of lime. Why sweetbreads? "I come from Argentina, where we eat them a lot!" Food Republic co-founder Marcus Samuelsson did Ethiopian doro wat (a fragrant chicken dish from his native Ethiopia) on a crispy corn chip. Christina Tosi, Jonathan Waxman, Tim Love and Masaharu Morimoto all served their spins.
And the big winner? An Austin restaurant, of course. Tyson Cole, chef/owner of Uchi and Uchiko, broke out of his comfort zone with a sous vide pork jowl — done for five hours in brown butter and cinnamon and topped with corn salsa. The man's business is driven by the "perfect bite"— and here he most certainly lived up to his reputation.