Give Tex-Mex A Chance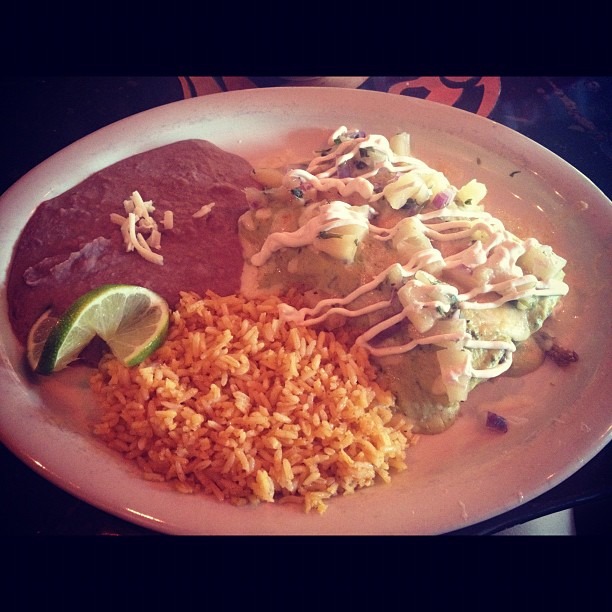 mexican food
I arrived in Austin yesterday morning running on 3 hours of sleep and a bag of potato chips only to find that my checked bag was lost in transit. My laptop was in there, ditto knives and bathing suit, so cooking, reporting and lounging by the pool (an activity I'd allocated ample time for) all seemed pretty out of the picture. But I was in Austin for the very first time — I'm in Texas for the first time, actually — so I set off in my gross travel clothes to locate some of the state's famously adapted Mexican cuisine, better known as Tex-Mex.
Between the hotel concierge, Yelp and the suggestions of my Facebook friends, I found Chupacabra Cantina in the 6th Street area. Their "legendary, award-winning Tex-Mex" couldn't be situated in a better location to find its way into the eager stomachs of ravenous, drunken Univerity of Texas students. I got there just in time for Happy Hour — $3 pint glasses of very strong margaritas for everyone! And three pitchers for the table of six UT ladies over there! And since when do Tex-Mex spots play great music?
I'm not sure what to make of the phrase "authentic Tex-Mex." None of the offerings seemed to swing particularly in either direction, but everything sounded great and I had a hard time choosing what to eat. I went with the Yucatan enchiladas: slow-smoked pulled pork with spicy tomatillo salsa, habanero sour cream and fresh pineapple pico de gallo. The blend of salty-spicy-tangy-sweet hit such a satisfying note I felt it in my toes.
I devoured the platter and an entire order of chips and salsa, sucked down a robust pint of 'rita and, exhausted, drunk and euphoric, very nearly got a tattoo at one of Austin's, oh, 60 tattoo parlors. Good thing I had to meet with the kitchen team at the W Austin or the photo above might be of a raw arm sporting the order of operations for a tequila shot. You know, in case I forget.
Here's me embracing a cliché: boy, are things less expensive here. I left Chupacabra $15 bucks lighter, and a better person for it. Now, I'm off to the TRACE at the W Austin to knock out a bunch of very non-Tex-Mex dishes. Let's see how I hold up in an actual restaurant kitchen versus our photographer Mark Shaw's chill Brooklyn pad. Hopefully Monday's What to Eat For Lunch doesn't have anything to do with filet of hand.