Don't Leave Home Without...Your Salad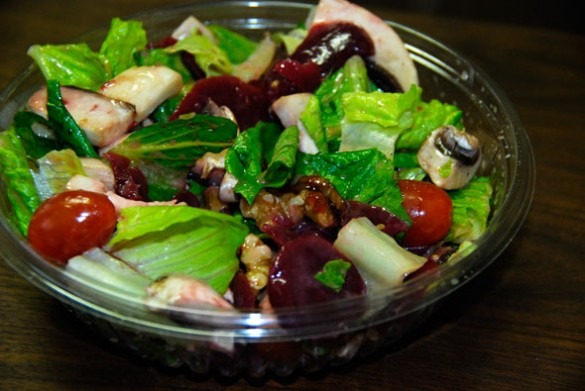 I'm pretty proud of myself. Before I went home last night to pack 90-degree weather clothes for our foray to the Austin Food & Wine Festival, I stopped at the deli and got me a good old-fashioned salad bar salad, dressing on the side. I popped it in my suitcase before I headed to LaGuardia, an airport not on our list of awesome airports to eat at. Though we are aware of the strides they've taken, and have enjoyed a LaFrieda burger in the Delta Terminal. But I digress.
Just when I think there's nothing to eat in transit today, I'll remember I have a large romaine with a shocking amount of the following toppings:
Mozzarella, cheddar, feta, Swiss, hard-boiled eggs, hard-boiled egg whites, roasted peppers, black olives, Greek olives, grilled chicken breast, BBQ chicken, Cajun chicken, herbed grilled chicken, honey dijon chicken, tuna salad, Italian tuna salad, peppercorn turkey, smoked turkey, ham, bacon, tofu, diced tomatoes, cherry tomatoes, cucumber, avocado, edamame, beets, broccoli, celery, carrots, mushrooms, peas, kidney beans, corn, peppers, dried cranberries, mandarin oranges, croutons, sunflower seeds, asparagus, artichoke hearts, chick peas, sun-dried tomatoes and 20 kinds of dressing.
And I'm pretty sure that's everything. That was meant to be read in a Bubba-from-Forest-Gump voice, in case that wasn't implied. Any recovering New Yorkers feel nostalgic for big salads?