Sugaring Off On The Outskirts Of Montreal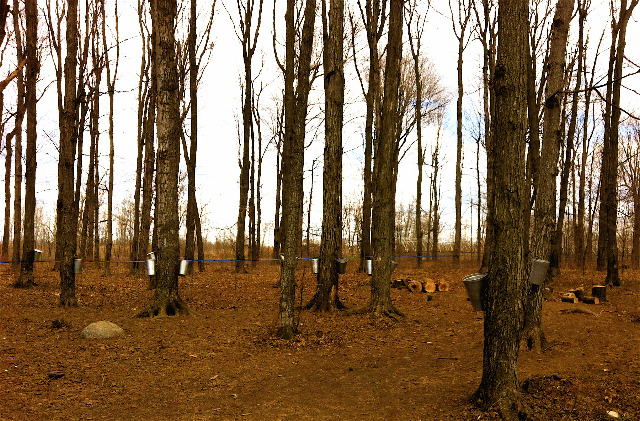 While a good many Americans are getting ready for the warm weather to arrive, French Canadians still have their minds on their maple. It's sugaring off season in Southern Quebec, which is a slightly smutty-sounding way of saying it's that time of year when maple trees get tapped to make syrup and other sweet maple products.
I recently took my American boyfriend to my hometown of Montreal for a five-day gorge fest that included an afternoon excursion to a sugar shack. For those not in the know, the sugar shack is not a mere shack where maple syrup is made. Rather, it's an institution that every Quebecois kid is introduced to on school field trips and family outings.
It usually consists of a maple forest or farm, the facility where the sap gets cooked, and a large, lodge-like dining room where piles of maple-infused foods are served. On our visit to La Branche, a sugar shack some 35 minutes' drive from downtown Montreal, there actually was a group of school kids there on a field trip. The grade schoolers were literally bouncing off the walls, hopped up on amber gold.
I remember visiting the sugar shack with my class as a kid. The experience was always a thrill, and not just because you got to eat sugar all day. We were treated to a horse-drawn sleigh ride through the forest to see the trees being tapped; we learned what temperature at which the sap has to be boiled to become syrup (220 degrees F); and there was usually some sort of petting zoo involved, it being a working farm operation.
As an adult, I pulled into the lot before the red-roofed farmhouse, just off a barren country road. Inside was a room with a large stove where the sap is boiled down. (A smaller potbellied stove in the corner recalled how things used to be done.) The main dining room was set up like a cafeteria; we were mercifully seated in a separate area from the screaming, sugar-high children.
The meal started with the traditional yellow pea soup. Typically, the soup is made with bits of salt pork and dotted with carrots or turnips. Next came a wave of platters to share, family-style. There was the traditional ham, baked beans, fried potatoes, scrambled eggs, and pork rinds (which the Quebecois have dubbed, for some reason, oreilles de crisse: "Christ's ears"). It was one of the best things I ate on the entire trip.
Each table also got a bottle of high-grade maple syrup to pour over our plates. My boyfriend paused between bites to giggle at the strange sweet-savory meal. Part breakfast, part dinner, it's reminiscent of the Harlem staple of chicken and waffles.
A third wave of platters delivered dessert. Pancakes (to be doused with more maple syrup, of course) were accompanied by typical Quebec desserts. Sugar pie is just what it sounds like: a piecrust with a filling of maple fudge. My American cringed at one of our fellow diners pouring maple syrup over it... just in case it wasn't sweet enough. We also had pouding au chômeur, which translates literally as "pudding of the unemployed" or "poor man's pudding." Hey, French Canadians don't beat around the bush: it's basically flour, water and maple syrup. Sometimes, stale bread is thrown in.
After this sugar binge, we could barely face more maple. But we still hadn't had the best part: tire d'érable or maple taffy. This is where hot maple syrup, boiled to 235 degrees F, is poured over clean, packed snow. The cold snow instantly congeals the syrup to taffy so you only have a few moments to grab a popsicle stick and roll the taffy up into a lollipop. Shockingly, the school kids were allowed to have as many as they wanted. One little girl even lost a tooth to the sticky taffy. The chaperones looked exhausted.
So were we. Coming off a sugar high is like coming off any bender. My hands shook as I drove home. And the next day, I didn't feel quite right until I had a little hair of the dog. Call it maple butter on toast. Yes, that's really a thing.
---
Read more about Montreal on Food Republic: