St. Croix: Elvis Burger, Fit For A King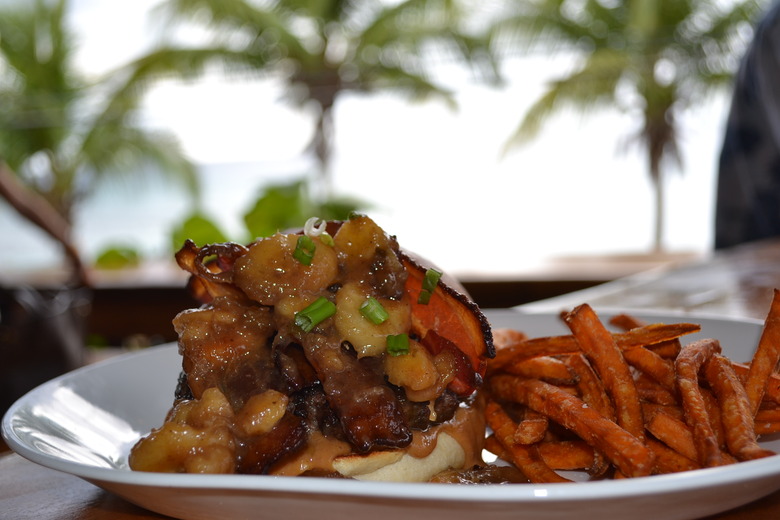 There's a difference between island food and beach food. Island food combines local ingredients with flavors of the various cultures that now call the Caribbean home. Beach food is more free-form. It's fun and casual and fits the platonic ideal of a beach without being specific to any one location. Most places in St. Croix serve island food. Frank Pugliese, chef/owner of the oddly lowercased eat, serves beach food.
At eat @ cane bay, Pugliese offers a make-your-own burger setup that lets you construct a masterpiece from sexy toppings like jalapeno cream cheese, smoked duck chili, and even a slab of seared foie gras. If you want to leave it up to the experts, however, you'll find the Burger of the Month listed on a chalkboard facing the sparkling Cane Bay. This month, they're serving The Elvis, a burger fit for The King. We're talking peanut butter sauce, banana compote, and thick slabs of bacon – a combo clearly made for the Hound Dog's later, more zaftig years.
The beef is a classic 80/20 blend of Angus choice and Pugliese goes straight for the coronary with a pound of butter mixed in for every ten pounds of beef. If you're worried about the sweetness of the compote, don't be. The peanut butter sauce is there to cut the richness. Forget Jiffy because this condiment is closer to a Thai satay dipping sauce with a healthy dose of sriracha and soy sauce to thin it out. Put the whole thing together on a brioche bun and order it medium rare. There's a good chance you'll be all shook up.
Elvis isn't dead. He's clearly just spending his twilight years in the U.S. Virgin Islands. Who can blame him?
110c Cane Bay, St. Croix, VI.
340-718-0360