NYC: Caffé Vita, Now Roasting On The LES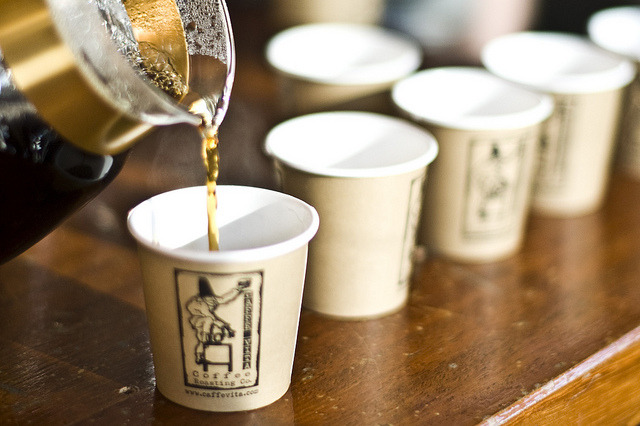 A collective gasp fell upon the Lower East Side when news broke of a certain Seattle coffee company setting up shop in the neighborhood. Not to worry: it's not that Seattle coffee chain. From the birthplace of Starbucks, a far less insidious café has opened its first New York location on Ludlow Street. With a small-batch cast-iron Gothot roaster from the early 1900s cooking in the back of the space, Caffé Vita is the first coffee shop to roast its own beans onsite in Manhattan.
Vita was founded in Seattle by Michael McConnell in 1995 – the same year Intelligentsia was born in Chicago, making it one of the pioneers of third-wave coffee culture. In addition to seven locations in Washington State, it already has two outposts in Portland, Ore. and others opening in the Silver Lake neighborhood in Los Angeles and Greenpoint, Brooklyn later this year.
McConnell got his start in coffee when he opened a couple coffee carts with a friend in Portland back in the 1980s. Since then, his passion for quality caffeination has only grown. He's had the opportunity to immerse himself in café culture and visit growing regions around the world.
"My most inspiring coffee trip would have to be Ethiopia," says McConnell. "It's considered to be the birthplace of coffee. Ethiopians love coffee and it's such an important part of their culture and economy."
Here in the U.S., the west coast has always been ahead of the curve when it comes to coffee culture. But lately, New York has been the hot spot for craft roasteries and geeky coffee shops. Toby's Estate from Australia recently set up shop in Williamsburg; Blue Bottle from Oakland just opened a second New York location in Rockefeller Center. And Stumptown, from Portland, continues its conquest of the city with a second Manhattan location in the works and its Red Hook Brew Bar currently under renovation.
"Expanding to New York has been a dream of mine since I started the company," says McConnell. "This is an amazing city where people can get just about anything they want. I found one of the only things missing and it was Caffé Vita."
One of the most exciting coffees at Vita right now is the 12,000 Rain Gardens Blend, an organic blend of shade-grown coffees from Ethiopia, Guatemala and East Timor. McConnell has pledged 10% of its sales to help build 12,000 rain gardens throughout the Puget Sound in Washington State by 2016. Ever the conservationist, he also has a shade-grown Guatemalan coffee sold in partnership with the Woodland Park Zoo.
The new location continues Vita's tradition of organic and fair-trade coffees and beans sourced directly from farmers committed to environmentally friendly growing practices. Specifically, it offers five blends, plus single-origin coffees from Indonesia, Brazil, Peru, East Timor, Guatemala, Rwanda, Ethiopia, Papua New Guinea and Colombia.
Vita also serves pastries by Pichet Ong and doughnuts from the cultish Brooklyn shop, Dough. Next door to the café is another Michael McConnell business: Via Tribunali, a Neapolitan-style pizzeria powered by a bona fide wood-burning oven made out of true Mount Vesuvius volcanic rock. The Ludlow Street location is Via Tribunali's sixth and the first in New York. So, yeah, Mike's been a busy man.
"I just got back from Vienna. Coffee house culture seems to have started there for the western world. Café Hawelka was my favorite spot – it felt like a 100- year-old version of Caffé Vita," says McConnell, adding a little dreamily, "Now I'm looking at international opportunities. And still thinking about my trip to Vienna."
---