Lupe Fiasco: Salmon + Lemon + Sugar. WTF!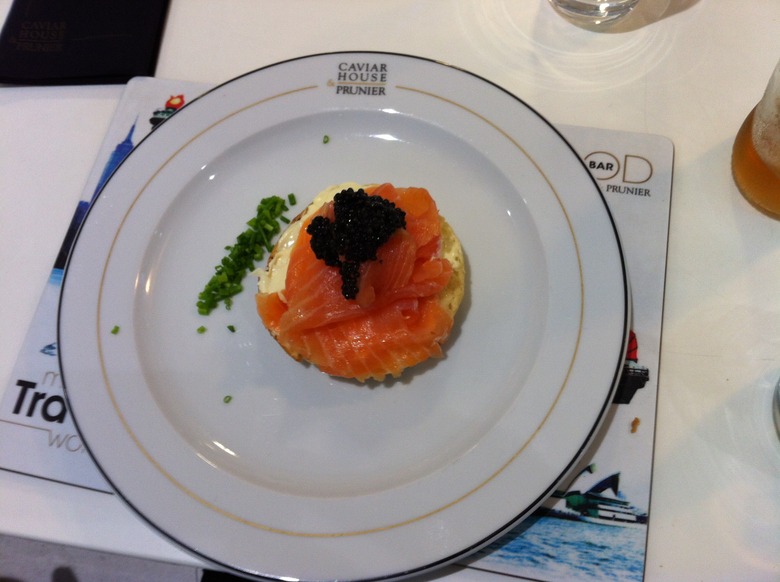 Even though his breakout 2006 debut album is called Food & Liquor, we weren't sure how big of a food guy Grammy winning rapper Lupe Fiasco was. This all changed when his reps reached out to Food Republic to see if we'd be interested in publishing some of his food writing from his current tour of Australia. Here's is the first installment of Lupe Fiasco Does Food Down Under Blog.
A fitting departure from my gastronomically involved duties. It all culminates with an all-out luxurious feast at the Sydney International Airport. It's here at the Seafood Bar: Caviar House & Prunier, where we order some of the finest Australian cured salmon (atop rustic and hearty black bread), accompanied by what can only be described as an utter beauty disguised as a house prepared garlic mustard potato — assisted by salt, dill, sugar and a twist of lemon. Show stoppingly badass!!!
With caviar being the flagship at this joint, I was forced to dive back into the menu for a taste of the Tsarina. A dish of 10 grams of fine black fish egg gold with a slice of Tasmanian smoked salmon served on a toasted English muffin (they were oddly out of blini) with a slathering of cool and smooth crème fraîche. Cold blooded.
Great staff, including a waitress who regularly inquired "Yummy?" in her comfortably settling Uruguayan accent, to which I replied "Yummy!" DO NOT MISS! It's something about the relationship between sugar and salmon and lemon juice that needs intense scientific research. 5 out of 5 Lupe's!
More From Lupe's Trip Down Under on Food Republic:

Lupe Fiasco, Blown Away By Sydney Seafood
Lupe Fiasco Is All About The Wagaya In Brisbane
Lupe Fiasco, Attacked By Donut Burger