Great Mysteries Of The Martini, Solved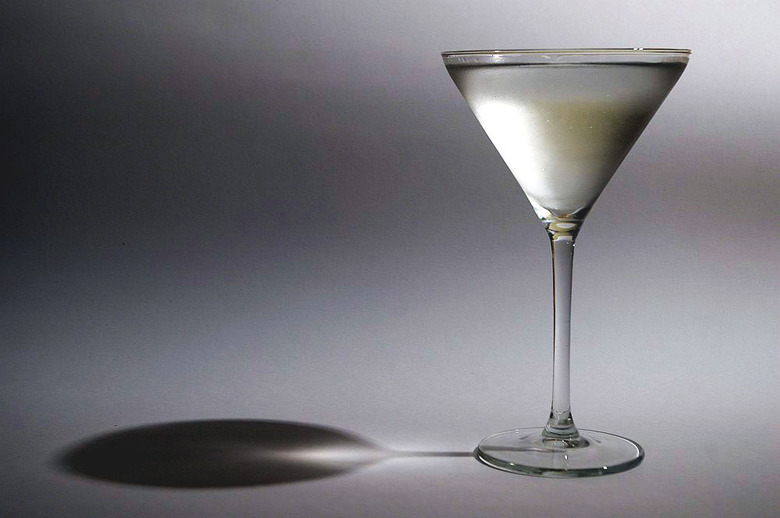 Martini
When it comes to cocktails, Simon Ford is the guy to know. After earning a Wine and Spirits Education Certificate in the UK, he went on to work for Seagrams and now holds the heady title of Global Spirits & Cocktail Brand Expert for Pernod Ricard USA. For real, it's on his business card. In Simon's weekly column, Drink Ford Tough, he tells you everything you ever needed to know about the art of the cocktail. And how to drink better.
The martini is a very personal drink that, despite its simplicity, can be ordered in a variety of ways. Every American I stand behind in Starbucks knows exactly what elaborate custom coffee drink he wants, and how he wants it. So if you think of ordering a martini the same way you would order your coffee, you'll be in good shape.
The martini is a very pure cocktail that consists of two main ingredients. A base spirit of gin or vodka and vermouth—with the option of two supporting acts: bitters and your garnish. The original martini recipes always feature gin and mostly contained bitters (orange being the most common). Boy, have times changed.
Gin vs. Vodka
It's really important to specify what spirit you want when ordering a martini. If you go to a classic bar, they'll most likely give you gin. But a more contemporary bar will probably give you vodka. For the most part, I'll drink a gin martini because I feel that gin pairs with vermouth better. But every now and then a good clean vodka martini is a nice treat. When you're first experimenting with martinis, you should switch between various spirit brands to find the ones you really like. Since this is such a pure cocktail, the gin and vodka that you choose will become the star of the drink. So you better pick wisely.
Gin
The best martini gin I can recommend is Plymouth. Even though it's still juniper-dominant, it's not overwhelming. It's also the gin that the very first dry martini was made with. Tanqueray makes a good martini because of the citrus flavor, as does Beefeater 24, which is a more delicate style of London gin.
Vodka
For vodka, Absolut is the benchmark and always a great place to start. If you want something with more character I recommend Charbay. For a really clean taste, go with Tito's.
Vermouth
There are many different vermouths — some are more spicy, some more floral, and others are cleaner and subtler. A great place to start is with two really well known brands: Noilly Prat and Martini & Rossi. After those, move on to Dolin for a fuller flavor. With subtle vodkas use Noilly, but if you have a strong flavored gin, pair it with Dolin. Vya is another good option.
Dry vs. Wet
Dry or wet refers to how much vermouth you put in a martini. Essentially, the more vermouth the wetter it is. Martini's with just a splash of vermouth would be considered very dry. A lot of people prefer 50/50's which are half vermouth, half gin. Originally, martinis were all wet—and in later centuries the trend was to make very dry martinis. Now people are adding vermouth back to them again.
Shaken, Stirred or...Naked
Stirring is my preferred choice. Shaken will dilute the drink more and allegedly "bruise" the gin. It breaks the oils out and makes the martini look cloudy. But when you stir you have a clearer, sharper looking martini. A naked martini means that all of your ingredients are kept in the freezer until you pour them straight into a chilled cocktail glass so there's no dilution. The Dukes Hotel in London is famous for making them this way.
Bitters
Just a dash of orange bitters was quite common in early martini recipes. Now that we have so many more bitters to choose from, why not experiment? Places like the Connaught in London will pair bitters (many of them homemade) with whatever spirit you choose.
Garnishes
Always include a citrus zest in your martini and don't forget to squeeze the oils from it over the top of your drink. You'll get a wonderful aroma and it's what makes a martini refreshing. I suggest you put the olives on the side and not in the drink — unless you want a dirty martini.
General Martini Making Tips
1. Always use a chilled glass for martinis (the smaller the better). Instead of having one enormous martini, it's better to have two small ones so they remain chilled. You should also refrigerate your olives if you plan to make a dirty martini. Otherwise they'll heat up your drink.
2. Your lemon peel garnish should be fresh cut to keep your oils alive.
3. Remember that anything you add to a martini will make a huge difference since it's such a simple drink.
Notable Bars That Serve A Mean Martini

The Pegu Club 77 W. Houston Street, 2nd Floor New York 212-473-7348
Dutch Kills 27-24 Jackson Ave New York 718-383-2724
The Colombia Room 1021 7th Street Northwest, Washington DC, 202-393-0220
The Hawthorne 500A Commonwealth Ave, Boston 617-532-9150
Dry Martini Carrer d'Abribau 162, Barcelona 93-217-5080
La Boadas Tallers 1, Barcelona 93-318-9592
The Dukes Hotel St. James' Place, London +44-020-7491-4840
The Connaught Carlos Place Mayfair, London +44-020-7499-7070
Recipes For Home
The Martinez Cocktail
Although it has more in common with cocktails like the Manhattan, the Martinez cocktail is considered the forerunner to the martini we know today. It was made with sweet vermouth and sweet Old Tom gin back then. Only a few decades later the sweet gin and vermouth were replaced with the dry versions and the trend for "dry martinis" started to take shape. This recipe is from Jerry Thomas' 1887 Bartenders Guide.
1 part Ransom's Old Tom Gin
2 parts Carpano Antica Sweet Vermouth
2 Dashes Luxardo Maraschino Liqueur
1 Dash of Bokers Bitters
Stir ingredients and train into a chilled cocktail glass. Garnish with a lemon zest.
The Marguerite Cocktail
This drink is considered as the first recorded dry martini recipe, taken from a book called Stuart's Fancy Drinks and How to Mix Them published in 1896.
2 Parts Plymouth Gin
1 Part Dry Vermouth
1 dash of Orange Bitters
Stir and strain into a chilled cocktail glass.
The Vesper
Taken from the 1953 Ian Fleming novel Casino Royale. Legend has it this drink was invented at the Dukes Hotel in London on one of Fleming's many visits to the bar there.
3 Parts Gordon's Gin
1 Part Absolut 100 Vodka
½ Part Kina Lillet (use Cocci Americano as a good alternative to Kina Lillet)
Shake and strain into a chilled cocktail glass and garnish with a large thin slice of lemon peel.
---
You can follow Simon Ford on Twitter: @SimonJFord.