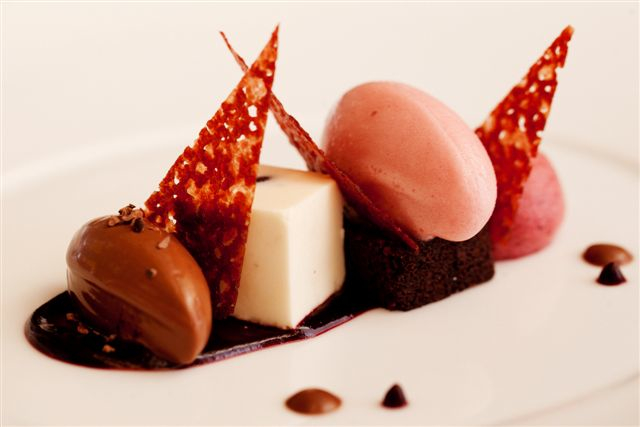 "I didn't want this to be overly architectural, but I do like my desserts to be neat and precise—tight and orderly," explains Le Bernardin pastry chef Laurie Jon Moran of his Black Forest, a modern, structurally reimagined take on the traditional cherry and chocolate gâteau.
"The idea was to lighten the cake, while keeping the familiar elements," says Moran, who took over the pastry chef job at Eric Ripert's famed restaurant early this year. With such a deliberate focus in mind, Moran's multi-shaped confection is an artfully composed feast for the eyes (it's pretty damn satisfying to the tastebuds, too). Here, he helps us dissect the final product.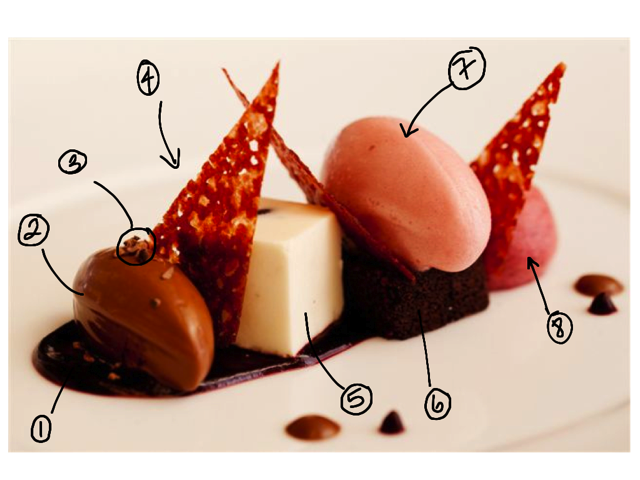 1. Cherry gel – "This is a cherry gelee set with agar and then blended into a gel-like sauce and spread on the plate with a spatula."
2. Dark chocolate cremeux – "It's a light, creamy chocolate ganache made by combining chocolate with crème anglaise and gelatin."
3. Cocoa nibs – From local chocolatier Mast Brothers; "These are reminiscent of the grated chocolate on top of your usual black forest cake."
4. Cherry tuile – A crisp, transluscent sheet made from a flour, sugar, egg white, butter and cherry puree.
5. Vanilla kirsch bavaroise – "It's a relatively small component compared to the whipped cream in the traditional recipe, but it's deliberate." To achieve the cubic shape, the bavaroise is produced in a silicone mold, frozen then popped out. "There's a brandy-soaked cherry inside, too."
6. Chocolate devil's food cake – "Instead of soaking layers of chocolate sponge cake in some kind of liquor, this is already moist and sticky—it's made with the excess juice from the brandy-soaked cherries."
7. Belgian cherry beer sorbet – "I don't like this beer on its own. It's too sweet for me, but I think it works as a light and refreshing sorbet."
8. Cherry foam – "Made with versawhip, which is a protein that can turn just about anything into a foam."