Lupe Fiasco, Attacked By Donut Burger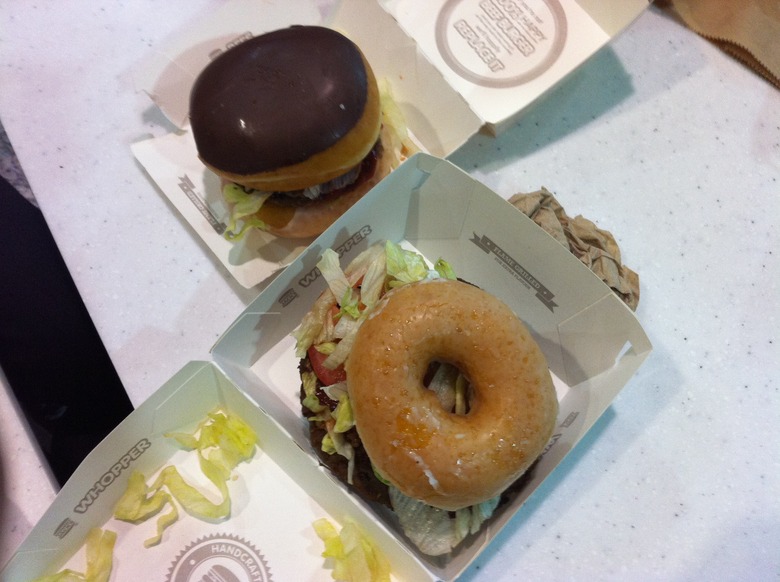 The Donut Burger
Even though his breakout 2006 debut album is called Food & Liquor, we weren't sure how big of a food guy Grammy winning rapper Lupe Fiasco was. This all changed when his reps reached out to Food Republic to see if we'd be interested in publishing some of his food writing from his current tour of Australia. Here's is the first installment of Lupe Fiasco Does Food Down Under Blog.
In a departure from the normal—with a headlong dive to the realm of what can only be called as Fool's Food—I present to you the storied Donut Burger. My touring crew and I have developed a rite of passage called the "Tokyo Chicken Challenge," which involves various culinary expeditions.
The Donut Burger is a product of one such challenge.
There's nothing to be subtle about here—it's a hamburger patty along with any of the condiments that tag along for the ride (a veggie patty will suffice as well), placed between two donuts. It defies words as to how the horrid flurry of alien flavors attacks the senses.
You can literally taste it in your stomach, which is quite the feat seeing as how your stomach lacks the capacity for taste. Misery. 0 out of 5 Lupe's.
---
More from Lupe on Food Republic

Lupe Fiasco, Blown Away By Sydney Seafood
Lupe Fiasco Is All About The Wagaya In Brisbane