Lunch Is Fun With Singapore Chow Mei Fun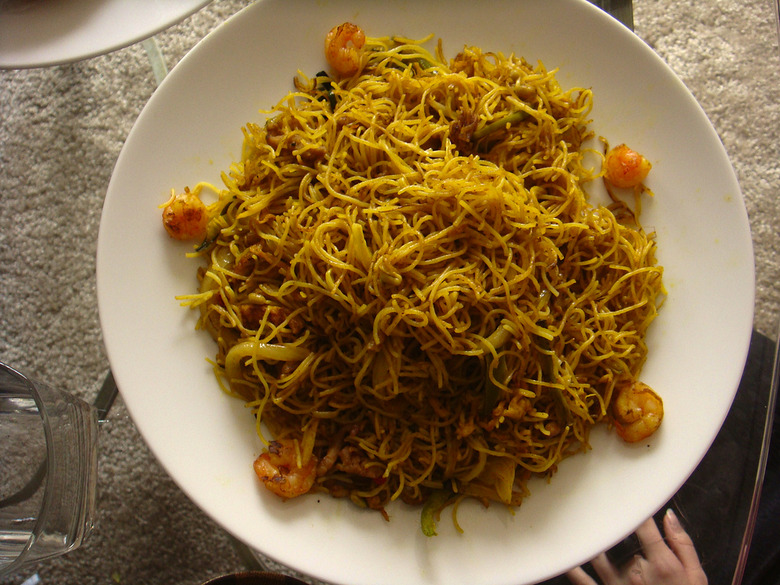 chinese rice noodles
I don't know why I need to stare down the Chinese menu for 20 minutes before I choose between my two favorite things. The first is mapo tofu, a fiery stew of ground pork, tofu and chilis. The other, Singapore chow mei fun, a Chinese-American creation. Rarely do rice noodles put the perfect lo mein to absolute shame, but once you've taken the risk of ordering a dish that reveals nothing about itself by name alone, it's hard to go back to chicken with broccoli.
Singapore chow mei fun is very likely on that menu you only think you know by heart, and is a great testament to the art of ordering dishes at random (which is how I discovered it). It consists of rice noodles stir-fried with chili peppers, curry powder and all the proteins the restaurant has to offer: beef, chicken, pork, shrimp and eggs. Sound like street food? Bourdain touts Singapore as the greatest street food country in the world, so even a Westernized version of anything with "Singapore" in its name has to be at least somewhat good. But this stuff is addictive. Stop putting sriracha on your sesame beef and calling it "awesome spicy Chinese food." Order this dish and prepare to have all your needs met.
It's pretty infrequent that I recommend you only buy something and never try to make it. Jamaican beef patties are one of them. Singapore rice noodles are another. I've made passable batches, but the beauty in this dish lies in the fact that you kind of need everything a Chinese restaurant has at its disposal — namely, super-hot woks for dry, crispy noodles and four kinds of meat. It's a dish made of relatively unpopular thin rice stick noodles and chopped up bits of leftovers with spices to bring it all together. The fridge raid that inspired this dish must have been epic.