Lupe Fiasco, Blown Away By Sydney Seafood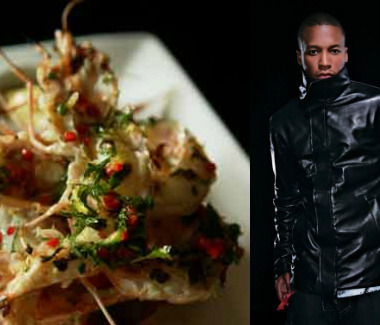 Even though his breakout 2006 debut album is called Food & Liquor, we weren't sure how big of a food guy Grammy winning rapper Lupe Fiasco was. This all changed when his reps reached out to Food Republic to see if we'd be interested in publishing some of his food writing from his current tour of Australia. Here's the second installment of Lupe Fiasco Does Food Down Under Blog.
Hugo's Pizza Bar is a trendy supper club in the King's Cross district of Sydney. It specializes in—what else?—pizza. But what impressed me most was not the pizza at all but the fact that it was a world-class seafood restaurant too. Scallop carpaccio was finished with lime, herbs and chilies and served in the scallop shell. It was unbelievably smooth and light, but with a slight kick and richness that just screams nothing short of perfection. Really really good!
The seafood pasta in cream sauce was also quite notable. Also the five virgin pineapple, coconut and passion fruit cocktails I had, served in tiki cups, must be saying something about the bar. Shouts to the friendly owner/operator for coming out to chat for a bit. Wonderful, wonderful place. 4 1/2 out of 5 Lupe's.
1/33 Bayswater Road Kings Cross
NSW 2011, Australia