Guide: Manhattan Cocktail Classic 2012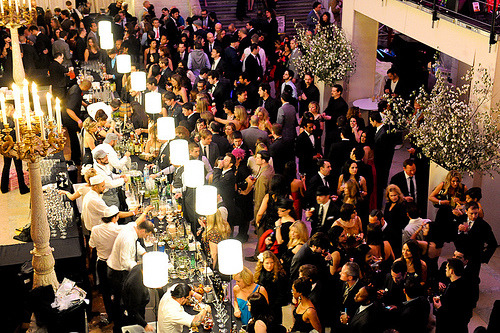 Next month cocktail geeks from around the city, and beyond, will gather for the third annual Manhattan Cocktail Classic. The name of the five-day booze fest, which runs from May 11 to 15, is a bit of a misnomer – it includes events in the outer boroughs and even New Jersey. All told, there will be some 75 events, 8,000 to 10,000 attendees, and a whole lot of drinking going on. We asked festival organizer, Lesley Townsend, what's not to miss this year.
May 11: The Gala
The boozy grand ball will one again take over the New York Public Library at 42nd Street. It's a wild event, as the disclaimer hints: Please note that the Manhattan Cocktail Classic will not be held liable for any injuries suffered (whether physical or emotional) by Gala attendees due to pre-existing phobias pertaining to open spaces, confined spaces, heights, clowns, and/or exotic birds.
Of course, the gala sold out within hours of tickets going on sale. But that doesn't mean you're entirely out of luck if you have your heart set on attending. "We're averaging 10 to 20 emails a day from very cranky people wanting to get tickets," says Townsend who says several media partners have a handful of gala tickets up their sleeves. She also has plans for an as-yet-unnamed "Ultimate Super-Duper Classic Experience," which will include tickets to the gala, plus 10 other events, and a hotel stay.
May 12-15: Industry Invitational
"We are launching a trade conference at the Andaz Hotel, which is for trade, by trade," says Townsend. "We're trying to make it a place where ideas are exchanged and networking happens." The trade includes everyone from bar owners and bar managers to retailers, beverage directors, and even people developing smartphone apps or publishing books related to the spirits industry. Fancy yourself a booze blogger? Take your shot at the application to get in.
May 12-15: Foodie seminars, like the Momofuku Milk Bar Masterclass and An American in Holland: Inspired Cocktail and Food Pairings
"We need to be serving more food at these events if people are going to survive across all five days of the festival," says Townsend about the inclusion of more food-filled events on the schedule this year. People are still warming up to the idea of pairing food and cocktails, so the pairing seminar may tread on controversial ground. The Masterclass will feature milky recipes inspired by Christina Tosi's award-winning cookbook.
May 12: A Suburban Tiki Safari
Staten Island often gets ignored when it comes to citywide events like the Manhattan Cocktail Classic. But the forgotten borough is actually home to several old-school tiki bars. Tiki evangelist Adam Kolesar and Lani Kai bartender Brian Miller will take attendees on a circuit of faux-Polynesian kitsch through New Jersey and Staten Island on this afternoon "safari" that features umbrella drinks and pu-pu platters galore.
May 14: The Darkest Night: Bowmore's Evening at the McKittrick Hotel with a Performance of Sleep No More
The interactive theater performance on Sleep No More, based at the McKittrick Hotel in Chelsea, has been hugely popular among cocktail folk. They do serve a pretty mean absinthe punch in the bar and all that old-timey garb must be irresistible to those who pine for the pre-Prohibition era. On Monday, a special performance of Sleep No More will feature single-malt Scotch cocktails by Imbibe! and Punch author David Wondrich. "It's cool on its own," says Townsend. "Dave's cocktails are going to make it a pretty incredible evening." Tickets are still available.
Bonus Track: Speed Rack Finals
Just before the Classic kicks off, the ever-popular all-female bartending competition, Speed Rack (see our photos), has its finals on May 10 at the Prince George Ballroom. It may be ladies only behind the bar, but on the other side of it, all are welcome. The fastest drink slinger gets a handsome cash prize and the competitions themselves have raised nearly $50,000 for breast cancer research. So you can feel good about buying your ticket.