11 Things To Eat In Montreal Right Now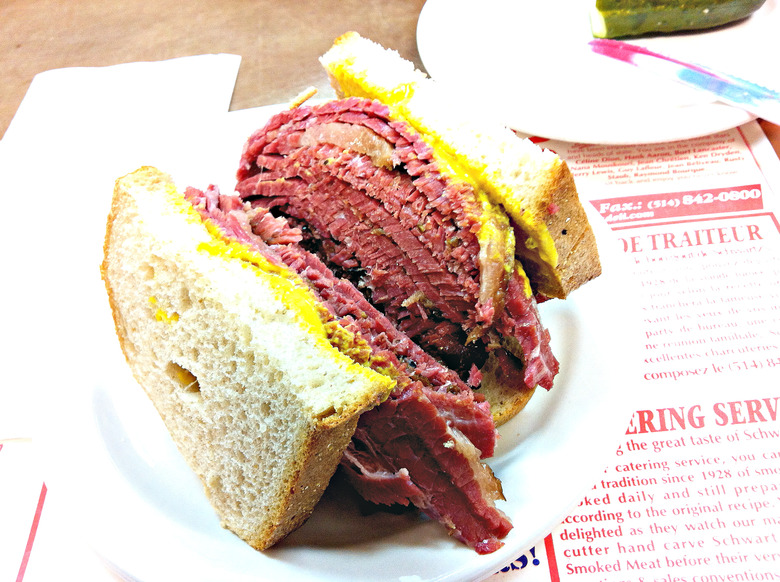 Last week we published our gastro-tourism guide You Eat, You Drink: Montreal. Here is a dispatch from our writer Chantal Martineau, who spent a weekend in the city. Eating and drinking. Because, that's what you do.
As the resident Montrealer here at Food Republic, I get tapped to write about poutine, smoked meat, skinny bagels and other specialties from my hometown. But what do I eat when I'm there? Wouldn't you like to know. I drove up to Montreal for my birthday weekend (happy birthday, to me) and ate my way through my favorite spots. Here are the highlights:
1. Eel Nuggets at Joe Beef
Nearly every dish at Joe Beef is served with a wink and smile. These cornflake-coated nuggets of whipped potato and eel come with three sauces reminiscent of McNuggets sauces – barbecue, honey mustard and garlic – get it? The funniest part of this jokey dish is how tasty the little nuggets are.
2. Oreilles de Crisse ("Christ's Ears") at La Branche Sugar Shack
For some strange reason, French Canadians have christened their pork rinds "Christ's Ears." The deep-fried pork parts are a critical part of the menu at Quebec sugar shacks, the maple syrup-producing farms that you can visit from February through April to overdose on sugar products. Dip them in the sugary brown gold for a salty-sweet dream.
3. Saint-Justin Sparkling Water
Bet you never thought you'd see water on this list. But this locally bottled mineral water, an institution since 1895, is among the best bottled waters on earth. If you're a fan of France's Badoit, the super-mineral bubbly in the green bottle, then you'll love the practically salty Saint-Justin.
4. Cheese Curds from any Dépanneur
These misshapen chunks of squeaky, young cow's milk cheese are the cherry on the sundae that is poutine, that beautiful epitome of drunk food. You can get cheese curds ("fromage en grains," in French) at any dépanneur, which is Montreal's answer to a bodega or corner store. Sure, they're great sprinkled over fries and doused in gravy, like say at the Green Spot (3041, rue Notre-Dame West), but I like to buy a bag and eat them like chips.
5. Caribou and Blueberry Terrine at Terrines & Pâtés in Atwater Market
Forget dainty French paté. In Quebec, a country pâté is chunky and hearty – and oocasionally made with caribou. Booya. This aptly named counter in Atwater Market specializes in wild game pâtés, terrines and rillettes. There's wild boar terrine with apples and calvados, bison pâté and venison. My favorite (on this trip) was a caribou and blueberry terrine, gamey and peppery, that made for a perfect lunch spread onto fresh baguette.
6. Smoked Meat Sandwich at Schwartz's
You'd think I'd be sick of these sandwiches by now, having eaten about a hundred of them over the course of my lifetime. But, alas, I am not. I order mine "medium," which is halfway between "fatty" and "lean," and eat it the standard way, slathered in yellow mustard on white rye. It's a compact sandwich that won't weigh you down, an ideal size for lunch, and is best washed down with a cherry soda.
7. Wine and Oysters at POP! Bar à Vin
Natural wine geeks often find themselves in heaven in Montreal – le paradis, as they say there. Just about every great restaurant knows what you mean when you ask for something "un-tampered with" and you can often order it by the glass. At POP!, the by-the-glass list included a funky yellow wine from the Jura and an intensely mineral rosé from Corsica. Paired with a plate of raw oysters, this aperitif was about as blissful as they come.
8. Bloody Caesar at Joe Beef
It's difficult to explain Canada's love of Clamato juice. But it may have something to do with America shunning the clam juice–laced tomato drink. That and Clamato's most iconic cocktail, the Caesar. This one comes in a celery salt-rimmed mason jar stuffed with jumbo shrimp, oysters and olives, making it more appetizer than mere drink.
9. Lobster and Smoked Meat Chef's Salad at Au Pied de Cochon
What does a salad look like at the pig palace that is Au Pied de Cochon? Buttery lettuce tossed with hunks of fresh, meaty lobster and the peppery ends of a smoked meat brisket, and covered in shaved Parmesan cheese. WTF was all I could say after each bite of delicious wrongness.
10. Duck Breast in a Pomegranate Sauce at Le Tuck Shop
You'll find nary a tourist but plenty of smiling locals at this way-out-of-the-way market-driven restaurant. The duck is served pink in the middle and over a celery root puree and is just one of the many successful dishes here. It's a healthy reminder that Montreal isn't all poutine and pig knuckle. The local, seasonal food ethos is strong throughout the city, especially at a little restaurant in the middle of nowhere, in southwest Montreal.
11. Maple-braised Pig Foot at Au Pied de Cochon
The regular eponymous pig foot at Au Pied de Cochon (which means pig foot, duh) is a serious meal. But to coincide with sugaring off season, when maple farms tap their trees and open their doors to visitors, Chef Martin Picard reinvented the dish as a maple-glazed monstrosity. The skin of the pig knuckle is candied and crackling, and the meat dark and brooding. My dining companion shed a tear and cried out to our waitress, "Charge me whatever you want!"