How To Eat Like A Russian Tsar In The USA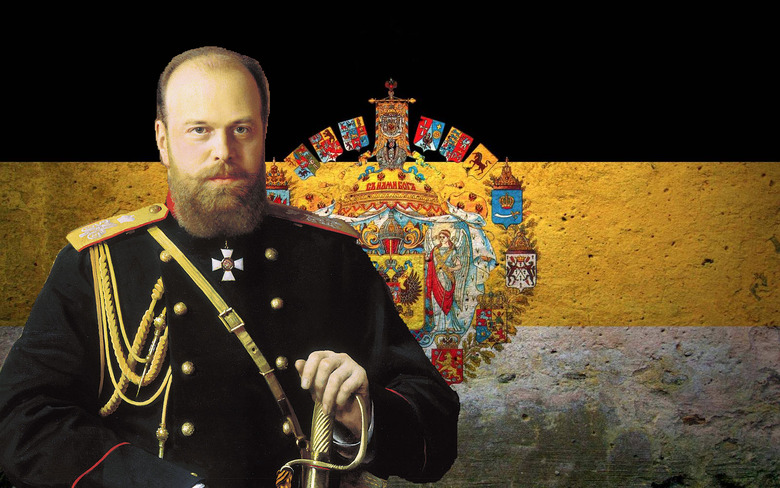 Pickles, blini and borsht are the sounds Russian cuisine makes. But unlike the country's endless cycle of Vladimir Putin, Russian food is on a glorious upswing in the United States. Sophisticated Russian restaurants have been popping up all over featuring crystal chandeliers, velvet lined banquets, glittering mirrors and opulent dishes reminiscent of the time when great tsars ruled and feasted.
Take the kitschy, yet delicious, Mari Vanna — which came from the homeland to New York a few years ago, then to London, and now has plans to open locations in Los Angeles this summer and in Washington D.C. in November. It's a Russian (culinary) revolution of sorts.
To fully grasp how the tsars ate, chef Marc Taxiera of New York's famous Russian Tea Room has put together a traditional menu of what Peter the Great or Nicolas II might have indulged in. For starters, you would commence the meal by pouring ice-cold vodka for the table, raising your glass and shouting Na Zdorovie! — "to your health" — before downing it. Vodka, after all, is not meant to be sipped.
Also, be warned, to not accept the drink offered is a serious breach of etiquette. And you are required to finish the bottle once it's opened. If vodka isn't your thing, you can also imbibe in a high-alcohol Russian imperial stout, which was first brewed in England during the 18th century for the court of Catherine II.
Once drinks are settled, the start of the meal features a lavish zakuska, or appetizer spread. Traditionally, this includes flaky smoked fish, cold meats and an array of mayonnaise-based salads like the Herring Under Fur Coat, a dish comprised of fish, hardboiled eggs, grated cooked vegetables and beets. You might find the famed Olivier salad, which nowadays is mainly made with ham, eggs, potato and vegetables. The original 1860 recipe by Luciean Olivier contained a rich combination of grouse, veal tongue, smoked duck, crayfish, caviar and lettuce. Add some more vodka and a plate of pickled vegetables and the feast has officially begun.
Next, Taxiera says he would serve golden Ossetra, a caviar harvested from the Ossetra sturgeon, one of three sturgeon found in the Caspian Sea (the others being Beluga and Sevruga). The Russians were amongst the first nations to market caviar as a delicacy and it continues to be a sign of luxury both there and around the world.
According to Jennifer Eremeeva, Russian historian and writer of the blog The Moscovore, following the caviar is an ancient soup called amber ukha. This would be served instead of borsht, the stew most Westerners associate with Russia. The body of the soup is made with perch or sturgeon—the rich broth gets its amber hue from the addition of saffron, an expensive ingredient prized around the world.
This leads us to the next course, consisting of dishes Taxiera says were made for the imperial courts, Chicken Kiev and Beef Stroganoff. "Those two classical dishes were prepared for tsars and are influenced by the French and Italian," he says. Chicken Kiev, a lavish Russian-style fried chicken that gets beaten and rolled in garlic-tinged butter, shares the name with the capital of Ukraine. While some people say it originated there, many believe it came from the Moscow Merchant's Club in the early 20th century.
The second dish, Beef Stroganoff, may be familiar via the kitschy boxed versions or potlucks that haunted your childhood. But it's actually a traditional Russian dish loaded not only with cream, but also history. The name comes from two possible sources: The reputed gourmand Baron Alexander Stroganov in the early 1800s and Count Pavel Stroganov, around the same time.
At this point, the end of the royal bottle of vodka is nigh and out comes dessert, including traditional Russian blini, which Taxiera serves his with a sweet cheese akin to ricotta or a tart cherry jam. Tsars would probably have also indulged in sirniki, a delicate cheese pancake fried and dipped in honey, with applesauce, or a fruit jam—a sweet way to end your reign of the table.
Where to eat like a Tsar around the United States:

Fire Bird
This opulent New York City restaurant was founded by a baroness. Over 200 types of vodka and a lush caviar tasting menu are on offer. 365 W46th St, New York; 212-586-0244
Russian Tea Time
Located right next to many big theaters, Orchestra Hall and the Chicago Arts Institute, this 17-year-old sweet spot specializes in an array of handcrafted dumplings and a caviar service complete with blintzes, red onion, sour cream and boiled eggs. 77 E Adams St, Chicago; 312-360-0000
Red Square
Las Vegas has everything, including a casino restaurant that pays tribute to the glory of Imperial Russia. Not all the dishes stay true to food a tsar might find, but at least you can eat caviar in an intimate, red velvet room. Mandalay Bay Resort and Casino: 3950 Las Vegas Blvd, Las Vegas; 702-632-7407
Verdi Banquet Hall and Catering
There isn't much in the way of opulent Russian feasts in Georgia, but if you can gather a group of people or desire an Eastern European banquet for an event — albeit in a suburb of Atlanta — Verdi is a great place to try. There's an array of smoked meats and fish, beet salad, blintzes with caviar and golubtzy, which is cabbage stuffed with ground beef and coated in a sweet tomato sauce. 6275 Spalding Dr, Norcross, Georgia; 678-646-4600
Onegin
Inspired by Alexander Pushkin's novel Eugene Onegin, this New York space has more crystal than you could possibly imagine and offers diners cozy, plush chair to nibble their blini with paddlefish caviar, smoky solyanka and salmon koulebiaka. 391 Avenue of the Americas, New York; 212-924-8001
Russia House
Vodka lovers will appreciate the immense collection of the beverage at this Washington D.C. Russian eatery. There's a distinct menu of caviars and classic imperial Russian cuisine — all under the light of glittering chandeliers and elegantly dressed tables. 1800 Connecticut Ave NW, Washington DC; 202-234-9433
Maxim Restaurant
With live music, vodka served in Russian cut-crystal glasses, plush red chairs and large platters heaped with smoked fish and red caviar, pickled vegetables, blintzes with duck and beef stroganoff, this banquette-style restaurant in Hollywood has all the makings of a tsar-like eatery. 531 North Fairfax Ave, Los Angeles; 323-653-7820
Red Tavern
This Russian restaurant in San Francisco is more sleek than imperial, but a modern-day tsar wouldn't complain about the crisp white linens, black leather chairs and traditional plates of things like sour cherry vareniki, Olivie salad, lamb chops, borscht and chicken à la Tapaka, a garlic-marinated, pressed and roasted Cornish hen. 2229 Clement St, San Francisco; 415-750-9090
Stoli Bar and Restaurant
The pure luxury of ordering a tower of blintzes layered with smoked salmon, red caviar and sour cream makes this Eastern European restaurant in Massachusetts worth the trip. Not all the dishes are purely Russian, but you can get rich orders of beef stroganoff, mushroom crepes and vareniki with fried onions, and eat them in style, sitting at one of the polished wooden tables underneath crystal chandeliers. 213 Washington St, Brookline, Massachusetts; 617-731-5070