How To Drink Properly In Havana, Cuba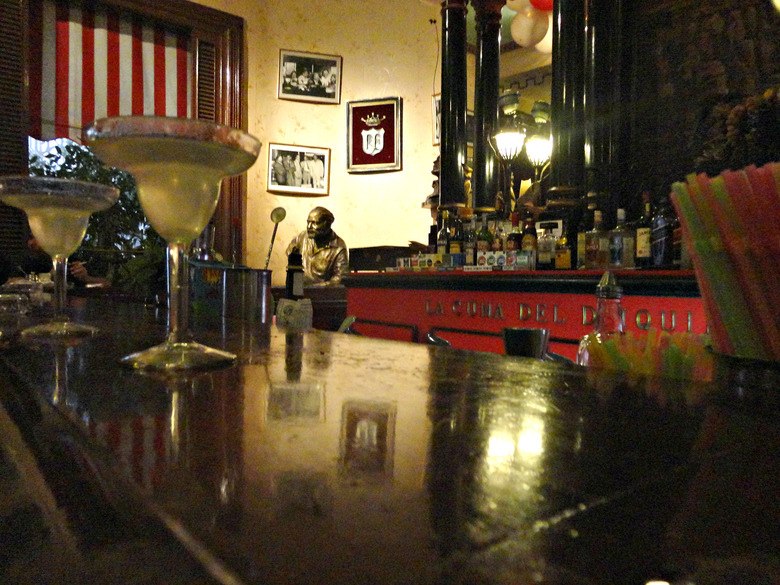 When it comes to cocktails, Simon Ford is the guy to know. After earning a Wine and Spirits Education Certificate in the UK, he went on to work for Seagrams and now holds the heady title of Global Spirits & Cocktail Brand Expert for Pernod Ricard USA. For real, it's on his business card. In Simon's weekly column, Drink Ford Tough, he tells you everything you ever needed to know about the art of the cocktail. And how to drink better.
Soaking in the essence of Cuba is best done at one of the classic bars in Havana while sipping a mojito, daiquiri or Cuba Libre. The cocktail menus in many of these bars are representative of the 1940s and '50s, with drinks like piña coladas, sidecars, Tom Collins and grasshoppers. In truth, most of them are not so great. So when you go to Cuba you should stick to the drinks you know will be good. I'll repeat it again: mojito, daiquiri and Cuba Libre.
I visited Cuba this past New Year's Eve at the invitation of Greg Boehm of Cocktail Kingdom, who was researching Cuban cocktail history. New York Spirits Ambassador Jamie Gordon and my girlfriend also joined us. So you might be curious how I got there? We obtained visas from a Cuban travel company in Miami, and had no problems. Though, I'm still not sure how legitimate they were. Moving right along...
When travelling to Cuba, there are two bars that you must go to. The first is El Floridita for a daiquiri (or a Hemingway Daiquiri if you pack your own maraschino liqueur, which I did). The other is La Bodeguita del Medio for a mojito. All the daiquiris are blended at El Floridita, even though the classic daiquiri is shaken. El Floridita was one of the places Ernest Hemingway frequented while living in his beloved Cuba, and now there rests a giant cast iron statue of him propped up against the bar. The story goes that Hemingway always drank standing up, and when he felt he needed to sit down he figured he had had enough to drink and it was time to leave.
The Hemingway Daiquiri (a.k.a. the Papa Doble), requires a double shot of rum, grapefruit juice and maraschino liqueur. Since Greg knew it wasn't easy to get maraschino in Cuba, he asked me to bring a bottle with me from the U.S. so we could recreate the Hemingway Daiquiri — and Prohibition-era bartender Eddie Woelke's Mary Pickford cocktail (named after the famous early 20th century actress/filmmaker). This is how we came to make our own Hemingway Daiquiris at El Floridita.
La Bodeguita del Medio is a famous bar located on a classic Havana street — as in a very narrow one. Inside, there is writing all over the walls and legend has it that the revolutionaries would go there and write hidden messages to one another amongst the graffiti. After the writing, you'll notice the 60 or so glasses laid out with limes already in them — in preparation for mojitos. All the bartenders have to do is put the ice in and they're done. Hemingway wrote on La Bodeguita del Medio's wall: "My mojito in La Bodeguita, my daiquiri in El Floridita." Sound advice.
If there's a third bar you go to in Havana after El Floridita and La Bodeguita del Medio, it's Dos Hermanos. Even though this bar is not as famous as some of the others, it is certainly a must-visit because it is so historic (Hemingway and the Hollywood elite were known to visit). The bar is on the edge of the city by the waterfront, but instead of looking out on to the water it faces dockyards. Once inside, you're greeted with walls and walls of rum. It seems like you're entering into a hidden den of decadence and you get the feeling that the bar never closed back then.
One of the best-known landmarks in Cuba is the Hotel Nacional on the picturesque Malecon Avenue. Winston Churchill famously stayed there and, as a result, they named the bar after him. Nat King Cole would perform there as well as many Cuban singers. The Churchill Bar is really classic and very colonial. I went there for a Cuba Libre because it's my favorite way of drinking Havana Club. They use Mexican Coke, rum and lime and it's just really refreshing.
Café del Oriente is by far the fanciest bar I went to while I was in Cuba. It's beautifully decorated and is a great old-school café. The staff wears white jackets and they serve all of the classics. Colonial-style fans keep you cool and it's the perfect place to sip on the 15-year-old Havana Club and to grab a cigar.
I want to end this with a quick note on Cuban food, which is notoriously awful. If you're looking for good food in Cuba, go to a paladar. They are essentially mini restaurants in people's homes. My girlfriend had us go to La Guarida, which was featured in the movie Strawberry and Chocolate. It was in an absolutely stunning, derelict colonial mansion and at the very top of three flights of stairs was this completely candlelit paladar. The small kitchen had about four cooks and there were flames going everywhere. It was an incredible Cuban meal.
Simon Ford's Havana:
El Floridita Calle Obispa 557 esq. a Monserrate
La Bodeguita del Medio Calle Empedrado at Calle Cuba
Dos Hermanos Avenida del Puerto 304
The Churchill Bar Hotel Nacional, Calle 21 at Calle O
Café del Oriente Calle Armaragua at Calle Oficios
La Guarida Calle Concordia 418