Chicago: Goosefoot Joins The Party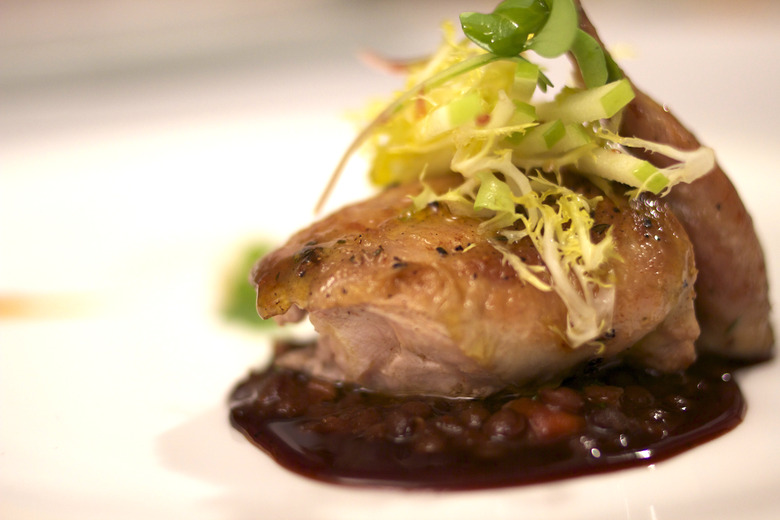 At the moment, these are the three most-coveted reservations to be had in Chicago:
The Next/El Bulli menu. (When Grant Achatz plans a menu with the help and blessing of Ferran Adrià, you better believe it's going to be a difficult table to get!)

Charlie Trotter's, which closes for good when it celebrates its 25th anniversary in August.
And, finally, Goosefoot, a new BYO up on a fairly unattractive stretch of Lawrence, somewhere between Lincoln Square and Albany Park.
Named after the family of plant that includes Swiss chard, beets and spinach, Goosefoot is the realized dream of Chris Nugent (of Les Nomades, which Zagat recently called one of "America's Top Restaurants" while still under his tenure) and his wife, Nina.
The space is small, cozy and almost Zen-like in its appearance. It's well lit but easy on the eyes, modern but not at all austere. In short, it's a far more comfortable and casual fine dining experience than say, Les Nomades, Trotter's or Alinea, and far less pretentious/intimidating than bad-boy, fine-dining byos, such as Schwa. (Nothing against Schwa, I'm sure it's great! But with the blaring music, it certainly isn't for everyone. And the reservation system really is ridiculous.)
At Goosefoot, Nina and the front of house staff are all exceptionally charming, helpful, and professional. Although it's BYO, they use the correct stemware for each wine and will decant if desired.
The food, a 9-course degustation (that can be adjusted for dietary restrictions or preferences) plus a couple of extras, is exquisite in both taste and appearance. Though it's not what I'd call modernist cuisine or molecular gastronomy, each dish is clearly the work of a wonderfully creative chef who is as precise as a mathematician in layering flavors and plating the various elements. Two favorite courses when we dined were a perfectly roasted quail with spiced beluga lentils, ginger and compressed apple, and an angus beef tenderloin medallion with heirloom carrots, goosefoot, cumin and shallot jus (both pictured here).
At $90 for a sprawling three-hour meal, Goosefoot is almost a steal for this level of food and service. Because of that, along with the fact that it only has 34-seats, it's difficult to get a table. Luckily, though, getting a reservation is refreshingly straightforward. No lotteries, tickets or leaving unreturned messages. Just pick up the phone and call as you would any restaurant, or even easier, use Open Table. (And don't forget to bring a couple of good bottles of wine!)
---
Goosefoot 2556 W. Lawrence Ave. Chicago, IL 60625, 773.942.7547