8 Reasons Why We Love The Food In Texas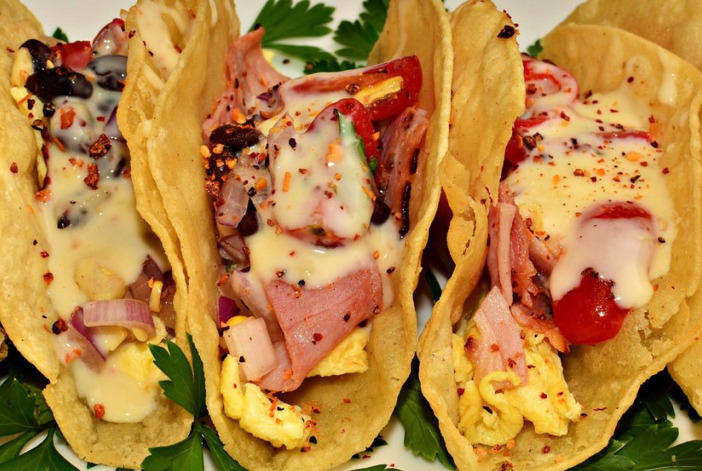 With the Austin Wine & Food Festival on the horizon, we have Texas on the mind at Food Republic HQ. Well, to be fair, it's Texas food we're thinking about. And for good reason—Texas is home to a host of culinary treasures, including one of our favorites: the breakfast taco.
Check out some other reasons we love Texas. And make sure to enter to win a crazy food-focused weekend for two at the W Austin (see details below). Our you can just click here. Boom. Texas might be in your future.
1. The Restaurants. Texas is home to some of our favorite restaurants — especially in Austin. We can't think of anything better than Japanese food at Uchiko and chicken-fried steak at Red's Porch.
2. Tim Byres. Thankfully for us, resturateur and chef Tim Byres didn't pursue a career in organic soaps and instead decided to open homemade Texas joint Smoke. And word has it, he'll be roasting pigs on the fire at Austin Food & Wine. We're counting down the days.
3. San Antonio Cocktail Conference. Created by mixology Master Sasha Petraske, the San Antonio Cocktail Conference brings together cocktail professionals and enthusiasts for tastings, seminars and events. Texas + cocktails? We're on board with that.
4. South By Southwest. Speaking of conferences, it behooves us to note that any conference held in Texas is an opportunity for some good eating. Think barbecue, burgers and breakfast tacos with a backdrop of bands packing any available stage within a 10-mile radius.
5. Chile Con Qeso. No Tex-Mex meal is complete without the requisite chile con queso dish. The more cheese and chiles the better as far as we're concerned.
6. Burgers. Texas may not be the first place you think of when you have burgers on the mind, but it should be. Once more we're looking to Austin for the best of the best.
7. Tim Love. Texas-native and pitmaster Tim Love reminds us just what it is we love so much about Texas restaurants. His newest venture, Woodshed, serves "global barbecue," and true to its name uses six different types of woods to make it.
8. Breakfast Tacos. Don't be fooled by their position on this list — we love breakfast tacos and nowhere do we partake of them more than in Austin. First stop: Julio's Café.
---
Find your own reasons to love Texas by entering to win a free food-themed weekend for two at The W Austin on Food Republic. Sign up for the Food Republic weekly newsletter and you're automatically entered to win. While you're at it, "Like" W Austin's Trace restaurant on Facebook and follow them on Twitter!