Nobu Knows Champagne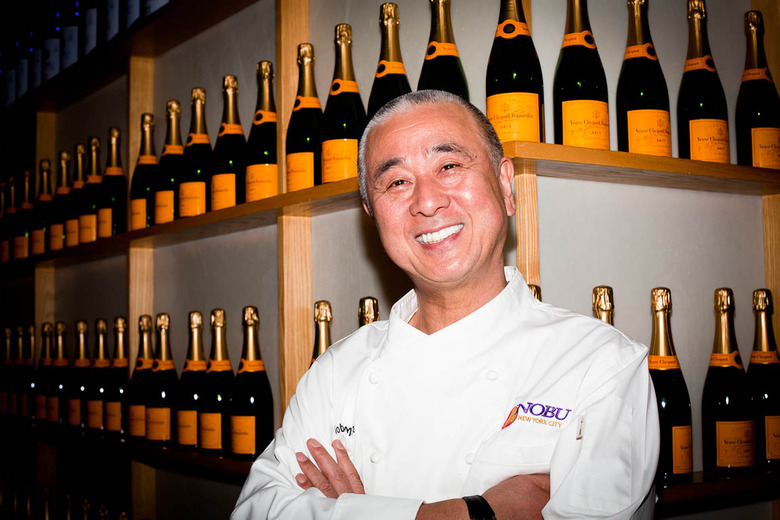 Nobu Matsuhisa
Last night, Veuve Clicquot teamed with Nobu Matsuhisa at New York's Nobu Next Door to host an Omakase pairing dinner with Champagne. As you might imagine, it did not suck.
"Champagne is more delicate than wine," Nobu himself told Food Republic before the start of the multi-course dinner, which paired rosé Veuve Clicquot with oysters. Other pairings included vintage Veuve with his famed miso-glazed cod, scallop with foie gras, and even a dessert Champagne with ice cream and cookies. As such, Nobu and his team worked to find seafood and other items that wouldn't overwhelm the Veuve Clicquot offerings.
While Nobu acknowledged that it was an unusual event — "Champagne is like a welcome drink," he said — attendees and loyalists who paid $350 for the pairing menu didn't seem to mind subbing out sake for bubbles. The pairing of rosé with kumamoto oysters was particularly inspired.
As for Nobu himself, he sounded like he could use a drink. We asked about which of his 29 restaurants serves up the most Champagne, and he admitted that he wasn't sure, but then laughed. "I was in my restaurant in Los Angeles a few days ago," he said, "where six ladies drank six bottles of Champagne!"
This seemed to remind him of how much he'd been traveling. The Japan-born chef now makes his home mostly in LA, though he's hardly ever there. "I travel 10 months a year now," he told us. "In the last couple of weeks I was in LA, Dubai, Australia, Hong Kong, Beijing, the Bahamas, Miami and New York—eight different locations in one month!"
So does he ever have time to do anything but shake hands and serve sushi?
"We're doing a restaurant with Giorgio Armani in Italy," Nobu said of a forthcoming Milan project. "So I buy clothes. We also have a nice discount!"
With that, it was off for a refill, clinking glasses all around.