First Look: The Food At Outside Lands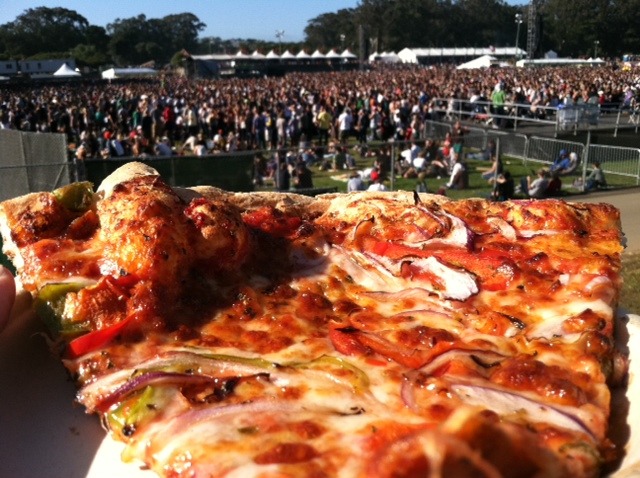 For those about to make plans to head to San Francisco's Outside Lands Music & Arts Festival in August, we salute you.
Superfly Presents, the festival organizers, announced the lineup this morning and man does the list look good: Metallica, Neil Young & Crazy Horse, Jack White, Beck, Foo Fighters, Stevie Wonder, Skrillex, Franz Ferdinand, Norah Jones, Sigur Ros and the Kills, among others.
Of course, we here at Food Republic care as much about the food as the jams, and Outside Lands is indeed a music/food festival without parallel. (Superfly is also behind the ambitious food-forward Great GoogaMooga Festival in Brooklyn's Prospect Park May 19-20).
Last year, I was lucky enough to eat the best pizza ever served west of New Jersey, from Spicy Pie, an unearthly grilled cheese with fresh cut jalapenos and spicy tomato soup from American Grilled Cheese Kitchen (which is back this year) and ogled as people slathered their mouths with Korean beef short rib tacos from Namu (not sure if they'll be back).
Trust me, when it comes to food, Coachella is like Schlitz. Bonnaroo may be like Blue Moon. But Outside Lands is Sixpoint. Speaking of drink, even better than the food is the wine — there's a Wine Lands tent which serves as good a list of wines as you've ever had. Seriously, people are there pouring from the top outfits in Northern California. And although it doesn't come cheap — you buy tickets to purchase by the glass — I was in a frickin' tent as members of the Clash were rocking out nearby, breathing the air of the good earth while dreadlocked chicks with tats running up their legs discoursed about the vintage of their favorite Napa Valley Pinot Noir. If that's not your thing, then you might want to check out the Beach Boys Reunion Tour.
Tickets for Outside Lands, which occurs August 10-12, go on sale April 19 at sfoutsidelands.com.