Chefs Help Tyler Brown's Garden Grow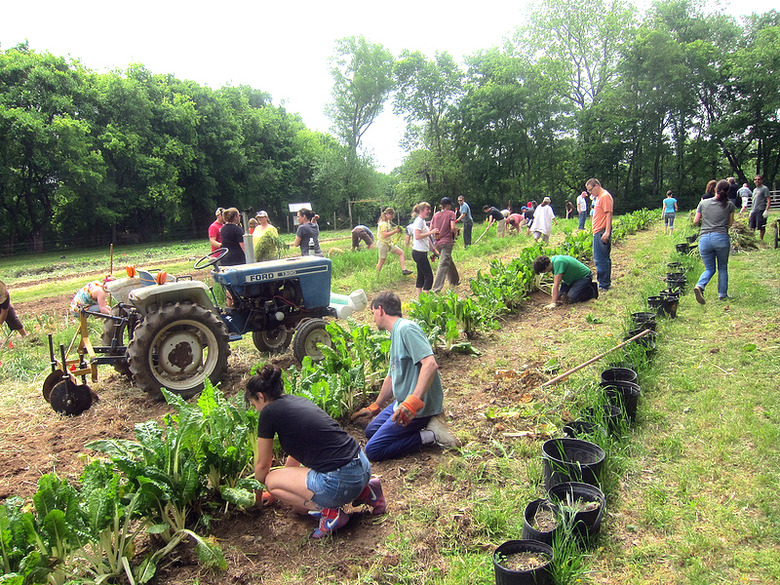 Tyler Brown garden
James Beard-nominated chef Tyler Brown of the Capitol Grille in Nashville has learned to get by with a little help from his friends. For the past two years, Brown has planted a large downtown garden on an acre at a historic property known as Glen Leven. In a partnership with the Land Trust of Tennessee, Brown employs all-natural growing techniques in the tradition of the plot's early history as a working farm in the late 19th century. He also strives to use heirloom seeds whenever possible as part of an effort to keep historic varieties of vegetables and legumes being sustainably produced.
Most Nashvillians drive by the farm—located between busy Franklin Road and Interstate 65—without knowing that there is a working produce and livestock operation within a few miles of the urban center. Local volunteers work with hotel and kitchen staff under the direction of Brown and other farm consultants to maintain and harvest the farm year round.
This year, however, Brown had to undergo some fairly serious back surgery, which put him out of commission for a critical month when soil preparation and planting would normally be in full swing.
The word went out among the local culinary community and to members of the Southern Foodways Alliance that Brown could use some helping hands, and a literal grass roots effort was quickly organized.
On Sunday, April 15, over 60 volunteers descended on Glen Leven—bringing tools, work boots, gloves and a willingness to get their hands dirty. This, despite the fact that the local Nashville Predators were taking on their archrival Detroit Red Wings at the same time in game 3 of their Stanley Cup playoff series. (DVRs were set and all attendees were sworn to silence about the game, lest they ruin it for the ardent fans.)
Among the well-known chefs who traveled from out of town to help out were fellow Beard nominee Sean Brock of Husk and McCrady's in Charleston, Linton Hopkins of Restaurant Eugene and Holeman and Finch in Atlanta, and Anne Quatrano of Bacchanalia and Star Provisions in Atlanta.
The chefs didn't come alone either, as Hopkins brought his wife and two children to spend their Sunday working in the field. Quatrano rented three vans to haul 30 of her coworkers, who met at dawn before making the 4 ½ hour drive to Nashville to help out. Despite the fact that many of them had worked until closing the Saturday night before, the members of the "Annie Q Crew" were some of the most industrious and cheerful laborers in the field.
Southern food writer John Egerton and SFA stawarts John T. Edge and "Rathead" Riley stood watch over the fields to add some gravitas and good humor to the proceedings. In a case of "many hands make light work" over "too many chefs in the kitchen," teams of laborers accomplished miraculous results in one day. The morning crew managed to harvest all the leftover winter vegetables that were still in the ground and prepare the soil for the afternoon's seeding. Utility kitchen knives took the place of typical garden tools as sous chefs and dishwashers worked side by side to strip the leaves and flowers off of mustard greens and clean up the morning's haul of carrots and radishes.
The crew did not work entirely gratis, thanks to the efforts of several Nashville chefs and pitmasters, who pitched in to provide a prodigious spread of barbecue ribs, candied pork belly, smoked turkey salad, pimento cheese, cole slaw and field pea salad as a hearty midday refueling repast.
Since an army runs on its stomach, and this particular army was finished with using sharp instruments for the rest of the day, lunch was accompanied by beer provided by some local craft brewers and the Hermitage Hotel's excellent private label cabernet. As Jack Donaghy would say, "What am I a farmer?"
Actually in this case, Jack, the answer is yes for all the participants.
The afternoon was filled with workers splitting into teams to plant the tomatoes, leeks, tubers, corn, greens and magic beans, which will fill the pantries of the Capitol Grille throughout the summer. A particularly intrepid team was assigned to follow a tractor hauling a flatbed trailer that they were directed to fill up with as much cow manure as they could shovel. Combined in layers with the organic materials collected from the morning's harvest and field clearings, the results of the cow flop hunt were used to make the compost to condition the soil for the rest of the year.
Brown described the piles of alternating manure and plant materials as his "organic lasagna." (Note to self: do not order the lasagna at the Capitol Grille.)
At the end of a long day's work, the work crews beat the dust off of their clothes and crawled into vans and cars for the drive home. Reflecting on the generosity of so many people who were willing to give up a Sunday, and in some cases undertake a nine-hour roundtrip journey, just to spend their day off working for hours shoveling shinola onto a trailer, Brown was beaming with gratitude.
When asked if it was good to know that he had this many friends willing to help him out in his time of need, Brown stroked at his famous handlebar moustache and looked out over the newly seeded field and said thoughtfully, "It's all good."