What I've Seen: Tom Sellers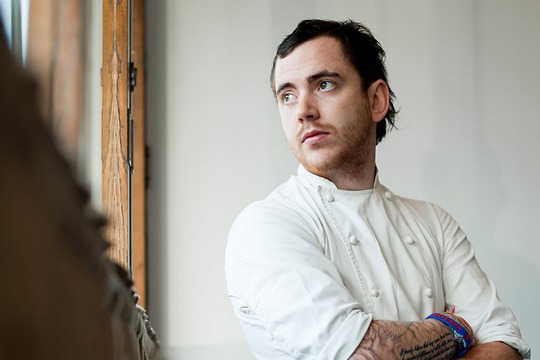 Tom Sellers photo
British chef Tom Sellers is something of a wunderkind. He got a job in a pub kitchen at age 16 and now, at just 25, he's already gotten to work with some of the world's best chefs, including René Redzepi at Noma and Thomas Keller at Per Se. He was recently in New York hosting a pop-up restaurant and will soon open his first London restaurant, to be called Story.
When was the last time you were inspired by another chef...
When I moved to Copenhagen to work with René Redzepi. He's probably one of – if not the most – talented chefs I've worked with. He's a fantastic talent, with an amazing palate, amazing vision and has a fantastic restaurant. I think the way he processes food and the way he thinks about food is very close to genius. He's definitely inspiring.
Improvised a dish to instant perfection...
At my recent pop-up in New York I decided to put apple blossom in my onion dish. I bought it from a local florist. It seemed to all work out perfectly.
Spotted a food critic in your midst...
Ruth Reichl at the pop-up.
Got drunk at your restaurant...
I tend to do it after I leave, so I guess never. I'm too busy working. The second I walk into the restaurant, everything changes.
Took your staff on a field trip...
That would be two weeks ago. I took a young chef from the kitchen to the local markets in London to look at the produce at four in the morning. I introduced him to all the suppliers.
Witnessed a bloody injury in the kitchen...
I severed all my tendons in my right hand little finger. That was about three years ago. I was off work for about 12 weeks. I had to have surgery, so it was quite bad.
Had a celebrity come into the restaurant...
Just before Christmas we had Pierce Brosnan.
Were written about in the press...
About six hours ago.
Dated a staff member...
When I worked in a restaurant in London. It was about a year and a half ago. She was a hostess.
Felt overjoyed...
Last time I felt overjoyed was when I did the pop-up in London. How well it went and everybody that was involved and all the hard work that the team put in and the belief they had in what I was doing... It was a very humbling experience, a very happy moment for me. To finally cook my food with nobody else's influence, it was very good.
Felt defeated...
Never. I don't do defeat.
---