The World's Best Airport Restaurants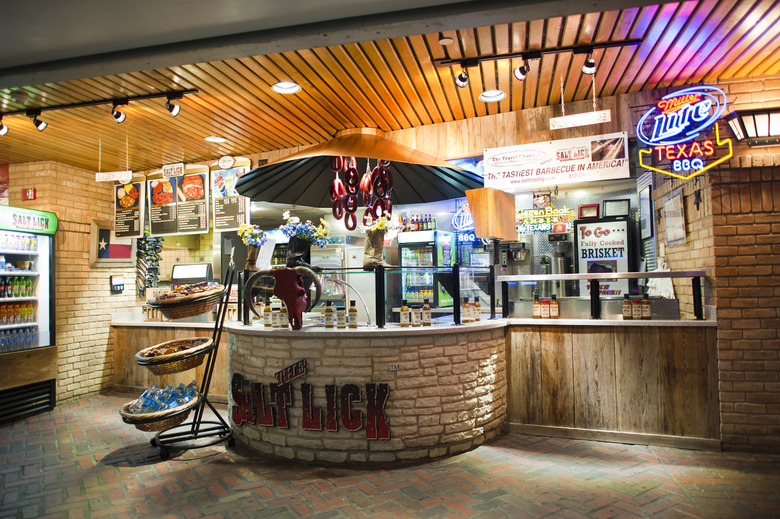 Salt Lick Austin airport
We've all been there. Tired. Hungry. Staring into the cold, dark eyes of a Panda Express.
The dearth of decent airport dining can make even the savviest world traveler feel stranded in a culinary heart of darkness. With nothing but a mediocre Hudson News paperback to pass the interminable hours before boarding, what is the hungry traveler to do but submit to Sbarro?
Before you dive headlong into the abyss, consider your coordinates. The world's leading international airports are seriously upping their gourmet game, offering everything from menus by Michelin-starred chefs to food stalls stocked with local delicacies. At these six spots, you'll eat surprisingly well before boarding.
1. Hong Kong International (HKG), Hong Kong

Tian Xia Dumplings will not win you over with its looks. Located within the elevated Dave & Busters that is HKG's dining and entertainment concourse Terminal 2, this unassuming kiosk sells an array of hearty Hong Kong street food classics, like big bowls of fish noodles as well as the namesake dumplings, which are made to order and served alongside a fiery red chili oil sauce.
2. Los Angeles International (LAX), Los Angeles
Built in 1961, the modernist Theme Building at LAX looks a bit more Star Trek than Saarinen. But channel your inner Shatner at the spider-legged Encounter restaurant, an emblem of mid-century futurism that serves a surprisingly tasty menu of local California produce, fresh seafood and steamed edamame topped with fleur de sel, sesame pepper and zesty ponzu sauce.
3. London Heathrow (LHR), London
The first airport restaurant from celebrity chef and Zen master Gordon Ramsay is in Terminal 5, Heathrow's sweeping metropolis of luxury shopping and poorly placed escalators. The varied Plane Food menu includes crispy duck salad, risotto with English peas and seared cuts of dry-aged British beef. If your time in T5 is limited, order from the two-course Plane Fast list, where a mere £16.95 gets you pumpkin soup and Suffolk pork belly in under 25 minutes.
4. Austin-Bergstrom International (AUS), Austin, TX
Texas barbecue doesn't get much better than Salt Lick BBQ and an outpost of the preternaturally popular 800-seat restaurant in Driftwood is located in the West Terminal (but fills the entire airport with the bewitching scent of brisket). Try a sloppy, but satisfying, pulled pork sandwich topped with slaw and Original Recipe barbecue sauce for a taste of Hill Country on the tarmac.
5. John F. Kennedy International (JFK), New York
Airports can be lonely places. The small plates and sangria at Piquillo, the first tapas bar to open in an American airport, are designed for sharing. Located in JetBlue's Terminal 5, Piquillo has a menu by Tia Pol chef Alexandra Raij, easily the most flattering lighting of any room in any airport, and a communal bar perfect for chatting up fellow travelers. Bienvenidos a Nueva York, indeed.
6. Amsterdam-Schipol (AMS), Amsterdam
A stopover in Europe's fourth largest airport is a decidedly civilized affair. After taking in fine art at the AMS Rijksmuseum, head to Bubbles for an impressive raw bar complimented by 15 Champagnes by the glass. The sleek lounge surrounds an enormous saltwater aquarium and serves everything from plump oysters on the half shell to Dutch herring, served in the traditional style with fresh bread and onions.
---