Live From Pebble Beach: The Grand Finale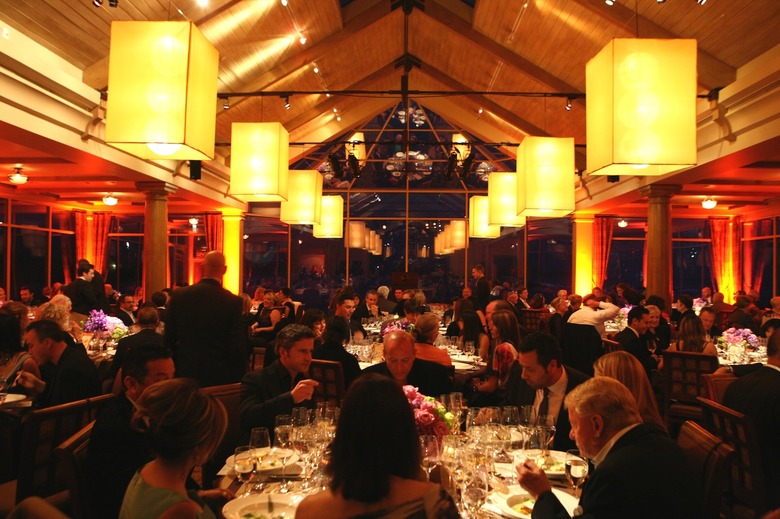 pebble beach food and wine festival 2012
On Saturday night at Pebble Beach Food & Wine Festival, there were four different dinners closing out the weekend. For the awards-oriented, there was the Food & Wine Best New Chefs Alumni Dinner. Linguini lovers and ex-Romans had "An Italian Love Affair" to attend. If you were at PBFW for hair gel tips more than for the food, Guy Fieri's Interactive Dinner was a perfect option. And If you were really lucky (or lucky enough to finagle a media pass), you were at the Grand Finale Dinner featuring a full line-up of Champagne from Dom Pérignon. Baller status. Here are some things I learned over the course of the evening:
1. Everything tastes better when you're looking out into the ocean. The Beach & Tennis Club overlooks Stillwater Cove and with the fog rolling in just as dinner was starting, it felt like a meal on a movie set. Seriously, I thought I saw Teamsters in the background making sure the green screen didn't move. I hereby vote that all future restaurants be built next to coves for maximum dining enjoyment.
2. Some people treat dress codes as more of a suggestion. Every event supposedly had a strict dress code with blazers and ties required, but the truth is, people wore whatever they wanted to. One couple at the dinner looked like they were straight out of The Hunger Games. The guy was wearing vibrant orange chinos and his female counterpart took things a step further with neon green shorts and matching neon shoes. I half-expected Stanley Tucci to announce their arrival. Apparently understated is out this year with the Pebble Beach crowd.
3. If you serve Champagne from 1970, expect people to gasp. This dinner marked the first time Dom Pérignon's Oentotèque 1970 has ever been served in the United States. It was tremendous. After resting comfortably in Dom's cellars for 40 years, the wine itself has relaxed considerably, which makes it closer to a white Burgundy than a Champagne. Personally, I couldn't stop smelling it. At first I thought the nose had more caramel notes, but eventually I realized exactly what I was sniffing—the distinctive aroma of a French vanilla cappucino bought from a vending machine. The similarity was uncanny. My tablemates didn't agree. To be fair, I was about 30 glasses of Champagne in at this point.
4. People are really impressed when food looks like something. LA chef Michael Cimarusti (Providence) served a Santa Barbara spot prawn dish with some sort of breadcrumb mound that looked like a prawn chillin' on a sandy beach. The only thing missing was a pair of edible shrimp sunglasses. Tons of photos were taken.
5. Vincent Chaperon, the babyfaced winemaker for Dom Pérignon, is known in the Champagne world as "The Chosen One." It's mostly because he's in his mid-30s, but also because he defeated both Voldemort and Veuve Clicquot at birth. (He's also answered our stupid questions about Champagne.)
6. They get by with a little help from their friends. When I stopped back in the kitchen before service to survey the scene, I was surprised to find some big-name chefs back there that weren't listed on the menu for the evening. It turns out they were just helping out their buddies. Both David LeFevre of M.B. Post and Raphael Lunetta (JiRaffe) were lending a hand, which is like Derrick Rose and Dwyane Wade coming off the bench in the NBA All-Star Game.
7. Rich people like refills. The people at my table were extremely nice and friendly until they realized they were being ignored by the sommeliers, at which point they started organizing a mutiny. It makes sense. If you're paying $1,250 a person for dinner, you never want to look at an empty glass.
8. Rick Tramonto is taking his show on the road. After years at the top of Chicago's culinary scene, Tramonto is opening up Restaurant R'evolution in New Orleans with chef John Folse. In three weeks, Emeril's about to get some French Quarter competition. Bam.
9. It's not always age before beauty. The 1970 Dom was incredible, but I think it got more attention because it was bottled around the time that The Beatles were still touring. The real star of the night for me was the Oenothèque 1996. I don't think I've ever had a better glass of champagne.
10. Tyler Florence sometimes goes undercover as chef Clark Kent. Dude was rocking thick black-framed glasses for most of the night. His Santa Barbara uni with corn porridge, black truffle, bacon and ramps proved he's still a superhero, though.
11. If you're drinking single vintage champagne from 2003, you're drinking a lot of heartache. Dom is one of the few producers that exclusively makes single vintages and 2003 was one of the worst years on record in terms of European weather. Seriously. 70,000 people died that summer from the heat wave. And yet, Dom Pérignon was somehow still able to make their vintage that year despite losing most of their crop. Even more stunning: the harsh conditions created amazing fruit. I wonder if they'd be considered Conflict Grapes...
12. Don't mess with Josiah Citrin from Mélisse in Santa Monica. Seriously — the guy looks like he would take his mandoline to your face if you crossed him the wrong way. The crazy paradox is that his food is unbelievably sophisticated and elegant. Just another lesson to not judge a chef by the thickness of their neck.
---
More from Pebble Beach Food and Wine Festival: