Top 5: Northern California Tasting Rooms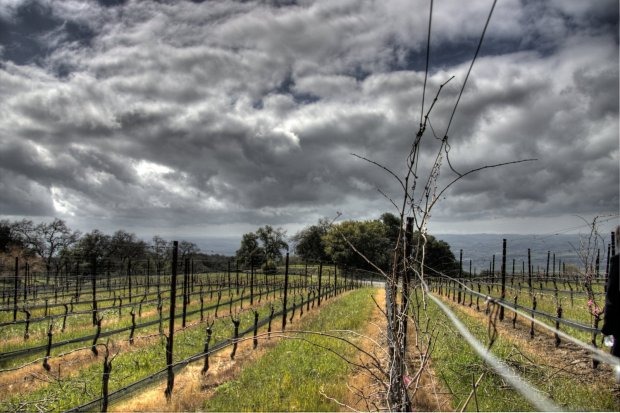 Pfendler
Spring has sprung. The mustard is in full bloom and there's no better time to visit Northern California wine country than now. You could easily spend a month (hell, years?) driving the backroads and main trails of Napa and Sonoma Counties, stopping every hundred yards for yet another sip and swirl.
The choices are endless, and everyone has their favorites. But don't let tasting fatigue get the best of you. Narrow it down, and go big. Here are my five favorite tasting rooms, for the moment at least.
1. Caymus Vineyards and the Wagner Family of Wine
The Caymus Winery houses the tasting room for the legendary Wagner Family's entire portfolio of wines, which in addition to Caymus includes the Belle Gloss (my current favorite pinot noirs and an incredible new rose) as well as Conunderum (proprietary blends with a cult following, both red and white) and Mer Soleil (truly superb chardonnays). The joint tasting room just emerged from Phase One of a dramatic makeover and includes floor-to-ceiling windows overlooking the barrel room and fermenting tanks.
Come summer, Phase Two will be complete, and there'll be a beautiful new cafe-style tasting terrace. The real focus here is Caymus, but I'd be tempted to go strictly with the Belle Glos range. That said, it would certainly be a shame to miss out on a great Caymus cab or the new Conundrum red. 8700 Conn Creek Road, Rutherford, CA, 707-967-3010
This co-op in downtown Sonoma is one of the swankiest tasting rooms around, and my number one reason for going here is to indulge in the fairly limited production Pfendler pinot noirs. This is the only place in the valley where you can taste them. Pfendler's vineyards are located high up in the Petaluma Gap, on the western slopes of Sonoma Mountain — too perilous of a destination for a tasting room but the perfect spot for growing pinot with attitude. The wines are bottled unfined and unfiltered. 320 Healdsburg Avenue, Healdsburg, 707-431-8161
Located in the historic Larkmead winery (the 3rd oldest in Napa), this place oozes character and a offers a genuine sense of Napa's rich history. My favorite wine here, hands down, is the reserve zinfandel. It's a wine that makes no apologies, like Robert DeNiro on a rampage — but with a smile on his face the whole time. Deal with it. Love it.
Frank Family also makes some beautiful chardonnays and meaty cabernets. The tasting room is a charming little cottage with a wraparound porch. Once you settle in, you'll be tempted to spend the entire day here. 1091 Larkmead Lane, Calistoga, Napa, 707-942-0753
Don't even thing about trying to show up here unannounced. you'll never get past the gate. Call ahead. Be prepared to beg for an appointment. And then make sure to program your car's GPS. The winery and tasting room sit atop a hill accessed by a random city road. You'll swear you've made a wrong turn, and then you'll arrive at what looks like an abandoned ranch gate. The house at the top of the hill is a replica of a country house in France. It feels very rustic and remote. Sit on the back porch overlooking the sloping vineyards and contemplate some of the best pinot noir and chardonnay in the entire valley. 18596 Lomita Ave., Sonoma, 707-996-3860
This fairly new tasting room in town offers the up-and-coming wines from Ahnfeldt and Carducci, with barrel tastings and blending sessions also offered. Go straight for the Ahnfeldt Quid Pro Quo, a luscious, almost surly blend of cab and merlot, and also the cocky Carducci sangiovese, one of my favorite examples of Cal-Ital ingenuity. 605 First St., Napa, 707-927-5864
---
Food and travel journalist Brad A. Johnson is the only critic in America to win both the James Beard Award and the Cordon Bleu World Food Media Award for restaurant criticism. And his blog at bradajohnson.net won the prestigious 2011 Lowell Thomas Travel Journalism Award for best travel blog in America.