Live From Pebble Beach Food And Wine Fest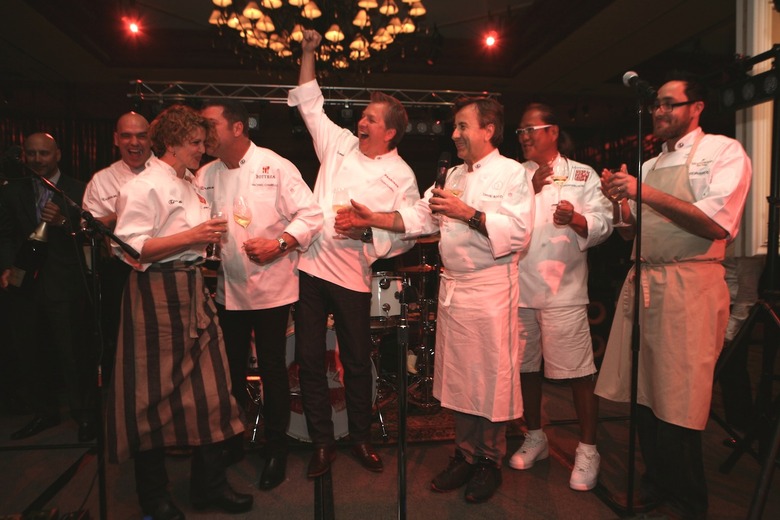 Pebble Beach Food & Wine is celebrating its fifth anniversary this year and we're up here on the Monterey Peninsula to capture all the action.
Thursday night kicked things off in style with the Opening Night Reception, which serves as an overture for the whole event. Daniel Boulud, Jacques Pépin, and Masaharu Morimoto were just a few of the big-name chefs offering small bites alongside what seemed like several thousand different wines (in retrospect, it was probably closer to 125). If you're a food fan willing to drop a large portion of your salary for the chance to hobnob with some of America's greatest chefs, there's no better place to be this weekend than Pebble Beach.
The reception itself was fairly tame. Old people milled about trying to figure out how much wine and food they had to consume in order to get their money's worth. Middle-aged people did the same, but complained about the old people taking up so much space. Jacques Pépin wandered around with a bottle of sparkling wine and topped off people's glasses regardless of their age or whether they actually wanted a refill. Michelle Bernstein was inducted as a Lexus Culinary Master, which seemed like a big deal at the time, but a few minutes later it was hard to figure exactly what the honor meant. Without more information, we can only guess it means that she can cook risotto on the engine of an SC430. That seems like some pretty serious culinary mastery, right?
The biggest surprise of the evening was seeing Chicago chef Grant Achatz walking around without being mentioned at all as a participant in any of the weekend's events. It'll be interesting to see if he winds up making an appearance behind the stoves while he's here. Anne Burrell of Food Network fame was also taking in the evening as a spectator, and there seems to be a good chance that she's training to be a cage fighter. She looked ripped. The only person that gathered more attention was a woman who clearly had a nipple tattoo of a star poking out of her dress and made no effort to cover it up. There's a dress code here at Pebble Beach, but there isn't a skin code.
After the reception is when the real fun started. The After Party is billed as a totally separate event (and sold as such), but even though it has less food, it offers guests the chance to party with culinary rock stars. With free-flowing vodka and a DJ doing his best to appease a very disparate crowd, the vibe was completely different than the stuffier Opening Night Reception. Todd English, Michael Chiarello and Top Chef's Casey Thompson were all throwing down on the dance floor, but the most amazing development of the night was the burgeoning bromance between Guy Fieri and Daniel Boulud. Yes. You read that correctly. Like some sort of straight-to-video foodie version of Rush Hour, Guy and Daniel were becoming the best of friends. They even hit the dance floor together, although they didn't have any synchronized moves...yet.
There's a lot more PBFW to come, so stay tuned for more coverage and any news regarding when Guy Fieri and Daniel Boulud will team up in America's first cajun pasta/charcuterie fast food restaurant.