Empire Mayonnaise Recommends A Sandwich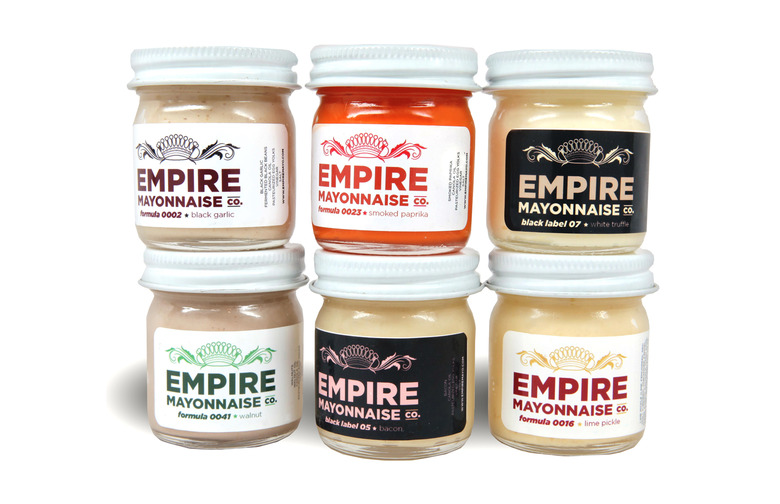 The trendsetting condiment du jour can be found in Brooklyn's Prospect Heights. Is it Branson pickle? Are they finally selling $12 artisan cheese and pickle sandwiches at Prospect Heights Flea? Nope. It's even better. Empire Mayonnaise, created by the masterful team of designer Elizabeth Valleau and chef/TV host Sam Mason (remember Dinner With The Band?) is the cure for the everyday sandwich spread. I pity the fool who tries to one-up them.
Elizabeth was kind enough to speak with me in between batches. I tested her sandwich instincts and egg knowledge and found out how a certain beloved Indian condiment found its way into artisanal mayo.
Okay, gut instinct – which mayo goes on the sandwich?

Banh mi: Lime pickle

Turkey club: Bacon

Meatloaf: Black garlic

Pimento cheese: Preserved lemon

Fried fish: Nori

Perfectly ripe summer heirloom tomato: White truffle
I've been spreading straight lime pickle on sandwiches for years. What inspired you to add it to mayonnaise?
It was a meeting of passions. Sam and I both love Asian cuisine, Indian in particular. We talked about doing mango or auberine pickle, which still might happen in the future, but the acidic quality of the lime was really perfect for mayonnaise since it already has a citrusy flavor.
What is the most obscure flavor you currently stock?
Yuzu-kosho, which we had to switch to "yuzu-chile." Yuzu-kosho is a salty kind of briny yuzu sauce you see on tables at Japanese restaurants. It's got a beautiful floral, almost strawberry quality. But we were constantly explaining to people what it was, so we switched the name.
How does the freshness of the egg affect the outcome of the mayonnaise?
We prefer to have the eggs quite fresh. As they get older, the proteins break down a little and it increases our possibilty of breaking the mayo — basically the emulsification doesn't take, and it separates. With some of the farmers we work with, it's more convenient to flash-freeze the eggs to keep the quality.
Can you even fathom that some people adamently don't like mayo? The co-worker I'm referring to knows who he is.
I actually used to not like mayo, I was adamently anti-mayo growing up. It wasn't until my mom started to make mayo at home and taught me that I started tasting fresh mayo and realized it was really delicious. To this day I hate Hellman's, if I have it on a sandwich I get grossed out.
Favorite mayo-based salad:
Chicken salad, also cole slaw. My favorite right now is made with vadouvan, a French curry with a fig-orange flavor up front, turmeric and cardamom in the middle and a big hit of heat at the end. Toss it with chicken, golden raisins and pine nuts and it's really great. The mayo is so well-seasoned that you don't have to add much more to it.
Favorite short-run mayo and best application?
Last year we did hen of the woods mushrooms. For the short time they were in season we made a ton of mayo, and people bought it up really quickly. My favorite use is to grill a piece of meat — steak, ideally — and drop a little of the mayo on top, almost like finishing butter. It's so decadent. People don't realize you can marinate with it, put it on poached fish or vegetables, it's basically a hollandaise.
Do you have a suggestion box?
Someone said they wanted whiskey mayonnaise. That's not only impossible, it sounds really terrible. One of our popular items that ended up being incorporated into the pantheon was wasabi. It seemed really obvious so we weren't really into it, but took it on as a challenge and tried to make it special. We tried a bunch of different kinds of wasabi and salt and ended up with something very unique. You get a lot of the herbal grassy flavors, but don't get beaten to death by the heat.
Want to try your hand at your own small-batch flavored mayo? Our homemade mayonnaise recipe is a great jumping off point.
564 Vanderbilt Avenue, Brooklyn, NY