24 Hours To Eat In Santiago, Chile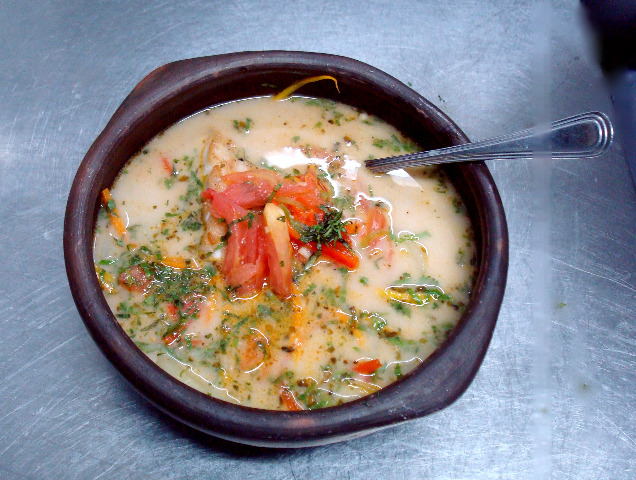 Chile long suffered from a culinary identity crisis. Its high-end restaurants served that dreaded cuisine referred to as international, while its traditional dishes were relegated to the status of diner food. In the last few years, however, Chilean chefs have started embracing their mothers' recipes, as well as indigenous ingredients, and taking the country's cuisine to new and impressive heights. (It helps that there are at least 5 Reasons To Drink Chilean Wine Right Now.)
I recently had only 24 blessed hours to stuff my face in Santiago. Should you overnight in the Chilean capital — say, on your way to Easter Island or Torres del Paine in Patagonia — here are some of the city's most quintessential eats.
Pastel de Choclo at Galindo
A contender for Chile's national dish, this South American cousin of shepherd's pie is peasant food at its best. Baked in an earthenware pot, pastel de choclo is seasoned and browned beef and onions, layered with chicken, a sliced hard-boiled egg, olives and raisins, and topped with a puree of corn (choclo). It's savory and sweet and wholly filling — and can now be found in upscale restaurants that have embraced Chilean soul food. Av. Dardignac 098, Bellavista, +56 2 777 0116
Seafood Empanada at Mercado Central
Empanadas are supposed to be fast food, right? So, imagine my surprise when I ordered mine from Lalita, the cherub-faced woman behind the counter at a bare-bones stall in the Mercado called San Antonio. She made the thing right in front of me from scratch. Mixed seafood and sofrito were tucked into a fresh dough pocket that was pan fried until golden brown. Served with the requisite ají pique, a hot sauce of cilantro, green onions, pepper, vinegar, salt and lemon juice, it makes for a satisfying snack. San Pablo, Downtown, +56 2 696 8327
Caldillo de Congrio at Liguria
Pablo Neruda loved this seafood chowder so much that he wrote a heartfelt ode to it. A hearty soup, and perhaps the only one in the world with a poem dedicated to it, caldillo de congrio is built with chunks of conger (an eel-like white fish), potatoes, sliced peppers, carrots, tomatoes, chopped fresh cilantro and a dollop of cream. It's wholesome and nourishing — and I'm not just saying that because Neruda did. Order it in the colorful, art-filled space that is Liguria to warm yourself inside and out. Av. Pedro de Valdivia Norte 047, Providencia, +56 2 236 7917
Translating loosely as "poor man's steak," bistic à la Pobre is a hearty dish of grilled beef, fried potatoes and onions, topped with a fried egg. Steak and eggs is not only the breakfast of champions, but the lunch of winners, including a couple million working-class Chilenos everyday. After you double up on protein and fill up on carbs, you'll be ready to take on the city. Or possibly a siesta. Av. Ossa 2234, La Reina, +56 2 277 0661
Chacarero at Bar Inglés
All the best places on earth have a signature sandwich. In France, it's the Croque Monsieur; in Spain, the bocadillo; in Vietnam, the banh mi. Chile's go-to meat-on-bread, chacararo, is a monster of soft, round roll piled with sliced grilled beef, fresh avocado, tomatoes and cooked green beans... yes, you read that right. Why not stick green beans into a sandwich? Sometimes there are spicy ají chilies hidden inside, too, but you'll usually be asked first if you want them. Trust me, you do. Bandera 183 Local 6, Downtown, +56 2 698 5552
Patagonian Lamb at the Aubrey
Argentina isn't the only place to get Patagonian lamb. The territory is shared by both countries and is known, among other things, for its succulent lamb, which you can find in fine restaurants from Santiago to Buenos Aires. At the Aubrey, a super-stylish boutique hotel in the bohemian hood of Bellavista, the restaurant turns out sublimely seasoned chops, full of gamey Patagonian lamb flavor and served with spinach polenta. Order it on the terrace where the sounds of a nearby zoo add to the wild ambiance. Constitución 137, Bellavista, +56 2 753 0137
Anything with merkén
A generation ago, most Chilenos hadn't even heard of merkén. Now, it shows up in the dishes of restaurants around the city, which is a good thing considering it's native to the country's indigenous Mapuche tribe. A secret blend of smoked peppers, salt, cumin and coriander seeds, this smoky red powder adds an extra dimension to everything from soups to spice rubs. A little vial of it makes a great souvenir, too.
Chantal Martineau traveled to Santiago courtesy of LAN Airlines.
---
More South American eating and drinking on Food Republic: