NYC: There's A Food Book Fair!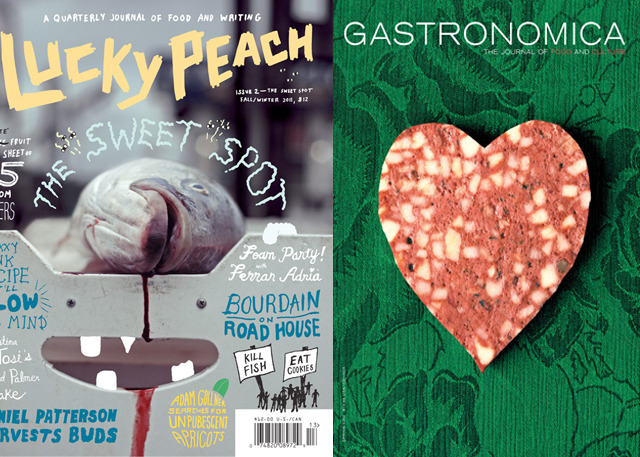 Food Periodicals
You only have to look so far as Anthony Bourdain's lineup of Ecco titles to know that the food book business is booming. And we all know that as long as there have been books, there have been book fairs. All right, maybe not, but book fairs are a time-honored tradition and it's about time there was one dedicated to food.
Current NYU Food Studies graduate student Elizabeth Jones is organizing the first annual Food Book Fair, which will take place May 4-6 at the Wythe Hotel in Williamsburg, Brooklyn. Jones, who has worked for performance art space The Kitchen, a farm-raised sturgeon caviar company and the architect David Rockwell is bringing her love of food, politics and design together.
"I began collecting every current, and obscure, food publication I could get my hands on," says Jones. "As my library grew, I realized that a profound crossover exists. Food enthusiasts are often not in the food industry but take time out of their lives to write or make food."
Each day of the fair will feature panel talks and book signings from food-writing pros like Marion Nestle, Gael Greene, Josh Ozersky, Tamar Adler and Peter Meehan. Panel topics include: Food + Cities, Food + Design + Tech, and, of course, Food + Porn.
In addition, Saturday night there will be a "festival within the fair" for food periodicals, as well as Pecha Kucha slideshows—a Japanese style of presenting using 20 slides with 20 seconds of explanation per slide. Sunday night, George Weld and Evan Hanczor of Egg will host an Ernest Hemingway-themed dinner at their new restaurant, Parish Hall, based on Hemingway's The Sun Also Rises (we expect there will be lots of beer).
If you miss the fair in New York, catch it as it travels to Chicago and San Francisco later in the year. Tickets are on sale now on the fair's website. Entrance to book signings are open to the public, individual panels are $15, and a three-day pass is $215.