Top 5: Restaurants In Napa & Sonoma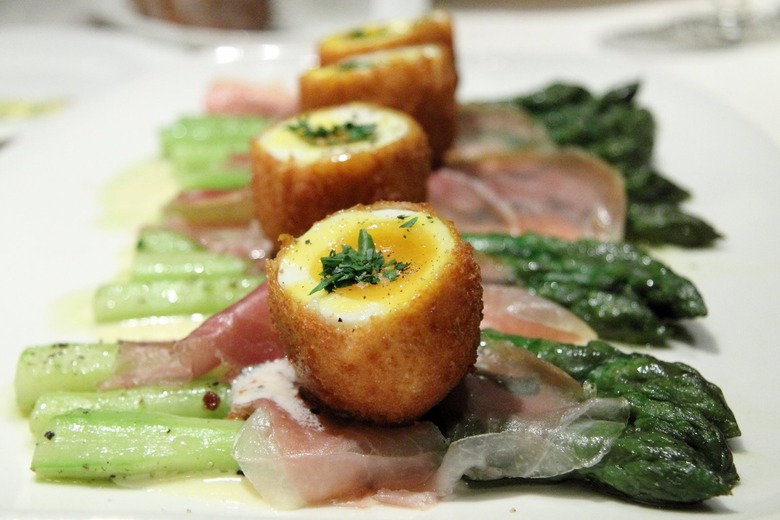 Green eggs and ham
Photos: Eating around Napa & Sonoma
1. Brassica
Cindy Pawlcyn is the chef queen of Napa Valley, and her newest restaurant, Brassica, might be her crown jewel. It's inspired by southern Europe and the Eastern Mediterranean—but also North Africa and the Middle East. Dishes to try: Whole-roasted fava beans, bacon-wrapped dates, fried Greek cheese, roasted quail with pine nuts and raisins and one heck of a rhubarb pie. 641 Main St., St. Helena, 707-963-0700
2. Bottega
After Thomas Keller, Michael Chiarello might very well be Napa's most important chef. Formerly of Tra Vigne, Chiarello left the restaurant business for a while to launch his lifestyle brand NapaStyle (and to film more television shows). Now he's back in the kitchen, and he's better than ever, serving some of the best rustic Italian fare in America. Dishes to try: Pan-roasted whole branzino stuffed with dried fruits, the prettiest beet salad ever, green eggs and ham (involves asparagus and Iberico ham), and Italian-style donuts. V Marketplace, 6525 Washington Street, Yountville, 707-945-1050
This old classic on the border of Carneros has a hot new chef, Andrew Wilson, who just returned to California after spending ten years in Charlston at the acclaimed McCrady's and Fig. He takes full advantage of the wood-fired oven, and he's got one of the valleys' best sommeliers with whom to collaborate. Dishes to try: Grilled lamb chops with foie gras yogurt sauce and a truly transcendent fillet of sturgeon served with quinoa and a red-wine butter sauce. 1325 Broadway Road, Sonoma, 707-931-2042
Mateo Granados, formerly the chef at Hotel Healdsburg's Dry Creek Kitchen, created a sensation of late with a series of sold-out wine country pop-ups. He's now opened his own place, across the street from the H2 Hotel in Healdsberg (sister property to Hotel Healdsburg) where he serves food that's close to his heart, a heady mix of Yucatán-inspired Mexican fare. Dishes to try: Lamb tacos, suckling pig tamales, and big stack of homemade tortillas (to take home).
5. The Restaurant at Meadowood
One of the most prestigious restaurants in wine country has just reopened following a complete refurbishment and extensive kitchen upgrade, which now includes an exclusive chef's counter, offering a chance to dine — 15 to 20 courses — in the middle of the action while interacting with chef Christopher Kostow and his team. Dishes to try: It's really all about the chef's tasting menu, best left to be a surprise. Meadowood Resort, 900 Meadowood Lane, St Helena, 707-963-3646
---
Food and travel journalist Brad A. Johnson is the only critic in America to win both the James Beard Award and the Cordon Bleu World Food Media Award for restaurant criticism. And his blog at bradajohnson.net won the prestigious 2011 Lowell Thomas Travel Journalism Award for best travel blog in America.