Fondu: Twitter + Yelp + Foursquare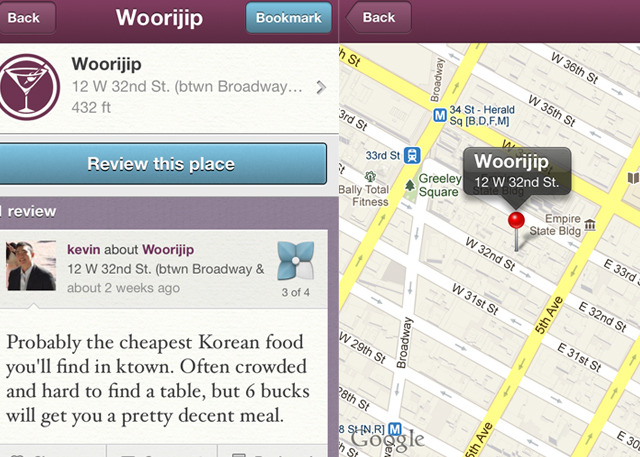 Fondu
Fondu is for anyone who has ever grown weary of sifting through Yelpers' novel-length rants. The app, which co-founder Gauri Manglik calls "Twitter meets Yelp," allows users to follow a curated list of reviewers—whether friends, family or their favorite bloggers. Unlike Yelp, Fondu has a strict 175-character limit for reviews, forcing users to get to the point. Along with their concise comments, users rate their experiences on a scale of one to four petals.
Although it has been touted as "Foursquare for Foodies," Manglik says the user experience is much closer to that of Twitter because of its emphasis on communicating through succinct messages. Like Fondu, Yelp does have an option to follow friends, but no matter whom you're following there is no limit to the length of the review.
"Yelp has an awesome set of comprehensive reviews if you need to dig deep, but if you want to make a quick decision about where to eat based on reviews from people you know, then Fondu is much easier to use," says Manglik.
Fondu launched this year and currently has a few thousand users who have created over 20,000 reviews—primarily in New York and San Francisco. Manglik and her team plan to roll out a website in the next couple of months as well as game-features for the app which will reward users when they're friends go to restaurants, cafes or bars they've reviewed.
For now, Fondu's small user base means reviews are limited, but as it grows you may find its condensed advice a welcome relief from that of prolific Yelpers.
---