7 Things To Eat In Lima, Peru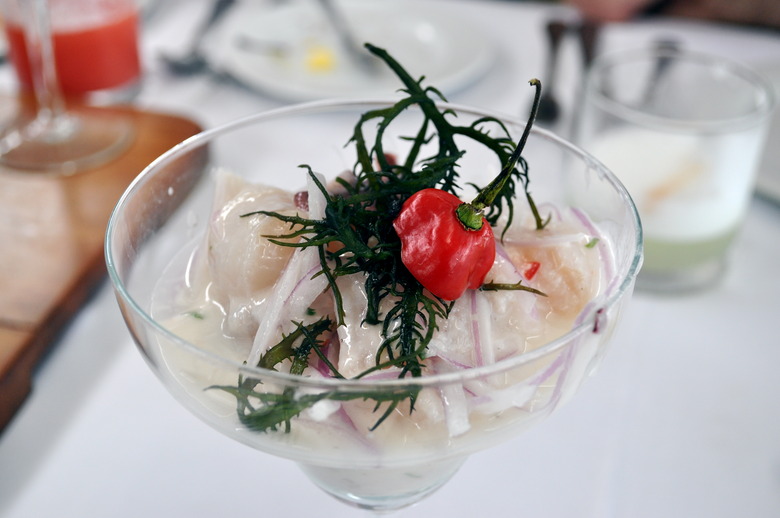 Ceviche
Each year, tens of thousands of tourists walk the Inca Trail to Machu Picchu. The experience has been likened to a religious pilgrimage, a four-day hike that ends when you come upon the Lost City of the Incas, a magnificent sanctuary of pre-Columbia ruins. But you don't have to make the trek all the way to Machu Picchu to see ancient architecture in Peru.
Right in the heart of Lima there are structures centuries older than Machu Pichhu—sitting among the highrises and city streets. Called huacas, these adobe-brick pyramids are ancient sacred places associated with a pre-Incan culture of which little is known.
In the Lima neighborhood of Miraflores, Huaca Pucllana is said to predate Machu Picchu by 1,000 years. You can visit it during the day, but I recommend dining at a restaurant next door that overlooks it in the evening. If you're just passing through the city on your way to, say, Machu Picchu or even Easter Island, here are seven dishes to locate and eat:
1. Quinoa breakfast
A common way for Peruvians to start their day is with a mug of quinoa, cooked down to a thin porridge. The grain-like crop, which qualifies as a superfood, contains a complete protein – ideal for sustaining you through a day of work or play. In Lima, street vendors sell breakfast quinoa in the mornings, mixed with fruit and served hot or cold, depending on the weather.
2. Ceviche
It's easy to see why this dish drove the Peruvian food craze in the U.S. Sushi-grade fish, citrus juice, fresh herbs, and chili peppers are the basic ingredients, but chefs in Lima have gotten rather creative with it. At Cala, a glass-walled restaurant overlooking the beach in the Barranco district, traditional ceviche is made with tender chunks of flounder, sweet potato and giant corn kernels. There is also a version in a pea-green avocado sauce and one in a salmon-pink pepper cream sauce.
3. Something made with coca leaf
"Coca leaf in not cocaine!" my guide admonished me when I asked about the ingredient, which shows up in everything from candy to cocktails. It has twice as much calcium as milk, she told me, is totally legal and has none of the stigma associated with cocaine in America. I got my daily dose in a Coca Leaf Sour, a coca tea-infused pisco sour served in many cocktail bars, including Huaringas Bar, in Miraflores.
4. Pisco Sour
The traditional Pisco Sour is a perfect cocktail. Pisco, fresh lime juice, sugar, egg white and Angostura bitters, shaken hard, make for a refreshing, tart and dry sipper. Should any of these ingredients be omitted, you are probably not in Lima. And you certainly aren't drinking a true Pisco Sour. Although, it should be noted that variations on the sour abound and can be fabulous, such as the Coca Leaf Sour mentioned above. Fresh fruit, such as gooseberries, or blue corn are not uncommon additions.
5. Something Japanese
With such high-quality fresh catch available throughout Lima, the city has developed quite a taste for Japanese-style fish. Whether it's ceviche or tiradito, its sashimi-style cousin, Peruvian food is well suited to Japanese flavors. At Huaca Pucllana, the restaurant that overlooks the ancient sacred adobe pyramid of the same name, Nikkei Tiradito is marinated in lime juice and soy sauce.
6. Lomo Saltado
Yet another dish with Asian influence, lomo saltado is part of the chifa or Chinese-Peruvian cooking tradition, which has become a mainstay in Lima. Strips of beef are marinated in vinegar, soy sauce and spices, then sautéed with chilies, onions and tomatoes, and served with thick-cut fried potatoes. Consider it the ultimate hangover cure after you've downed a couple Pisco Sours too many, which is far too easy to do.
7. Guinea Pig
Yes, Peruvians eat guinea pig or cuy, in Spanish. And, yes, Americans can now get a taste of the rodent, as Peruvian restaurants have started to crop up in culinarily progressive cities around the country. But for many of us, eating guinea pig is very much a dare. It need not be. The tender, dark meat could pass for chicken or maybe rabbit – especially when it's not cooked whole. Gastón Acurio, Peru's most famous chef, disguises his cuy as Peking duck at Astrid y Gastón.
Chantal flew to Lima courtesy of LAN
---
Read more about Peru on Food Republic: