5 Burritos That Go Beyond Rice And Beans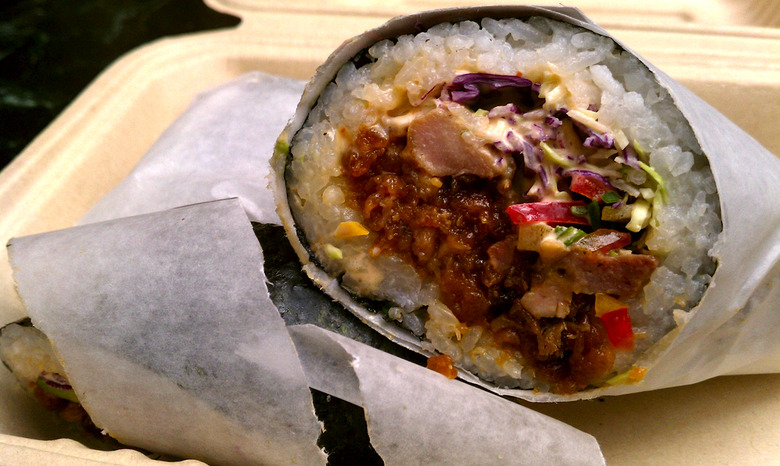 burritos
I admit, the burrito of my dreams is neither elaborate nor creative. It's a simple and authentic classic: rice, beans, cheese, guac, salsa and slow-braised carnitas wrapped in a warm, fresh tortilla, with a shake or two of Cholula over every bite. Now that you know my favorite burrito, the one I imagine wrapping myself up in on those cold April nights, I feel comfortable sharing some dreams that are...less chaste.
First and foremost, the sushi burrito, or sushirrito. San Francisco fusion factory Sushirrito churns out what might possibly be the most delicious and user-friendly example of fusion cuisine I've ever encountered. The concept is basic: giant burrito-sized sushi rolls with names like The Yakuza and Geisha's Kiss, filled with all your favorite traditional (and sustainable) sushi ingredients. And then there's my favorite, The Porkivore, a fresh play on the Reuben sandwich with roasted pork belly, shaved cabbage, melted swiss and mustard seed mayo. Melted cheese and mustard in a sushi roll? You bet your santoku knife. Just this one time, though.
Next in my quest for the greatest pig-filled burrito or "burrito" in quotes, if you want to be a pride-filled Californian jerk, is legendary Pink's Hollywood. Having my car towed not once but twice from the general vicinity while waiting for some of the best franks one will ever wait for, I still crave one of their monster creations in my sleep: the Bacon Burrito Dog. It consists of two of their all-beef hot dogs wrapped in a flour tortilla with bacon, cheese, chili and raw onions. If you feel like being hungry half an hour after downing this beast, there are several medicinal purveyors within three blocks that can probably help you out.
And lastly in this REM cycle of total disregard for what is considered to be a burrito in most respectable circles: an actual burrito. As fate would have it, my lunch break on Tuesdays senior year coincided with the end of the USC Trojans' football practice, on a practice field near the journalism school. By the field: a cleverly hidden taco truck catering mainly to replenishing Matt Leinart's spent (sexy) calories. At this taco truck: the greatest breakfast burrito I've ever eaten. To keep the players happy and full of protein, the egg-stuffed behemoth was packing three sausage patties AND a generous layer of crumbled chorizo. I would get one every Tuesday and make what I now realize to be random weird faces at Reggie Bush and Kim Kardashian.
Funny how when I settle back into the land of abundant and delicious Chinese food, all I want is a burrito, California-style.